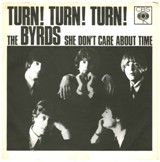 It is often asked what is the oldest recording to make the UK chart and there is no real definitive answer. We do know, however, that Mike Oldfield's 1975 Christmas hit In Dulci Jubilo originates from the German mystic Heinrich Seuse around 1328, but it's likely that the oldest song was a hit exactly 10 years before Mike Oldfield and comes courtesy of the Byrds with their 1965 hit Turn Turn Turn (To Everything There Is A Season).
The music was written by the influential protest folk singer Pete Seeger in 1959, but its lyrics go way back and are taken from a passage from the book of Ecclesiastes (3:1-8) in The Bible. They were altered slightly by Seeger who also added six words of his own – I swear it's not too late – and paired with his music to make the song. In 1988 Paul Zollo interviewed Pete Seeger who explained, "I don't read the Bible that often. I leaf through it occasionally and I'm amazed by the foolishness at times and the wisdom at other times. I call it the greatest book of folklore ever given, not that there isn't a lot of wisdom in it and you can trace the history of people poetically." He added: "I got a letter from my publisher, and he says, 'Pete, I can't sell these protest songs you write,' and I was angry. I sat down with a tape recorder and said, 'I can't write the kind of songs you want. You gotta go to somebody else. This is the only kind of song I know how to write.' I pulled out this slip of paper in my pocket and improvised a melody to it in 15 minutes and I sent it to him. And I got a letter from him the next week that said, 'Wonderful! Just what I'm looking for.' Within two months he'd sold it to the Limelighters and then to the Byrds. I liked the Byrds' record very much, incidentally. All those clanging, steel guitars – they sound like bells."
As Pete said, it was first cut by the Limeliters in 1962 and one of the backing singers was Jim McGuinn (later using his middle name Roger) who first rearranged the song for Judy Collins who recorded it in 1964 and Jim played guitar on here version.
The following year The Byrds, comprising Jim McGuinn, Gene Clark, David Crosby, Michael Clarke and Chris Hillman, burst into the UK chart with a cover of Bob Dylan's Mr Tambourine Man which went to number one. Two months later they followed it up with another Dylan cover, All I Really Want to Do which hit number four. Their third hit of 1965 was their own version of Turn Turn Turn (To Everything There Is A Season) which had yet another new arrangement devised by McGuinn and Crosby which took the band over 50 attempts to get the right sound they wanted.
In an interview in 2009, Seeger explained what he thought of the Byrds version, "It was a great honour to have them record it, what wonderful harmonies they had but they had to change my melody very slightly but it's worked. When I sing it now most people have learned the song from the Byrds' record so I sing their version of it rather than mine. It's an extraordinary poem though and somebody made a whole book out of it. I can't remember the name of the publisher, but they had a wonderful illustrator who did illustrations for every line in the song."
The song has since been covered by numerous people including Mary Hopkin, The Seekers and Dolly Parton. Roger McGuinn also teamed up with country singer Vern Gosdin, who was once a member of Chris Hillman's Bluegrass band The Hillmen and one half of The Gosdin Brothers (who occasionally opened for The Byrds), for a cover of this song on Gosdin's 1984 album There Is A Season and McGuinn played the same 12-string Rickenbacker that he used on The Byrds' recording of the song. It was also used to great effect in the 1994 film Forest Gump.