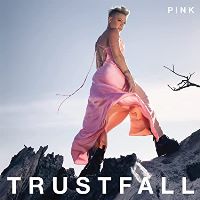 This request comes from my good lady. We were driving along listening to the new P!nk album which had just been released and as soon as Trustfall came on, she said to me, "I like this song, what exactly is a trustfall?" I replied honestly, "No idea my love." Within an hour she'd emailed, via the website no less, to ask me to find out and write about it. Of course my dear. Anything you say, especially as it's your birthday this week. So, here goes.
Alecia Beth Moore Hart was born in Pennsylvania in September 1979. So, first of all, why is she known as Pink? "The whole Pink thing has become way more than it ever was," she explains, "It was my nickname when I was little and it's been following me my whole life. At school a boy pulled my pants down, I blushed, everyone called me pink and I ran home crying. Quentin Tarantino came out with the movie Reservoir Dogs and Mr Pink is like the smart-ass character and I guess I am a little bit too. Later on, I did a showcase with the first group I was originally with called Choice, I tied a pink ribbon around my microphone – Steve Tyler style – and introduced myself as Mr Pink." Choice were signed to LaFace records by its founder L.A (Antonio Reid) and when he saw Pink's performance he said, "'I love that, just drop the Mr, they won't understand that', P!nk continued, I never liked my name Alecia anyway and then I dyed my hair pink and that's it."
She made her debut on these shores in 2000 with the number six hit There You Go which she co-wrote and followed it with Most Girls that went one place better. Arguably, the song that really brought her to the general UK public's attention was her fourth hit Get The Party Started which was solely written and produced by former Four Non Blondes lead singer and songwriter Linda Perry. Over the next 23 years with almost no let up, she has charted over 40 singles including three number ones and nine studio albums with all-bar-one making the top five. Trustfall is the title of her latest album of which the title track became the second single after Never Gonna Not Dance Again.
So, it's over to P!nk to explain where she still gets inspiration to keep writing catchy and relevant songs, "Life! I'm married, I'm a mom, the world's falling apart and there's a lot to talk about. It was my daughter, Willow, who suggested I write an acoustic poem because she thought it might be easier to choose single words than to write five paragraphs of feelings," P!nk told Apple Music. The words she chose were, Truth, Reflection, Uncertainty, Security, Terror, Faith, Acceptance/Audio city, Letting go, Love, and it was the initials of those words that gave the album its title. "I think finding words is my life's work and it doesn't matter how many you choose, it's always hard, especially when you want to be deeply seen and understood. You see that I couldn't choose between acceptance and audio city."
As for the song itself, P!nk explained that too, "I feel like all of us are walking around at this low-level trauma in our bodies and it takes a lot of trust to be a human being these days, to get out of bed in the morning and go to work and drop your kids off at school, go to public places, participate in elections and have a vagina," (bit limited that one!), "It takes a lot of trust. I know a lot of teenagers and I think a lot of us feel like we're falling backwards and we don't know where the ground is, and that's what a trustfall is."
So, its whole purpose is to build trust between two people and is a fairly common practice used at corporate training sessions and therapy sessions. She wrote the song with the songwriter/producer Fred again and former Snow Patrol pianist and guitarist Johnny McDaid. McDaid has also written song for Robbie Williams, Lewis Capaldi and about 20 hits for Ed Sheeran.
She is seemingly fearless, her onstage and video antics prove that, she really wouldn't be out of place in a circus. "I saw Tina Turner when she was 69 in Christian Louboutins, running around the stage, full choreography, like a crazy person. And I thought to myself, Shit," she told Chris Willman at variety.com. "So now I have no excuse. I look at the greats and I wanna keep up. I want to keep pushing it and be better — a better human, a better mom, a better daughter, a better sister, a better performer, a better writer. Age works against you, right? But at 43, I'm stronger than I've ever been in my life. I could kick my 33-year-old ass." The story of the hopes and fears portrayed in the lyrics are well exhibited in Trustfall's accompanying video.