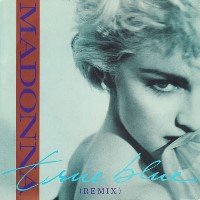 This week's suggestion came in from the lovely mummy bear who attends my Tuesday quiz on a regular basis and asked about Madonna's True Blue. She went on to say, "I came across a reference to the song in an article and there was a suggestion of a hidden agenda behind it. I really like the song and wondered whether I've been singing and dancing to something that I would find objectionable." Knowing mummy as I do, if there was something 'objectionable' she probably wouldn't mind anyway  but, I have to say, it did surprise me, so I started digging. Did I find anything?
It was only her second year of chart action, but 1985 was Madonna's most successful year, in terms of sales and breaking new records. Her first UK number one, Into The Groove, is still Madonna's biggest selling UK hit single, but Madge has broken so many records including being the only artist to have eight top 10 hits in a one year. In America she was the first woman to sell three million singles in a calendar year, the first woman to take five Top five singles off one album, the only woman to hold the top two places on the UK singles chart and the first female artist to enter the singles chart in the top three. In Australia, she is the only woman to replace herself at the top of the chart.
The title of Madonna's third album, True Blue, took its title from her then-husband Sean Penn's, favourite expression. It was originally going to be called Live To Tell, but obviously her feelings for Penn were strong it became the album's title. But, Live To Tell was the first single lifted from it and went to number two. That song also featured on the soundtrack for her and Penn's film At Close Range and tied in with Madonna's change of image of longer hair and a Marilyn Monroe iconic look.
The album's only real controversial song was the next single, Papa Don't Preach with a subject of teenage pregnancy raising a few eyebrows, but it clearly didn't upset the young folk who bought enough copies to send it to the top of the chart. That was followed by the title track which, as a tribute to Sean, Madonna said, "To my husband's very pure vision of love." In all fairness all the other tracks, which Madonna co-wrote, were inspired by her feelings for Sean at the time. The album's producer Steve Bray said, "She was very much in love with Sean. When she's in love, she'll write great love songs. If she's not, she won't."
It was probably quite a relief to her record company executives that True Blue wouldn't cause the furore that its predecessor did and proved so when it also went to number one in the UK and number three in the USA. It did, however, have a retro 60s Motown girl group sound with a modern dance beat and that classic 80s synth sound. The club DJ and producer Shep Pettibone remixed and extended it for the clubs – calling it The Colour Mix and timing in a six and half minutes which also boosted its sales and no doubt helped it to the top of the chart. It also made it even more cheerful and upbeat thus proving it was anything but blue.
For some reason the album was slated by the critics but clearly the public had enough sense to ignore them because it went to number one in 28 countries and sold over 25m copies – some 10m more than the second best-seller of the year which was Bon Jovi's Slippery When Wet.
Madonna was more concerned with getting her film career off the ground. She was desperately seeking movie stardom. John Kohn, a film producer and a friend of Sean's, sent Madonna a script for a new comedy called Shanghai Surprise. She loved the plot and was cast as Gloria Tatlock, opposite Sean. The film, which cost around $17million, was a spectacular failure. Madonna was extremely disappointed as she felt it had so much potential. George Harrison's Handmade Film Company, who had backed the project, only managed to claw back around $2 million. George later admitted that he "walked away from the experience hating Madonna."
The single's accompanying music video featured Madonna with her new image driving a Ford Thunderbird convertible complete with two of her real friends, the fashion designer Erika Belle and the actress Debi Mazar.
Madonna was now a superstar and was enjoying every minute of it, but more controversy was on the way when, a couple of years later, she upset half the religious population when she released Like A Prayer, but that's a different story.