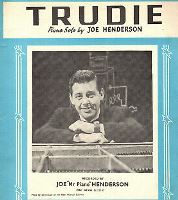 This week's suggestion came from Des Roberts, who used to attend by Sunday quiz many moons ago and he said, "Trawling through old singles, I came across Trudie by Joe 'Mr. Piano' Henderson. Would it be possible to shed some insight to this tune and the man behind it please? Well Des, I can certainly do that, with some good information about the man and his music.
Joe Henderson was born in Glasgow on 2nd May 1920, he worked hard at school and his parents had high hopes of him going into the medical profession, however, Joe was more interested in music. it's possible his mother can be blamed for his career direction as it was her who taught Joe to play piano which he did so well he turned professional at the age of 15. He formed his own jazz group and a played in various clubs and bars. it was while he was performing in Belgium the landlady of a bar referred to him as 'Mr Piano' and he decided to keep that name throughout his career. He also had various spells playing with other people's band including Teddy Joyce.
He was called up for National Service and it was the R.A.F. who gave him a regular job as a photographer. After he was demobbed, he returned to music and began working for Peter Maurice publishing company where he began arranging and promoting their songs. This then led him to accompany a few acts on some radio and stage appearances and in 1947 he was backing the Tanner Sisters and Donald Peers. In June 1949, he was leading the orchestra when Petula Clark made her debut recording session. He had met Petula a couple of years early and they were romantically linked for over 10 years, but never married. It was reported that the relationship ended because Petula's career was taking off internationally and Joe didn't want to be known as Mr Petula Clark.
In 1950, Joe was appointed manager of the newly formed Bourne Music publishing company in London's Denmark Street and within five years, seeing how lucrative music publishing was, formed his own Henderson Music company. He began his own recording career and charted in 1955 with a couple of medleys with the imaginative titles Sing it with Joe and Sing it Again with Joe which peaked at number 14 and 18 respectively. The latter was also the name of his own television series. He began composing his own songs and his first, was Trudie which was virtually instrumental apart two mentions of Trudie as sung by the Beryl Stott Chorus and gave him his joint biggest hit in the singles chart but gave him a number one on the sheet music chart. It also won him an Ivor Novello Award.
Joe had three hits as a songwriter for other artists, namely Somebody for the Stargazers, Why Don't They Understand for George Hamilton VI and This Love I Have for You, the follow up to Be Mine for Lance Fortune.
In 1959, he co-wrote a couple of songs for the film Idle on Parade which launched Anthony Newley's film career and the following year he wrote the title song for the film Jazzboat which, again, starred Anthony Newley and Lionel Jeffries and for that he won another Ivor Novello award for 'The Year's Most Outstanding Composition in the Jazz or Beat idiom'
Although the hits dried up by the early sixties, he continued to record sing-a-long medley albums which sold well during the 1970s probably boosted by regular appearances on Granada television's The Wheeltappers and Shunters Social Club which ran from 1974 and 1977. He briefly had a weekday afternoon show on Radio Two and throughout the 1970s he continued playing at holiday resorts and in pantomime.
Joe died of a heart attack on 4th May 1980. The force wasn't with him, it was just two days after his 60th birthday.