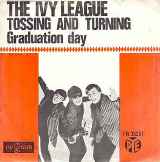 Like so many acts, their first hit is not always necessarily where their career began. That is certainly the case for this week's choice. The Ivy League first popped up in 1965 with Funny How Can Be, but the men behind it were very around the record business long before that.
The two men in question are the Birmingham-born John Carter and Ken Lewis. They began writing songs together and submitting them to various publishing companies, they travelled to London and got themselves a manager, Terry Kennedy who realised their potential and suggested they form a band and record their own songs rather than give them to other people. So in 1961 they formed Carter Lewis and the Southerners and released a number of singles, some of which featured a young Jimmy Page on guitar, which were extensively played on the BBC Light Programme, particularly Saturday Club. John Carter, who was born John Shakespeare in 1942 and Ken Carter who came into the world as Kenneth Hawker were the primary song writers many of which they wrote for other acts. Their first hit, as songwriters, came in 1963 when That's What I Want by the Marauders just scraped into the top 50. The following year The Fourmost's How Can I Tell Her got to number 33 and then a month later Brenda Lee cracked the top 20 with Is It True? Vocally they were first heard as the high-voiced backing singers on The Who's 1964 hit I Can't Explain.
In 1964, Carter and Lewis broke up the southerners invited studio engineer Perry Ford and formed the Ivy League and within a few months they had their first hit with Funny How Love Can Be which reached number eight and had been recorded by the Rockin' Berries previously, but never issued. The following year they charted two songs, the number 22 peak of That's Why I'm Crying and, this week's suggestion, Tossing And Turning, a simple love song about a woman who has left and the subject has many restless nights now that she is not there anymore. It reached number three.
In 1967 they left to form The Flowerpot Men and had a worldwide hit with Let's Go to San Francisco with session singer Tony Burrows on lead vocals. John realised that he preferred to write hits for other people and combined with getting bored of touring he left the band to concentrate on writing. He teamed up with another British songwriter, Geoff Stephens and together they wrote Semi-Detached Suburban Mr James for Manfred Mann. The same year Carter recorded a demo for Stephens' outfit, The New Vaudeville Band. That demo was Winchester Cathedral which was a novelty song based on the 1920s vaudeville style particularly Rudy Valee. He cupped his hands round a microphone to sound like a megaphone and Stephens loved it so much he kept it as the finished article. It was released and became their debut single peaking at number four. Four months later Carter and Stephens penned the follow-up Peek-A-Boo and that reached number seven. Between them, the pair wrote three hits for Herman's Hermits in the late sixties and in 1970 wrote Knock, Knock Who's There? which was the British entry into the Eurovision song contest as sung by Mary Hopkin which came runner up in the chart as well as the contest.
Between 1970 and 1974 Carter released a few songs under various guises including Chelsea under the name Stamford Bridge which was co-written by Ken Lewis and a wonderful track called Dreams Are Ten a Penny under the name Kincade which sadly missed the chart.
Carter began writing songs with his wife, Gill Shakespeare and in 1974 formed a band called First Class as an outlet to release their songs. They reunited with Tony Burrows as lead singer but despite releasing over a dozen singles, Beach Baby became their only hit. One of the reasons for this was that none of the people involved with the recording had any interest in touring to promote the songs, so they sent a bunch of nobodies out on the road which proved a waste of time. John Carter had, by now, had enough and pulled the plug on first Class saying, at the time, "Making the First Class albums was a very happy and creative time. Who knows if we ever come up with another suitable song, maybe we will all get back together one day and record under that name again."
He later turned his hand to writing television advert jingles including Rowntree sweet and Butlins holiday camp the latter being so catchy and popular that it was released as a single called The Sound of Summer by Starbreaker.
As for Ken Lewis, he suffered from depression and quit the music business in 1971 and moved to Tyneside. In the nineties he moved to Cambridgeshire but suffered from diabetes and died in a nursing home in August 2015.
John was on the board of the British Academy of Composers and Songwriters and a member of the Performing Rights Society. These days he and his wife run their own publishing company and record production company which promotes his entire back-catalogue.