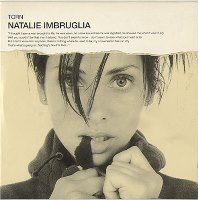 Many successful TV soaps have had their share of spin-off successes, some in the form of a spin-off show, others will be the cast members going on to other things in a different direction and very often it's a musical career. It's not a new phenomenon, it began in the early 60s when Chris Sandford, who was once in Coronation Street and manged a top 20 hit in 1963 with Not Too Little – Not Too Much and it's gone on from there. The Australian soap Neighbours, which began down under in 1985 and the following year in the UK, has given many of its cast a successful musical career with Kylie Minogue leading the pack, but in the 1990s, radio stations across the world gave another cast member, Natalie Imbruglia, major airplay with a version of Torn, but it wasn't her song.
Such was the song's popularity that it became the only song from the 1990s decade to feature in Forbes' list of the UK's 40 most-played songs of the 2010s, not even Kylie managed that.
Natalie was born in February 1975 in Sydney, Australia and her father is of Italian descent hence her surname but she grew up in New South Wales. In 1990, she moved back to Sydney where she began studying tap, ballet and Highland dancing. In 1994, she landed the role of Beth Brennan in Neighbours where she remained for three years before embarking on a singing career. Her first hit was Torn which many websites, including Wikipedia and Discogs will tell you was first recorded by Ednaswap. It wasn't.
The song was written by Scott Cutler, Anne Preven and Phil Thornalley, the later also produced the song and has an impressive array of acts he's worked with including, as a writer, Bryan Adams, Sean Maguire and Pixie Lott and, as a producer, The Cure, Julian Cope, Orange Juice, Prefab Sprout and Ronan Keating. As an artist, he was briefly a member of Johnny Hates Jazz and has released one solo album called Swamp.
Torn was first recorded in 1993, and another version two years later which Thornalley also produced, so let's find out from Mr Thornalley how the song began, "It was written with my American friends Scott Cutler and Anne Preven in my modest home studio in West Hampstead which is also where Natalie's version was recorded. Anne was making demos with a view to signing a record deal as a solo artist. Scott and I had worked together writing for Johnny Hates Jazz a year before. I wasn't getting much work at the time but Scott trusted my chops as a writer, producer and player," he  explained an interview with Songwriting. "The song composition came together over two days. The first day of Torn, Scott and I were messing about with drum loops and it's incredible to imagine that loop technology is available instantly with a plug-in now, but at the time this was cutting edge, state-of-the-art production, that involved stretching and correcting the audio file. The loop we chose never quite circled perfectly, it always sounded a bit lumpy to my ears, like it had two left feet. Scott played chord progressions on a warm keyboard sound and I followed on my Precision bass with a Motown Can't Hurry Love feel, knocking a track into shape with Anne sitting at the back of the room dreaming up a melody. They are both intensely focused writers and I learned a lot from them."
Phil continued, "In the evening, when the changes were set, Anne recorded a guide vocal with her sketched lyrics and melody. No one was jumping up and down (I write alone mostly, but still get excited when the melody and lyrics magically and suddenly appear to shine a path to where the song absolutely needs to go). The next morning, Anne was excited. Overnight she had re-written the lyrics and melody in her hotel room. 'It's called Torn,' she stated as a fait accompli. I remember screwing my face and objecting. Torn? I didn't like the title, but what a genius!"
Then came to the recording, "We recorded Anne's newly created magic. Usually Scott and me would make suggestions about melodic changes on the hoof. I feel Scott would have scientifically manipulated the entry to the chorus so it resolves on the major note of the scale – teasing the notes in the bars before to draw out the tension. The ear wants the melody to land on the pleasing A of F major, but is held back by singing the B flat till the last beat. I don't think one word of Anne's lyrics was changed."
They added guitars by flying in a guitarist called Rusty Anderson, "He played guitar parts on all our tunes," Phil confirmed, "I wasn't that confident as a guitar player then, I'd play the simple parts, but we knew he'd deliver the unexpected with his gifted, lyrical style of playing. I used to record any effects like delay and reverb straight to tape and played single-note bass piano notes for more drama and bottom end on the chorus. Those overdubs gave more sense of arrival in the song, that feeling of, 'Here we are!'"
Once finished, the song was sent to a Danish A & R man called Poul Bruun who wanted it for a Dutch singer called Lis Sørensen who was recording an album called Under Stjernerne Et Sted. He asked Elisabeth Gjerulff Nielsen to translate it to Dutch and retitled it Braendt where it became a minor local hit. Two years later, a Norwegian singer called Trine Rein recorded a version but reverted to its original title. Around the same time, Preven and Cutler, in Los Angeles, formed a band called Ednaswap and invited Rusty to be in the line-up. Their version was included on their eponymous debut album. Rein's version was produced by Thornalley and if you've ever heard her version and wondered why it sounds so like Natalie's version, that's the reason.
Thornalley's manager, Bill Stonebridge knew Natalie Imbruglia and introduced the pair. Thornalley had signed with a new publisher, Marc Fox, and it was he who suggested Natalie should record the song. "Nat and I hit it off and we were both hungry for success, he recalled, "we were both 'cold' in a business sense; I was nearly out of the music business and she wasn't nearly in it. Both seemingly out of luck but reaching for the stars. We worked hard, recording and re-recording her vocal for days, trying to find the best expression from her voice. If she sings out too much, pushes too hard, then her beautiful breathy tone is lost. We would try out phrases with added blue notes to try to capture the lyrical mood. So not a one-take wonder, a studied and contrived performance. I guess her skills as an actor helped with the patience needed to put up with my demands. He added, "On Natalie's record, while I played most of the instruments, as I generally do on all my productions. My pal David Munday played the tricky guitar parts – the electric guitar fills and the soaring anthemic slide.
Natalie and Phil wrote virtually all the songs for her debut album, Left Of The Middle which went on to sell over seven million copies. In the UK, it was London's Capital Radio who championed it first. The station's controller was the notorious Richard Park, but he was a fan of a small number of the same songs on rotation which now is employed by most commercial radio stations and has become so tedious. Soon after, Radio 1 picked up on it and Phil remembered, "I turned on the car radio taking my kids to school and flicked between Capital and Radio 1 and both stations were playing Torn. What an amazing feeling to have experienced."