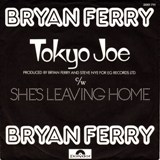 Bryan Ferry, like Rod Stewart, were just two people from a very elite list of singers who managed to concurrently enjoy a career as a lead singer in a group and a solo artist, and did so for a number of years without one or the other suffering. It also makes it very hard in a music quiz to know which was which. Roxy Music's chart career began with Virginia Plain in August 1972 and Bryan's solo career began with a cover of Bob Dylan's A Hard Rain's A-Gonna Fall just one year later.
Bryan was born in Washington, County Durham in September 1945 and studied fine art at both Durham and Newcastle Universities and went on to become a pottery teacher at Holland Park School in London. He had a massive interest in music and in 1968 formed his first band called The Banshees. In 1970 he and Banshees bass player Graham Simpson formed a new group called Roxy as a tribute to many of the old cinemas for which Bryan has always had a love for and a play on word rock. He then discovered that there was an American group with the same name so added Music on the end.
Bryan's biggest solo single was Let's Stick Together (Let's Work Together) in the summer of 1976, but this week I delve into the story of his eighth hit from 1977, Tokyo Joe. The song was taken from In Your Mind, his fourth solo album and the first consisting entirely of original songs. The album reached number five in the chart and because Bryan was a massive Beatles fan, the B-side of the single was a cover of She's Leaving home which was not on his album.
Tokyo Joe is not a real person, but is based on a character in a song. One of Ferry's favourite films was Footlight Parade, a 1933 film starring James Cagney, Ruby Keeler and Dick Powell and in that film Cagney sings a Harry Warren and Al Dubin song called Shanghai Lil. Ferry liked its femme-fatale theme and paid his own tribute calling his own version Tokyo Joe.
He paints a vivid image with his opening line, 'My girl Friday she no square, she like lotus blossom in her hair, be-bop records and something new, sometimes borrowed but she's never blue.' Its theme is not dissimilar to the image painted by Freddie Mercury in Queen's Killer Queen three years previous.
The personnel on the album were not members of Roxy Music, keeping them very separate, Ferry brought in Chris Spedding on guitar, John Wetton on bass, David Skinner on piano and Paul Thompson on drums.
Tokyo Joe reached number 15 in the UK chart and would be Ferry's last top 20 hit for eight years when he returned to the top 10 with Slave to Love in 1985. In 1997 the song was used as the theme tune to a Japanese TV show called Gift which then inspired a re-released of the single in Japan. It was issued as a 3″ CD single that included a TV edited version of the song and a karaoke version, after all the Japanese did invent karaoke and lo and behold it topped the Japanese chart.
It's not an often-covered song, but Ryuichi Sakamoto named his 1982 album after it and is featured as the opening track as a duet with Kazumi Watanabe. The next time a Joe would make the top 10 would be in 1988 when Joe Le Taxi charted for Vanessa Paradis and then in 1994 when Rednex took Cotton Eye Joe to number one.