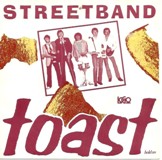 One of the enduring pop singers of the eighties was the man who opened his chart account with a number one and followed it with five further top 10 hits, and no doubt one of his proudest moments would have been when he was chosen by Bob Geldof to sing the opening line of the Band Aid charity classic, Do They Know It's Christmas, his name is Paul Young, the man with the golden larynx he was known, but his debut chart appearance was as a lead singer with an act called Streetband who had a ridiculous novelty song called Toast.
Paul was born in Luton in 1956 and as a teenager loved football and was chosen to play for the Vauxhall Motors team who were based in his home town. In his early 20s he was invited to sing with a short-lived band called Kat Kool & the Kool Cats. Realising he enjoyed it, in 1978 he joined Streetband which comprised guitarists John Gifford and Roger Kelly, Mick Pearl on bass and a drummer called Chalky.
In an early review, one scribe classed Toast as an early rap record. It had no chorus and a lyric structure which compared to no other, not even punk. Paul recalled how it all started, "Well it was my fledgling beginnings at recording so it was all a bit of a learning curve and a tremendously happy time. We were far from being the kind of band that threw TVs out of hotel windows, in fact, we carried our own toolbox with us so that if anything got broken, we could nail it back together and not be charged for it."
So how did the lyrics come about? Paul: "They were made up on the night Chaz Jankel came to see us, he was the producer and arranger behind Ian Dury & the Blockheads, and he was scheduled to produce us. Believe it or not, it all came about because we had a novice road crew and not one of them could change a guitar string. When the rhythm player bust a string, he went off to do it himself which was at the John Bull pub in Chiswick, and the rest of the band started busking on Lover, the jazz standard that I'd heard by Tony Bennett. So I wouldn't be standing there like a plonker, I started scatting over the rhythm and arrived at the word 'toast' at the end of the chord sequence. It made sense, so I repeated that at the end of every chord sequence. Chaz thought it was part of the act! And I suppose the 'Cockney-ness' of it appealed to him. He suggested it as the b-side of our first single, Hold On. So yes, I wrote the lyrics, although I had to make it up again in the studio as it was all off the top of my head." A quick glance at the songwriter credit on the label reveals the name Bernard Kelly, Paul explained, "It was a strange start for a singing career. We credited it to our manager as our publishing was frozen, and never saw a penny from it!" The song gained its initial publicity after Kenny Everett kept playing it on his Capital Radio show.
They released two albums, Dilemma and London, both in 1979 and both recorded at the Kinks' Konk studio in Tottenham and both failed to appeal to anyone. They toured a fair bit and Paul reminisced about it, "If we could find a room with cotton sheets for £10 a night, we thought we'd arrived. One time we nearly got killed when we were driving back from a gig and stopped to take a leak at the side of the road. We got back into our minibus but the road crew behind didn't see us and drove straight into the bus, writing it off. Things like that make for great memories but it makes me feel sad for people who win shows such as The X Factor. They're halfway up the ladder already. They don't have to go through the whole slog of doing the circuit and they miss out on all the fun. It's like being thrust into your life without having to go through your childhood, school, adolescence and everything that makes you who you are."
Paul explained what Top of the Pops was like, "Well, it was too difficult to mime, so I always did a live vocal. You remember these things better when you're young!"
The band split at the end of 1979 and Roger Kelly and Chalky left so the remaining members recruited a big brass section and renamed themselves the Q-tips named after the cotton bud. "It was more fun in the Q-Tips, once I'd learned a bit!" Paul said, "And the QT's were more my idea, whereas I joined Streetband and was dictated to by them, but only because I knew nothing!" They were a hugely popular live draw because they did covers of Stax and Atlantic soul classics. They appeared on Old Grey Whistle Test and Rock Goes To College as well as opening for Bob Marley, Thin Lizzy and The Who.
By 1982 Paul had decided to embark on a solo career which is still going when he feels like it. He took a little break as he wanted to spend more time with his family, but in 1993 he formed a new band Los Pacaminos. He explained why, "I wanted to get back to basics. I was between record labels and writing material for a new album but I wanted to play live again. I've always loved the Tex-Mex sound and knew a few musicians who had a similar passion for this type of music. So I asked them to join me in forming a band.