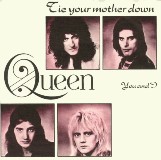 When it comes to 'greatest guitarists' polls, Queen's Brian May is certainly up there, usually in the top five, but not anywhere near recognised for his songwriting , and he's pretty good at that too. All four members of Queen have had a hand in writing Queen songs, Freddie's first sole writing credit was on their debut hit Seven Seas of Rhye, Brian's debut solo effort was Now I'm Here in 1975, John Deacon shone in 1976 when he solely penned You're My Best Friend and when Radio Ga Ga – Roger Taylor's solo success – entered the chart in 1984 – Queen became the first band to have all members solely written a top 10 hit. Brian's other successes were Fat Bottomed Girls, Save Me, Flash, Las Palabras De Amor, Hammer to Fall, Who Wants To Live Forever, We Will Rock You and today's subject, Tie Your Mother Down.
Brian was born in July 1947 in, what is now, the fictitious county of Middlesex. His first musical outing was in 1967 in a band called 1984, named after the George Orwell novel, with singer and bass player Tim Staffel. Within a few months Brian and Tim formed Smile and they recruited drummer Roger Taylor. In 1970, Tim left and Freddie Mercury, who had been trying for a while to get into the band, finally took over as lead singer. In 1971 John Deacon was recruited and Freddie renamed the band Queen.
Queen's first single, Keep Yourself Alive, died as did their debut eponymous album when both released in 1973. The following year saw Seven Seas of Rhye and Queen II both make respectable chart positions and EMI immediately re-issued Queen and it charted the week after Queen II.
In 1976, Tie Your Mother Down was released, it was their seventh hit and the first not to make the top 30. Kenny Everett was interviewing his friend Freddie Mercury on his Capital Radio show and asked Freddie what Tie Your Mother Down was about, to which Freddie replied, "Well this one in fact is a track written by Brian actually, I dunno why. Maybe he was in one of his vicious moods. I think he's trying to out do (sic) me after Death on Two Legs actually."
So let's ask Brian, "Tie Your Mother Down was written whilst I was in Tenerife in 1968 working on my Astronomy PhD. I was sitting alone at the top of a volcanic ridge and this riff came into my head. It suggested lots of things in my mind, I could already half hear the song in my head but I didn't know what the song was about. I remember having the conversation with Freddie a few months later and saying 'I've got this great riff' and Freddie went 'Yeah, this is amazing – we should do that' and he said, "what's it called?" and I said, 'at the moment it's called Tie Your Mother Down but obviously we can't use that and Freddie said, "Yes we can! Why not? It says a lot.'" Brian concluded, "I later went back to it and thought, yeah, it does make a lot of sense to me. It's about teenage angst and rebelling against your parents which I what I suppose most of the original rock songs were about anyway."
According to Queenonline, Freddie liked the rawness of it and said as much, and so it remained intact. Brian added, "Sometimes you get a little riff, and you just put some words with it, and then you don't even think about what they mean. Now I remember thinking, this isn't a good enough title for this song, but everyone said: 'Well actually, it sounds okay,' and so we kind of lyrically built it around that. That's the truth, folks."
The parent album, A Day at the Races was, in looks, almost identical to its predecessor, A Night at the Opera – just a colour change and the addition of the Queen crest. Both albums were diverse and all four member were experimenting and pushing all boundaries. A Day at the Races was the first album produced by the band (Roy Thomas Baker had produced the first four) and the first single from is was Freddie's song Somebody to Love which peaked at number two. Tie Your Mother Down was the follow up and featured John Deacon's song You & I on the B side, however, in Japan, the B side was Roger Taylor's song Drowse. The accompanying video was filmed during the rehearsals of their American Tour, in Miami with all four members in full pelt and Freddie prancing about the stage like a fairy God-mother. They were experimenting with new effects and one planned explosion actually blew Roger off his stool.
For guitar fanatics, Brian explained in Guitar magazine his settings: "My main tone is bridge and middle pickup in phase. That's what I use for Tie Your Mother Down and We Will Rock You. The tone I use second to the standard sound is fingerboard pickup and middle pickup out of phase. That's what I use for the Bohemian Rhapsody solo. It's quite incredible how you lose almost all the fundamental and its all harmonic intervals leaping out into space. I really enjoy that sound, especially when it's turned up high, because the harmonics feedback with themselves and it's quite an exhilarating experience."
When you have a catalogue of material like Queen do, it's hard to choose which songs to keep in and which ones to rest when you're out on the road, naturally the biggest hits will always be there, but Tie Your Mother Down must be one of Brian's favourites and it has never left the set. "You're supposed to be finding new moments with the audience, so each gig should be unique," Brian told Total Guitar. "With the recognisable Queen stuff, I do tend to settle for something that sounds a lot like what I did in the first place – some audiences want that. You're always treading that line between keeping yourself fresh and giving people something they want to hear."