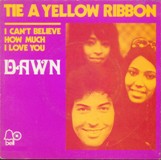 Some of the cheesiest songs are the best remembered, but no-one wants to admit to liking them. It more recent times, it's become more fashionable where they are now called 'guilty pleasures' – which, for some reason makes it more acceptable. Songs like Agadoo, Atmosphere and Barbie Girl are often cited, by the narrow minded, as the worst records, but they are actually clever because you never forget them. The man who recorded this week's subject didn't like the song when he first heard it claiming it was too sappy. He eventually did, and it spent four weeks at number one in both the US and UK and in the process spent 40 weeks on the UK chart and sold over a million here and five million in the States, now get that yellow ribbon out and I'll tell you where to tie it.
Tony Orlando was born in 1944 and began his musical career in 1960 when he formed the doo-wop group the Five Gents, they lasted just a few months before Tony decided to forge a solo career and the following year signed a deal with Epic records in New York and his first single was Halfway To Paradise which reached number 39 on Billboard but got to number three in the UK when covered by Billy Fury. The follow-up, Bless You, became Tony's only solo UK hit which reached number five later the same year. In the mid-sixties he turned his hand to production and a couple of years later took up the job as vice-president at CBS Records in New York.
It was only a twist of fate got Orlando back as a recording artist. In 1970, Hank Medress, who had been a member of the Tokens but left to become a producer, and his friend, session musician and producer, Dave Appell approached Orlando with a demo tape of a song called Candida by a session group called Corporation which comprised a session male singer and two female backing singers, but the pair weren't happy with the male vocals, but loved the song and wanted Orlando to sing it. "I told them I couldn't do it because I worked for CBS and it would be a conflict of interests," Orlando said in an interview with Bruce Nash, "I'm not about to lose my job so forget it guys. They told me they didn't have any money, they said 'we're broke, please help us,' so I agreed but under one condition which was, if you publish this song you can't use my name." They agreed and it was released under the moniker Dawn which was the name of the daughter of their original producer Steve Wax.
Candida reached number three in the US and number nine in the UK and thus prompted the producers to want to record an album. Tony felt bad and approached his boss, Clive Davis, to tell him what he'd done and sort of ask his permission. Davis agreed only after Orlando said, "I assured him that there would be no more hits from this group." The first song recorded for the album was a song written by Irwin Levine and Larry Russell-Brown called Knock Three Times. Orlando told Davis about it and said, "I guarantee this ain't going nowhere; who's going to buy a song about a guy knocking on the ceiling and on a pipe?" Actually millions. At this point Orlando decided to quit his job at CBS and devote his time to Dawn.
Dawn's next hit was the number three hit What Are You Doing Sunday, but then came the big one. Irwin and Brown came up with Tie a Yellow Ribbon Round the Ole Oak Tree and Brown explained in an interview with Gary James how he came up with the song, "I read a story in Reader's Digest the night before. It was one of those human interest things. It was a half-page. It was by Pete Hamill and it started off by saying 'Here's a story I heard in a Greenwich Village pub that's been handed down through the ages about a soldier coming home from the Andersonville Prison during the Civil War and he told the stage coach driver that he had written a letter to his girl that he was coming home after being in the Confederate prison for three years. There was a big oak tree outside of town and if she wanted him to get off the stagecoach, put a handkerchief on it. He had told the story to the driver and a few other people on the stagecoach. He said he couldn't bear to look. When they got in front of the tree, it was all filled with handkerchiefs.' That story put a chill up my neck so the next morning I drove up to my partner's house and asked if I could tell him the story before we wrote a song. He didn't want to hear it. I insisted on it and he said 'Well, tell it fast.' So, I told it fast and he said 'Larry, I just got a chill up my neck and my arm. A rush. Tell it again.' So, I told it again and he said 'I love that story, but handkerchiefs, they have snot in them. Disgusting.' I said well, what can we do about that? He said 'Let's change handkerchiefs to ribbons. That's prettier.' I said I like that. And he said 'stagecoach… that's yesterday. Let's make it a bus.' I said I love it. What are we gonna call it? To which Irwin Levine replied 'What do you think if we call it Tie a Yellow Ribbon Round the Ole Oak Tree?' I looked at him and said I think that's fantastic! I picked up the guitar. I wrote the first verse and the chorus as if I knew it. Right off the bat it popped out of me. Before long I'd written the verse and the chorus, all the words on a piece of yellow paper. By the time I'd gotten to the end of it, Irwin says 'You didn't tell me you liked it, but I've got the second verse.'" Irwin had written the words and melody to the end of the song. Brown continued, "We put it on a tape recorder, jumped up, listened to it one time and gave ourselves a powerful high-five. We both knew that it was fabulous and that's the story of how we wrote it."
So, to add a little more context to the story that was relayed in that Greenwich Village pub, basically in medieval times, a knight would give a pennant or a scarf to a loved one as he left for battle, and from this, wearing coloured ribbons became a popular way of showing support. The civil war film, She Wore a Yellow Ribbon (1949), starring John Wayne, underscores the lineage. Yellow was the official colour of the US cavalry and used in the piping on uniforms and regimental standards. The journalist, Pete Hamill, wrote about it in the New York Post and the story was made into a TV drama starring James Earl Jones. When Russell-Brown and Irwin registered the song for copyright Hamill filed suit for infringement claiming that the authors said they heard the story while serving in the military. His decision to sue was probably enhanced when the BMI (Broadcast Music, Inc.) announced that the song had been played three million times and Hamill thought he would get a decent pay out, but the case was dropped when some staff working for the songwriters turned up archive material of the story that had been published long before Hamill's piece had been written.
They took the song to Orlando who hated it. "This is the corniest song I've ever heard in my life," he recalled, "I told Hank that there was no way I was singing that. I tried to pawn it off to some of my friends, I remember calling up James Darren and said to him, 'Listen, I've got this great song for you. You had that great hit Goodbye Cruel World and this is perfect,' but he turned it down. I then sent it to Bobby Vinton, but he passed on it too. Three or four months later  I found that I couldn't stop singing the chorus so as I was in the studio with Thelma (Hopkins) and Joyce (Vincent) from Dawn and realising the song wouldn't let go of me I said to Hank I would go in and give it one shot."
Until Orlando agreed to record it, it looked like it wasn't going to happen at all as Brown explained, "Nobody wanted to hear it. We first played it for Ringo Starr. The people who listened for Ringo Starr put their hands on the guitar and said I should be ashamed of showing songs like this to people. It's ridiculous about a ribbon in a tree. We should be ashamed of ourselves. We were told that it could ruin us and to never show this song to anybody again. That guy's name was Al Steckler and he was the head of A&R for Apple Records in New York. However, once Orlando agreed we went in and it was done in one take."
Many artists have used that song in their live shows including Perry Como, Frank Sinatra, The Drifters and Bing Crosby, that latter of which actually recorded it the same year as Dawn. Connie Francis recorded an answer version called Should I Tie a Yellow Ribbon Round the Old Oak Tree?