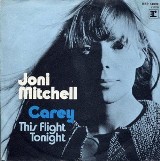 This week's subject is a rock cover version from 1973 of a Joni Mitchell song. Joni's first UK hit as a writer came in early 1970 when Judy Collins took a cover of Both Sides Now to number 14. Joni's only UK hit, as an artist came later the same year when Big Yellow Taxi reached number 11 and her most successful hit was even later the same year when Matthews Southern Comfort took Woodstock to number one. This Flight Tonight, a track from her 1971 album Blue, was covered by Scottish rock band Nazareth, peaked at number 11 and is better known in the UK than the original. Dan McCafferty, Nazareth's lead singer, said, "It's a good song and if you start with a good song it should be able to be played any way you want it."
Joni was born Roberta Joan Anderson in Alberta, Canada in 1943 but at the age of nine, she was caught in a polio epidemic and spent numerous weeks in hospital. Her early aspirations was to be an athlete but that was no longer an option so, being the creative type, she decided on a career in music. She knew what she wanted and wrote and produced all her own material and thus earned the highest respect from her peers, fans and critics alike. Rolling Stone magazine once cited her as 'one of the greatest songwriters ever'.
In 1964 she married Chuck Mitchell and although the marriage only lasted a year, she retained his surname as her professional recording name and after the divorce she relocated to New York.
She recorded her eponymous debut album in 1968 which was produced by then-boyfriend David Crosby. The following year she was set to attend the Woodstock Festival but on the advice of David Geffen, pulled out and, instead, wrote a song about what she thought it would have been like. Later the same year she released her second album, Clouds, which featured the luscious Chelsea Morning (the one in New York not London) which although released as a single failed to chart on both sides of the Atlantic. However, a faithful cover by Neil Diamond was the second song played (after Bridge over Troubled Water) on the newly launched Capital Radio in 1973 and, in 1980, Bill and Hilary Clinton named their only child after that song.
In late 1970 following a tough breakup of another long-time relationship, this time with ex-Hollies/Crosby, Stills and Nash member, Graham Nash, she set off on a holiday around Europe and whilst touring she began writing a number of songs that would eventually appear on her next album. She often picked her own musicians and in early 1971 brought in James Taylor to play guitar, Stephen Stills on bass, Sneaky Pete Kleinow on steel guitar and Russ Kunkel on drums, around the same time she began a relationship with James Taylor and even went to visit him on the set of the movie, Two-Lane Blacktop, the sentiment of which is referred to in This Flight Tonight. The song Blue – which would become the album's title – and All I Want both made references to their relationship and address his heroin addiction. She was comfortable with the relationship and felt she'd met her perfect match and was understandably devastated when he broke it off, thus causing her to retreated to the studio where she immersed herself with recording the album Blue. Within four months it was done and released and included This Flight Tonight, a song all about the feeling of getting on a plane and heading off for a new life, not quite knowing what you're looking for and then wanting to rush up to the pilot and insist he turns the plane around and heads straight back to the safe haven from whence you came, hence the last lines being, 'Turn this crazy bird around, I shouldn't have got on this flight tonight.'
Joni's label, Reprise, decided to release the track Carey and put This Flight Tonight on the flip, it failed to chart. The song was too good to get away which were certainly the thoughts of Dan McCafferty. He explained how they came to know the song, "You know how you're on the road and everybody's got tapes? Well that song just kept showing up all the time on somebody's fave-raves tape, so eventually we decided to give it a go. Obviously we wanted to make it as far away from Joni as we possibly could, 'cause you could imagine how it would sound with me trying to sound like Joni Mitchell!" Pete Agnew, the band's bassist recalled, "We used to listen to Joni as we were travelling round in the van and This Flight Tonight was a big favourite. We decided to cover it because we only wanted to do cover versions on the basis that if you can change it enough, it becomes yours. If you can't change it, don't do it,"
What did Joni make of the rocked-up version? Agnew explained, "When she was recording at A&M, we were just starting an American tour, we all happened to be in the studio the day the single was released, so we were introduced to her and told her what we had done. She said, 'What, with a rock band?' When she heard it, she loved it." Once the song had made the UK chart, where it peaked at number 11, Joni paid the band a wonderful compliment. "She was playing a gig in London and told the audience: 'I'd like to open with a Nazareth song'!" remembered Agnew.
Mitchell continued churning out albums in the 70s and 80s and was the darling of the west coast music scene but behind the music this lady had to live with the torment of giving her daughter up for adoption. Joni was generally a private person but in 2013 she revealed many things in the book, In Her Own Words Conversations with Malka Marom, where Joni talks about her lifelong battle with chronic illness, the pain of the adoption and paranoia. She explained how she's become forgetful and suffers from Morgellons, a rare, mysterious and controversial disease that attacks the nervous system that makes sufferers feel like there are parasites living under the skin. She said it left her unable to leave the house, walk or wear any clothes for excruciatingly long periods of time. She also talks about her fear of the dark because she had so many stalkers lurking around the Laurel Canyon home where she moved to after Judy Collins had a hit with Both Sides Now.
She wasn't too excited about the eighties, "In that decade we moved into a particularly unromantic period in music. Videos had just begun, and they had a tendency to feature cold women with dark lipstick and stilettos grinding men's hands into the ground," she explained in an interview the Gandee. "It was an antilove period, and my work—Wild Things Run Fast, in particular—was a joyous celebration of love, which basically made people sick. Once I realised that I had fallen from favour, I decided to stretch out. I can't pander to public opinion. Besides, the fact is no matter how talented you are, sometimes you fall out of favour."
In 2010 she was invited to perform Both Sides Now at the Vancouver Olympics but had to decline because, as she put it, "I was at the height of my illness, when I couldn't even wear clothing."
Joni was reunited with her long-lost daughter, Kilauren Gibb in 1997. "I've had pain and joy in my life but nothing like this, it's an unparalleled emotional feeling," is how Joni described the reunion. Kilauren added, "It was wonderful. It was a great relief to me in every way. It made me feel whole. It made me feel complete. I don't have any expectations. I didn't come into this thing with expectations. I just wanted to find my mom." Sadly the reunion did last long, in January, 2000, Joni allegedly slapped Kilauren during an argument in which police were called but Kilauren refused to press charges. In has since transpired that they were incompatible.
Despite her obvious disaffection, Joni looks back at all the agony and the ecstasy and has said, "I would not change anything. I would do it all over again".
As for Nazareth, they are still touring and still play the song, loud and proud, "It's our finishing number," exclaimed McCafferty.