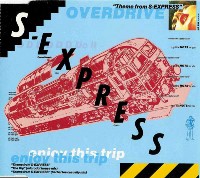 Over the years many TV and film themes have made the chart, especially in the sixties and seventies, in facts the best-selling single of 1973 was a TV theme. It was called Eye Level and was the theme to the TV series Van Der Valk which was about a Dutch detective and composed and formed by Simon Park. This week's suggestion was the 18th best-selling song of 1988, it was called the Theme From S-Express and it wasn't a theme for any programme nor film.
The song was performed by S-Express which was a pseudonym for DJ Mark Moore. Nowadays it's common place for the chart to be littered with DJ 'making' music but back in 1988 it was a rare thing and much harder to achieve. It probably helps if you have a job within the music industry and that certainly benefited Mark who was the A&R man at Rhythm King Records. He was also one of the first supporters of Chicago house music and regularly mixed it with European electro music such as Soft Cell, Yello and Cabaret Voltaire. Mark first started DJing at Philip Salon's Mud Club in London. The resident DJ, Tasty Tim, asked Mark to fill in one night and he performed such a good set that he was offered a residency, which lasted five years.
I interviewed him in 2004 and he said to me "I wanted the song to be a disco record with '70s influences but with an '80s feel." In an interview with The Guardian, he explained, "I had this idea for a record made of a load of samples. At the time, the dance label Rhythm King had opened across the road from where I was living in London, so I was always hanging out there. They paired me up with Pascal Gabriel, co-writer of Bomb the Bass' sample-heavy Beat Dis and I played him all these bits off various records. We put them on to a cassette – taping 10 seconds of this record, three seconds of that one – and when Rhythm King heard it they said: 'We'll put you in the studio.'
By taking the bass and brass sections from Rose Royce's 1979 hit Is It Love You're After and 1981's Rose Royce Express that gave the song its intro. The 'Uno, dos Uno, dos, tres, quatro' count was 'borrowed' from Gil Scott-Heron and Brian Jackson's The Bottle. The line 'I Got the Hots for You' was originally by TZ and the brass stabs in the middle were from Crystal Grass' 1975 funk anthem, Crystal World. He brought in a singer called Michelle who provided the 'Enjoy this trip, enjoy this trip and it is a trip' intro. The line that follows that, 'Countdown is progressing' steals from an obscure 1964 track The Martian Monster by Laura Olsher. The stand-alone line 'Drop that ghettoblaster' was originally the closing line from Karen Finley's Tales of Taboo. Putting all that together he came up with a floor-filling disco track which topped the UK chart for two weeks in May 1987.
"It only took a few days," Mark said, "we thought it sounded amazing and I knew it would work in the clubs I played, especially the mixed and gay clubs, like Pyramid at Heaven and the Mud Club. But we thought it would be two years before we got any mainstream success – pop music just did not sound like that in 1988! Things were coming through, such as Bomb the Bass and Coldcut, but pop was Kylie and Jason. Rhythm King said it was too weird for radio, and asked for a seven-inch mix. We didn't want to, so we did a deliberately awful mix, and they said: 'OK, you win.'"
Radio 1 eventually started giving the track airplay, but only once it had reached the top five. Then came the most important pop programme of them all but rather than stand behind a DJ podium pretending to sample and mix, Mark brought in some friends to make it look more like an act. "The friends I put in the band," he said, "were Linda Love on keyboards, Anna Goodman, Chilo Eribenne, Michelle Ndrika who helped make it look good on TV, but we didn't go down well on Top of the Pops because the producers were wondering why we didn't take it seriously. I didn't take ecstasy at Top of the Pops that time, but I did for my second hit Superfly Guy, and at one point I really didn't know where I was, but I thought the lights were really pretty."
In more recent times, there have been lengthy court cases and mammoth fines for people who use samples without permission so how did Mark get around all that? "People didn't pay for samples back then, because nobody knew what the law was," he said in The Guardian. "We used something like 14 different ones, and received a letter from our American lawyer saying, "Bomb the Bass was bad enough, but S-Express is a disaster. Karen Finley was really good about us using her sample. We wrote to her and she said, "You can have it for free, it's fine." Her contribution was a very small line, so how much would she have made from that? Maybe five per cent? She was cool – I'd have probably done the same thing. It's not all samples, though, I wrote the bassline, and the S-Express vocal line is original. We used a can of hairspray for the hi-hats. I was bored with the average hi-hat sound and I thought about what we could do to make it different – so we sampled hairspray. The whole thing cost £500 to make. As for the rest of the samples, everything was settled but it took five years."
More hits followed, after Superfly Guy came Hey Music Lover which featured future star Billie Ray Martin on vocals. In 1992 he covered Dobie Gray's Find 'Em, Fool 'Em, Forget 'Em that introduced the future number one hitmaker on vocals, Sonique. A remix by Tony De Vit and Simon Parkes, with the amended title Theme From S-Express: The Return Trip brought Mark back to the chart in 1996, when it reached number 14.
In 1984, Mark made a fleeting appearance in the video to David Bowie's number six hit Blue Jean.