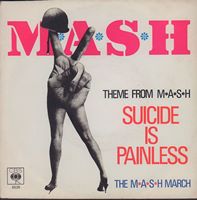 An interesting theme tune this week that became a hit 10 years after it was recorded and by an act that were only assembled with the intention of recording one song thus prompting my comment and the rewarding round of applause when I appeared on James O'Brien's LBC Mystery Hour when someone ask if any act had set out to become a one hit wonder.
M*A*S*H – The movie first saw the light of day in 1970. It was based on a novel by Richard Hooker with a film starring Donald Sutherland and Elliott Gould and directed by Robert Altman. It tells the story of how staff at the 4077 hospital in a Korean War field cope with the stress and tragedy of war by using humour and winding each other up and the commanding officer, Colonel Henry Blake allows it to carry on as long as it doesn't affect their jobs and performance. M*A*S*H was an acronym for Mobile Army Surgical Hospital and one day Captain 'Painless' Waldowski played by John Schuck admitted to his colleagues that he wanted to commit suicide but none of them really believed him and jokingly decided to throw him a farewell party where a fellow colleague, Private Seidman, played by Ken Prymus, sings him a farewell song called Suicide Is Painless.
The film's director, Robert Altman, loved the song so much that he decided to use it as the film's the tune. Two years later when the film was adapted into a spin-off television series that featured over 250 episodes and ran for 11 years with Alan Alda as Captain Benjamin Franklin 'Hawkeye' Pierce. CBS television, who commissioned it, refused to have Suicide Is Painless as its theme because they thought it inappropriate that young viewers should go around singing a tune about suicide. So, the composer Johnny Mandell recorded an instrumental version for TV purposes still keeping the tune a little sombre to fit the show. Mandel, who died in 2020 aged 94, was a versatile American composer who played trombone and trumpet in various jazz bands in the 40s and later became Artie Shaw's musical arranger. He began composing film themes in the late 50s and won an Oscar for the Richard Burton and Elizabeth Taylor film The Sandpiper in 1965.
So, who wrote the words? Initially Altman had a go at penning them but, in an interview with Johnny Mandel a few years alter he said that he felt his output was not 'stupid enough.' "I wanted the song to be the 'stupidest song ever written,' you see. I've got a kid who's a total idiot, so I gave it to my 14-year-old kid. Teenage boys are experts at stupid."
So, Altman's son, Mike, savouring the idea gave it a go and apparently knocked the lyrics out in five minutes flat. So the 'idiot' wasn't that much of an idiot because in an interview with Johnny Carson on his own show Altman Snr revealed that he had been paid $70,000 to direct the film but his son made over $1 million in song writing royalties.
How did it become a UK hit out of the blue 10 years after it was written? It was all down to Radio 1 DJ Noel Edmonds who unearthed a copy and on his Sunday morning show continually played it. The demand was high and CBS Records were forced to release it as a single. It never received weekday radio play because, like CBS management, BBC hierarchy thought the line 'suicide is painless' was objectionable and might have led to listeners taking their own lives.
The identity of The Mash musicians was, for many years, a mystery. They were, in fact, a group of Los Angeles session musicians named The Ron Hickman Singers. They comprised Ron Hickman, John Bahler, Ian Freebairn-Smith and Gene Morford who all shared lead vocals on the track. In the sixties they had provided backing vocals on hits by Gary Lewis and the Playboys and in the Seventies joined David Cassidy and Shirley Jones as the other members of The Partridge Family. They also recorded many other TV theme tunes including Batman, Laverne & Shirley, Happy Days and Wonder Woman.
Many songs have a shortened radio edit version because radio never used to like any song that was more than about three and a half minutes, but the Theme From M*A*S*H has varied in length. The original version used at the beginning of the TV series was 90 seconds long and it was the only episode which didn't open with the theme. In the pilot, it came a few minutes in. In later episodes it was cut in half to around 45 seconds, but 50 seconds in other episodes. There have also been slight but subtle differences especially in the acoustic guitar intro. Later in the 70s some more harmonic chords can be heard. The version that was released as a single in 1980 was a re-recorded version from the original.
The show is still regularly aired on various oldies channels and the theme went back into the Top 10 when covered by the Manic Street Preachers in 1992, but that was over 30 years ago, so it might be time for yet another remake.