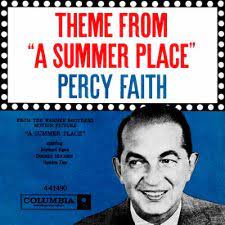 This week's suggestion was described, in 1976, by the American DJ Casey Kasum as, "The biggest hit on the American charts by a Canadian artist." It is the longest-running number one instrumental hit on Billboard ever where it spent nine weeks at the top and, not only that, it was the first film theme and the first instrumental to win a Record of the Year Grammy.
In the UK, Guy Mitchell's Feet Up became the first ever song to peak at number two which was back in 1952 when the chart compilers were using the New Musical Express source up until 26th February 1960. Those compilers changed from NME to Record Retailer (later Music Week) from 10th March 1960, hence there was no actual chart for week ending 5 March 1960. The chart that was printed in Record Retailer on 10th March  was actually dated 5th March and more or less corresponded with the NME chart dated 4th March. Are you keeping up? So, the first number two hit with the new chart compilers was Percy Faith's Theme From A Summer Place taken from the film of the same name, and starred Dorothy McGuire, Sandra Dee and Troy Donahue, and was favourably compared to the already established Peyton Place. Now that's out of the way we can get on.
Faith  was born in Toronto, Canada on 7 April 1908, learned violin as a boy and by 11 he was playing piano at the silent film theatres, before moving to the U.S in 1940. Ten years later he joined Columbia Records as conductor and arranger and worked with a variety of names including Tony Bennett, Johnny Mathis and Doris Day.
In 1927, he was involved in an accident, in which, as recalled in Fred Bronson's Billboard Book Of American Number Ones, his sister's clothes caught fire and Percy had tried to put them out with his bare hands. Later, medical experts told him that he wouldn't be able to play piano for about five years, and so he turned to composing music.
Having said that …Summer Place was not written by Faith, it was a cover of the Austrian film composer Max Steiner, who also wrote the score for Casablanca. It was Hugo Winterhalter's original orchestral version which was used in the film.
The song has been covered by a multitude of people in its instrumental form by the likes of Mantovani, Santo & Johnny, Chet Atkins, the Tornados, Bert Weedon and Duane Eddy. In 1960, Mack Discant wrote some lyrics to it and has been recorded as a vocal version almost as many times but by The Chordettes, Andy Williams, Bobby Vinton, Cliff Richard and Dorothy Squires.
Such is its appeal that it has been featured in stacks of films including, The Omega Man (1971), National Lampoon's Animal House (1978), Batman (1989), Mickey Blue Eyes (1999), Ocean's Eleven (2001) and Sonic the Hedgehog 2 (2022).
Faith, who passed away in February 1976, aged 67, had so much faith (no pun intended) in the track that he re-recorded it…twice, firstly in 1969 which included a female choral vocal then, in 1976, as a disco version which he retitled Summer Place '76 and done in quite a classy way as you probably expect.