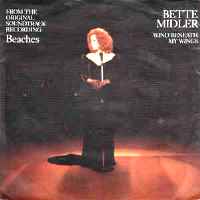 This week's single has been recorded by hundreds of people and some under a different title entirely. It's a selfless song about letting someone else take all the credit and yet it's a funeral favourite too that was written by a man who was the lead singer with a group who had two UK hits – seven years apart.
The group who had the two hits were The Newbeats, their first hit was Bread and Butter which peaked at number 15 in 1964 and the other was Run Baby Run (Back In My Arms) which was recorded in 1965 but failed to chart until it was discovered on the Northern Soul scene six years later thus becoming a hit then. It fared better than the first hit by getting to number 10 in December 1971.
Lead singer Larry Henley was born in Texas in 1937 and formed the Newbeats in 1964 alongside brothers Dean and Mark Mathis. Henley had a distinctive falsetto voice much like Frankie Valli. In 1981, he teamed up with the Los Angeles-born songwriter Jeff Silbar to write The Wind Beneath My Wings which became hugely successful around the world and far bigger than either of them had imagined.
The original idea was that it would be a love song from a male to a female, but when they had finished they realised that it was much more universal and could apply to anybody, related or otherwise. It began as a poem Henley had written. He gave it the title and it wasn't just on a whim as he was learning to fly aeroplanes at the time. He told Jeff who loved the idea and the pair sat down and wrote it start to finish in one day. The Henley/Silbar demo was at a much faster pace than the song we know and it was only when someone as Warner Brothers Music suggested slowing down it became a ballad.
This song had a similar start in life to Release Me in as much as the writer (in this case Eddie Miller) has so much trouble trying to find someone to record his song that he ended up recording it himself. He wrote it in 1946 and got turned down by many singers and record companies alike that he finally laid down the track in 1949 on the B side of a song called Motel Time. Country radio DJ's began playing the other side and it eventually took off and all and sundry recorded it, most famously Engelbert Humperdinck who took it to number one.
So after Henley and Silbar had recorded their demo no one seemed interested. Barbra Streisand was the first to give it a go but for reasons unknown, halfway through the session she decided not to continue and walked out. The first fully recorded version was by a Malaysian-born country singer called Kamahl in 1982 for a country album he was making, but it never got released. Eventually, a full year after the demo, the first singer to tackle it and get a release was Roger Whittaker later in 1982. This was followed a few months later by Sheena Easton who included it on her album Madness Money and Music. In 1983, Gladys Knight (without the Pips) recorded it but changed the title to Hero. Other country singers who have given it a go were Gary Morris, Lee Greenwood, Willie Nelson and Ray Price. Also in 1983, Lou Rawls gave it a friendly soul treatment and in 1992 Patti Labelle did it justice too.
By far the best-known version is the one by Bette Midler that was used in the 1988 film Beaches that starred Bette as CC Bloom. The song appears towards the end of the film in a dramatic scene after Hillary Whitney Essex, played by Barbara Hershey died of cancer. It was not the first time this song had appeared in a film. Two years previous Gladys Knight's version was used in The George McKenna Story that starred Denzel Washington.
When Midler first heard the song she wasn't too impressed with it as she revealed in an interview with The Times in 2009 saying "It's really grown on me. When I first heard it, I said, 'I'm not singing that song,' but the friend who gave it to me said, 'If you don't sing it I'll never speak to you again', so of course I had to sing the damned song. Whatever reservations I might have had I certainly don't have any more."
Before Midler recorded her version, other artists had given it a go including the crooner Perry Como who, in 1987 was recording the album Today. He wanted it released as a single but his record label, RCA refused which angered Como so much that he said he would never record for the label again.
Wind Beneath My Wings, which is in the top 10 list of favourite funeral songs, won the Song of the Year and Record of the Year awards at the Grammy in 1990. Bette also sang it at the Oscars in 2014. In 2013, when Idina Menzel was auditioning for the voice of Elsa in Frozen, this is the song she rendered.
Larry Henley passed away at his home in Nashville, Tennessee in December 2014, he had been suffering from Parkinson's and Alzheimer's diseases, he was 77. Silbar, who has just turned 65, boasts on his website, 'Wind… has received seven ASCAP awards, including a Song of the Century award, and was recognised as one of the American Film Institute's 100 Greatest Movie Songs.'