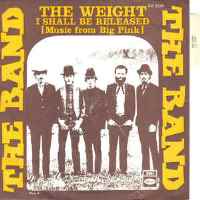 This week's choice is by Bob Dylan's former backing group and is full of characters like Luke, Jack, Anna Lee, Miss Moses, Carmen, Chester and, needless to say, Fanny. Who were these people? Well, the group's guitarist and occasional vocalist, Robbie Robertson said it was based on some films he'd recently watched by the Spanish film  maker Luis Buñuel, so there might be a clue.
The nucleus of the band began in 1957 when they were called The Hawks. In 1964 some members left and began backing various singers especially around the Woodstock area. The group's lead singer and drummer Levon Helm decided the name The Band worked well and so it stuck. In 1965, Bob Dylan was looking for a backing band for his first 'electric' tour and it was the blues singer John Hammond Jr who recommended The Band. Robertson and Helm had a meeting with Dylan and he was impressed and wanted to hire the two of them but. Helm, out of loyalty to the rest of the members, told Dylan that he hired all or nothing and so Dylan agreed to hire all of them. That tour was billed as Bob Dylan and the Band. During that tour, Dylan was injured in a motorbike accident and the tour was halted and the band had no work. They briefly returned to club work until in 1967 when Dylan then invited them back to join him for his appearance in Woodstock and they agreed and temporarily rented a pink house which they affectionately named Big Pink. That abode influenced the title of the Band's debut album Music from Big Pink, the album that included three Dylan-penned songs and this week's suggestion.
The Weight is one of many songs where the title is not mentioned and thus leaves an air of mystery as to exactly what the weight is. It has a number of Biblical references, e.g., the opening line reveals, 'I pulled into Nazareth, was feeling 'bout half past dead' which, as Robertson explained to Seth Rogovoy, was inspired by his 1951 Martin D-28 acoustic guitar. One evening when he was working on the song, he looked inside his guitar and saw that it was made in Nazareth in Pennsylvania, where Martin Guitars have had their production line since 1933, not the one in Israel which is what the Bible refers to. As I mentioned earlier, Robertson was a fan of Bunuel whose 1959 film Nazarín was also the inspiration as it "unlocked many thoughts in my head, I just knew I wanted characters to unload their burdens on the song's main character in each verse. The guy in my song starts by asking the first person he sees in Nazareth about a place to stay the night, a biblical concept." It was those burdens that are 'the weight'.
There's another film influence; in the second verse we hear, 'When I saw Carmen and the Devil walkin' side by side', "that was borrowed from Ingmar Bergman's 1957 film The Seventh Seal and the famous chess game against the Grim Reaper."
So, what about the lead character, Fanny? Well she is real. Frances 'Fanny' Steloff was the lady who founded and ran the Gotham Book Mart shop in New York in 1920. She was still running it in the late sixties when Roberson visited to study Bergman's and Bunuel's film scripts of which she had plenty. Robertson spent hours there and gained much inspiration for this song. Fanny died in April 1989 at the age of 101 and the book store eventually closed in 2007.
As for the rest of the song's characters, well they are all based on real people as Levon Helm explained in his autobiography This Wheel's on Fire: Levon Helm and The Story of The Band: "'Luke' was Jimmy Ray Paulman. 'Young Anna Lee' was Anna Lee Williams from Turkey Scratch. 'Crazy Chester' was a guy we all knew from Fayetteville who came into town on Saturdays wearing a full set of cap guns on his hips and kinda walked around town to help keep the peace if you follow me. He was like Hopalong Cassidy, and he was a friend of the Hawks, the backing band of Ronnie Hawkins. Ronnie would always check with Crazy Chester to make sure there wasn't any trouble around town and Chester would reassure him that everything was peaceable and not to worry because he was on the case. Two big cap guns, he wore, plus a toupee!"
In turn, the opening line was another inspiration to the Scottish rock band, Nazareth, led by Dan McCafferty, who took their name from that line.
There is also a dispute over the writing credit. The record label credits J. R. Robertson and then proceeds to list the band members – Jaime Robbie Robertson, Rick Danko, Richard Manuel, Gareth Hudson & Levon Helm. There are three different vocalists on the song with Helm taking lead on the first three verses, Danko takes the fourth and Richard Manuel who harmonises. Some members of the group have said that they contributed to it but were not credited thus causing tension in The Band.
The song has been covered by a diverse range of acts including Aretha Franklin, Diana Ross & The Supremes and The Temptations, Paul Jones, Bob Dylan, Joan Osborne, The Black Crowes, Dionne Warwicke, Joe Cocker, Weezer and Garth Brooks. The biggest hit version in the U.S. was by Aretha Franklin who peaked at number 19.
The Band split in 1977 with various member doing their own thing. Robertson turned his hand to production and worked with Neil Diamond producing his 1976 hit Beautiful Noise. They reformed in 1983 but without Robertson and ran through until 1999. In 1986, Richard Manuel, after being clean for a few years returned to drugs and alcohol and took his own life in a motel room. They received a Lifetime Achievement Grammy Award in 2008 and four years later Levon Helm lost his battle with throat cancer. At the 2013 Grammy Award ceremony, The Weight was performed by Mavis Staples with Mumford & Sons, The Zac Brown band and Elton John. On Elton John's 1971 album Madman Across the Water, there is a track called Levon which at the time many, rightly speculated was about the drummer, but later on lyricist Bernie Taupin says that he simply made the name up because he likes it, and the song has nothing to do with Helm. No, I'm not convinced either!
Back at the start, Robertson believed in this song but didn't expect it to become as well known and covered as many times as it did saying, "I had thought, here's a little tune, if some of these others don't work out as well as expected I've got something to fall back on here. I didn't recognise at the time that it was real good. When you're inside looking out sometimes you just can't see it clearly. But it was definitely one of those songs."