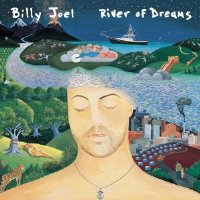 I'm not a songwriter but so many times we've heard it said that a songwriter wakes up with a song in their head the most famous being Paul McCartney who woke up with Yesterday in his head and temporarily called it Scrambled Eggs until he finished the song. Billy Joel is another one especially The River of Dreams and when it wouldn't go away, he wrote the song.
The New York-born legend had been away from the UK top 10 since We Didn't Start the Fire, in 1989, dropped out and The River of Dreams was a bit of a comeback and gave him his biggest hit since he topped the chart with Uptown Girl 10 years previous.
"When you wake up singing a song and having a certain rhythm running through your mind and you can't get rid of it, it means something," he explained in an interview with Psychology Today. "I woke up one morning and had the tune in my head, and it just stayed with me through my morning shower and the rest of the day. I could not shake it, so I wrote the song. I've always found it's best to follow up the initial impulse when something is that strong."
He has famously said that he often dreams in sounds, colours, and shapes. When he was at school he remembered, "Sometimes kids would come into school and say I had this dream about a monster or I had this dream that I saw you or somebody died, I had a nightmare , I thought to myself, 'Gee, I have a completely different kind of dream. I dreamed a melody or I dreamt a great rhythm or a chord pattern or symphonic fragment for a song.' It was always music but it wasn't always the same kind of music. I have had literal dreams like other people but more often than not it's an abstract kind of dream.'"
When he woke, the remembered thinking that he was walking in his sleep at that's what sparked the first lyric. He also stated that the phrase "River of Dreams is a play on the phrase Stream of Consciousness." The line, 'Through the valley of fear' was inspired by the famous line, 'Though I walk through the valley of the shadow of death' from Psalm 23:4. The river itself conjures up a religious image and the song says he is baptised by the fire, I wade into the river that runs to the promised land, but he also states, 'God knows I've never been a spiritual man.
The sleeve of the parent album, also called The River Of Dreams, was painted by Joel's second wife and supermodel Christie Brinkley. Brinkey, along with his daughter Alexa Ray both feature in the accompanying video which was directed by Andy Morahan and opens with a train on a bridge crossing a river. That bridge scene was filmed at the Providence & Worcester railroad bridge in Middletown, Connecticut.
The song earned a Grammy Nomination for Record of The Year and at the 1994 Grammy Awards ceremony, Joel performed this song backed by a large gospel choir but, unbelievably, lost out to Whitney Houston's I Will Always Love You. Is there any justice in the world I ask myself?