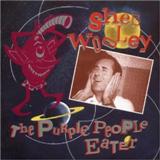 A few weeks ago at one of my pop quizzes I played Goldie Lookin' Chain's 2004 hit Your Mother's Got A Penis and judging by some of the strange looks, some people had obviously forgotten it despite it making number 14 in the UK chart. I mentioned that it had to be one of the last novelty songs to make the chart. In the 1950s, however, novelty records were littered across the chart, especially in America. Very often they are one hit wonders, unless, like Weird Al Yankovic and Judge Dread, you wanted to make a living out of it. This week's subject was an American number one in 1958 and a number 12 on this side of the pond that nearly didn't get recorded.
The reason it didn't get recorded was nobody, not even the writer and performer liked it. That person was Shelby F. Wooley who would eventually make his name as an actor and singer. Sheb, as he was known, was born in 1921 in Erick, Oklahoma. He formed his first band at school, but it was after World War II that he began writing songs and headed for Nashville. Before long, the actor Jimmy Dean and the country singer Hank Snow began recording some of his songs. He recorded one or two himself including the bizarrely titled Peepin' through the Keyhole Watchin' Jole Blon which became a local hit in Texas.
But it wasn't until 1958, and after he'd landed himself a part in the TV western Rawhide with Clint Eastwood, that he had his first hit with the song The Purple People Eater. Sheb explained how it came about, "I was having dinner with a songwriter friend of mine, Don Roberton, who told me that his son had come home from school with all these weird jokes. One of them was "What has one eye, one horn, is purple, flies and eats people?" the answer was A purple people eater. Although he didn't find it funny, he said to Don, "Why don't we write a song about it?" and Don said, 'well you go ahead as it's more in your field', so I did."
A couple of weeks later he had a meeting with the management of his record label, MGM and was presenting them with some songs he'd written, mostly ballads. "There was no great excitement in the room," Sheb recalled, "and they asked me if I had anything else. I opened my guitar case and saw the music to The Purple People Eater but I said to them it wasn't anything they would be interest in. The President insisted, so I played it and he and the top A&R man liked it, but no one else did."
They recorded it, but then the company didn't want to release it. "One person said to me, 'We don't want to be identified with this, we're Metro Goldwyn Mayer' however someone persuaded them and they finally went ahead and released it.
Sheb went into the studio and decided to record the saxophone and vocals at reduced speed and then played them back speeded up. "Once they released the single, it broke wide open and was an instant hit," Wooley said, "They couldn't press copies faster enough." It was so popular in the States that a slew of merchandise followed particularly T-shirts, hats and horns.
After he left Rawhide, he concentrated on his musical career and made a string of country songs including the 1962 number ones That's My Pa and Laughin' the Blues. Later the same year he intended to cover Rex Allen's single, Don't Go Near the Indians, but, as MGM could not arrange a studio booking in time, he rewrote the song as Don't Go Near the Eskimos and recorded it under the pseudonym Ben Colder, that was after dismissing the names Ben Freezin and Klon Dyke. In 1969 he wrote the theme music for a new CBS TV country show, Hee Haw, and he performed many times on that programme, either as himself or Ben Colder.
The single also brought some spin offs including Joe South's answer version called The Purple People Eater meets the Witch Doctor which actually reached number 47 on Billboard. 30 years later in 1988, saw a film made of his hit which, not only featured Sheb as Harvey Skitters, but also Little Richard as the Mayor and Chubby Checker as himself.
He recorded a few other parody songs, namely Hello Walls No.2, Harper Valley PTA (Later the Same Day) and Lucille No.2), but none were big hits.
In 1959, Sheb learned that, for contractual reasons, his song was not going to be released in Scandanavia so the comedy writer, Barry Cryer, whilst appearing in the film Expresso Bongo, decided to record a version and it went to number one in Finland
Sheb made a lot of money from the hit and bought properties in Tennessee and California and also owned a farm in New Mexico with one of his brothers. In 1996 he was diagnosed with leukaemia and his health deteriorated. He died at a Medical Center in Nashville, Tennessee in 2003 aged 82.
In 1952, Sheb had appeared as a whiskey-drinking killer in the film High Noon with Gary Cooper and Grace Kelly and the only instruction he left for the funeral arrangements was that it was to be held at high noon.