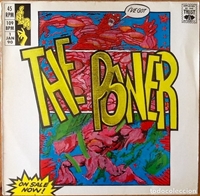 This week's suggestion, which came from Marsha, began as a simple question about the song's spoken foreign language intro and where it came from. After replying on email, Marsha came back with thank you and then a further couple of questions about samples, so I suggested making it into a Single of the Week, and she agreed, so, Marsha, here is the story behind Snap!'s The Power.
Just six months after Loleatta Holloway threatened Black Box with legal action for stealing her vocals for Ride on Time along came Snap! who tried to get away with the same trick. They were formed in Pennsylvania by two German producers, Michael Munzing and Luca Anzilotti who wrote and recorded under the pseudonyms Benito Benites and John 'Virgo' Garrett III. They recruited rapper Turbo B and his cousin, singer Jackie Arlissa Harris. Turbo was born Durron Butler, but his friends nicknamed him Turbo because of his resemblance to the character Turbo in his favourite film Break In. They moved back to Germany and assembled a 12-inch track for Germany's Logic Records, called The Power.
Radio stations now very often cut out the spoken intro, but back when it was in the chart the track was played in full and opened with the Russian spoken word 'Американская фирма Transceptor Technologies приступила к производству компьютеров «Персональный спутник»' Now, if you don't read or speak Russian, you will have trouble understanding that, so a slightly easier translation would be 'Amerikanskaya firma Transceptor Technologies pristupila k proizvodstvu komp'yuterov Personal'ny sputnik' – that, in proper English means, 'American company Tranceptor Technology started producing personal companion computers'. If you're thinking, surely sputnik is more akin to a satellite than computers you're quite right; the computer company in question did, in 1990, launch a hand-held device which they actually called 'Personal satellite' and was made for visually impaired people to be able to effectively read a newspaper because it had the capability of downloading articles from the newspaper USA Today which was the first national daily in the States. The actual technology side of it was devised by a company called Transceptor Technologies who were based in Ann Arbor in Michigan.
The song's most memorable bit was the song's hook line, 'I've Got the Power' which wasn't original either. That was lifted from Jocelyn Brown's Love's Gonna Get You which was a very minor UK hit in 1986. The title of that song and the following line, 'I'm gonna get you yes I am' became the basis for Bizarre Inc featuring Angie Brown's 1992 hit I'm Gonna Get You. The repeated line that follow's the title throughout the song is 'He's gonna break my heart' which is another lift, this time from a track called Some Love which appeared on Chaka Khan's 1978 album Chaka.
The song's main electronic sound that runs throughout and first appeared after the first, 'I've got the power' line is an interpolation of King of the Beats by Mantronix which was released in 1988. The fourth and final sample is the rap which 'borrows' from a track called Let the Words Flow by Chill Rob G. What permissions were granted for each of these is unclear, but Rob G knew his song had potential and rather than instigate legal proceedings, he re-recorded his song under the pseudonym Power Jam featuring Chill Rob B and borrowed bits from Snap!'s version. Jocelyn was not best pleased and won her case in court to get the credit she deserved. "I respect the fact that folks appreciate what we do and want to use it to collaborate," Brown stated in an interview with Billboard magazine, "I just think they need to do the right things first. I wouldn't have minded if they'd asked first."
Once all the samples had been decided on and recorded, they need a female vocal so they approached Chaka Khan who flatly refused but did suggest one of her backing singers, Penny Ford. Ford agreed to it and after arriving in Germany, spent a couple of days recording various vocals but not really knowing what the producers wanted. She recalled in an interview with Songfacts, "It was more or less them picking me up by the scruff of my neck like a pit bull and throwing me in the booth with a pack of cigarettes and a bottle of champagne and turning the mic on. That's how it happened. I just sang the first thing that came off the top of my head, because I didn't understand that music, and I didn't think I'd ever have to hear it again." Ford, who was also was also the lead singer for the girl group Klymaxx, also recorded solo under the amended name Pennye Ford and had one hit in 1985 with a cover of Aretha Franklin's Daydreaming.
As is often the case with sampling, the subject of money is often a problem because everyone wants a slice of the cake. It transpires that Rob G, for all his efforts, didn't get paid a penny and nor did Jocelyn Brown because she didn't write the one line she sung. The track Love's Gonna Get You was solely written by Antoinette Colandero but as to whether he received any money is also unclear. As for Penny Ford, she did ok because her family history helped; her father was Gene Redd was an executive producer at King Records who had signed James Brown in his early days and has produced some early Brown tracks. Her brother, Gene Redd Jr produced many of Kool & the Gang's early 70s tracks and her half-sister was the singer Sharon Redd whose best remembered hit was the 1981 hit Can You Handle It and sadly died from pneumonia in January 1992. Besides all that, she was an attractive lady and Snap! needed someone to front the group for live appearances.
Snap! followed The Power with the Top 10 hits Ooops Up, Cult of Snap, Mary Had A Little Boy and a mega-mix of their first four hits. The album World Power also made the Top 10. The Power was re-recorded in 1996 under the title The Power '96 and released as Snap! featuring Einstein but stalled at number 42. It did slightly better seven years later when it was re-mixed again, this time by Luca Moretti and Ricky Romanini under the credit Snap! Vs Motivo and carried the title The Power (of Bhangra).
To this day, Turbo B still insists that he did the first version of The Power and says, "I was talked out of it at first because it was 'too hard' and wouldn't sell, and only softies like Milli Vanilli make it." Indeed! And just look how well their careers turned out!