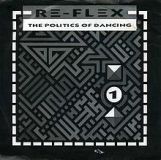 There are probably more radio stations concentrating on 1980s music shows than on any other decade. Twitter and Facebook are full of stations and their fans suggesting and raving about the songs they've heard recently. #My80s is one, forgotten 80s is another. There is also a number of bloggers; talking 80s music, Like Totally 80s and Stuck in the 80s are just three. Even Radio two have brought Gary Davies back for an eighties show, which is no bad thing. At least he is a DJ and was there in that decade as opposed to his predecessor and to the never ending list of 'celebrities' who are not really DJs. One particular song that I've not seen talked about, fair enough I'm not glued to these stations 24/7, is a number 28 hit from early 1984 by a British band called Re-Flex.
Re-Flex, who got their name from Re-Fuse which was inspired by a graffiti artist who tagged his work with RE-FUSE, were from London and formed in late-1979 with an original line-up comprising founder member singer/lead guitarist John Baxter and keyboardist Paul Fishman. They recruited John Hodge (guitar), Francois Craig (bass) and two drummers, Philip Gould and Mark King. Within a few months the line-up altered, Gould and King left and was replaced by Roland Kerridge and Craig departed and was replaced by Nigel Ross-Scott who was recommended by Thomas Dolby.
If you recognised the names Gould and King and were thinking Level 42, well they were the same two people and in an interview with Archive.Today, Fishman explained how they came to be in the original line-up, "Actually Roland was the original drummer but it wasn't right. Then we worked with Phil Gould and he was best mates with Mark. Phil was having difficulty making our regular rehearsals as he was living on the Isle of Wight, so suggested his best mate Mark. Mark then officially became Re-Flex's drummer and we worked together for about two years before things took off with the Levels. Mark had got him involved as the bass player as Phil was the drummer. Phil had two brothers that were also involved, Boon (guitarist) and another who worked for MCA and they ended up getting a release for possibly Love Games or whatever was their first record through Polydor. This was happening while we were still working with Mark. We never considered Mark as the bass player because he wasn't really a bass player. We were originally working with a guy called Francois Craig and he was very good and original. Mark was a seriously good drummer. I say Mark still is a better drummer than bass player. Personally I was really happy for him and Phil as they had been struggling to survive as professional musicians, but Mark's departure meant we could start to explore other things and directions as well as musicians."
Fishman wrote or co-wrote most of the band's songs, his upbringing certainly helped as his father was Jack Fishman who had co-written, Arrivederci Darling – a hit for both Anne Shelton and Edna Savage in the fifties and the top 10 hits My Friend The Sea (Petula Clark), If I Only Had Time (John Rowles), Help Yourself (Tom Jones), Something's Happening and Years May Come, Years May Go (Herman's Hermits) and the 1969 chart-topper (If Paradise Is) Half As Nice for Amen Corner.
"During the early 70s, apart from studying the flute and composition at my first music college," Fishman continued, "I began to get involved in electronics. This led to working with other composers and particularly for musician and film composer Roy Budd (Get Carter). But also through my work in electronics, I had become involved with the Cockpit Theatre in performing some fairly heavy duty works by composers such as Stockhausen, Cage and minimalist works by Reich and Riley. At some point, I was approached to provide some ideas for a book-related record about the works of Erich von Daniken called In Search of Ancient Gods. Before I knew it I was in charge of producing the entire project and this, much to my amazement, was presented to Derek Taylor, then MD of Warner Bros in the UK, and he signed it and they released it. But also around this time I managed to build a reputation as a session musician and played on loads of other people's records. I then started to produce some of my own and they were released under different titles."
So, their only hit was The Politics of Dancing, how did that song come about? Fishman explained, "I write a lot of things when I am walking about or travelling and used to carry a little tape recorder in my bag everywhere I went, just in case. I then took the ideas and sequenced them when I got home to my flat in Hampstead as I had recently acquired an Oberheim DSX sequencer and later went on to assist in its design as well as the design of other music equipment around this time. Its inspiration was probably a train or something that I read. I probably took a fairly worked out demo with an almost final set of lyrics before I presented it. I used to present three or four tracks in one go and then we would work on them in rehearsals. This was during the period after Roland finally joined and Francois had just left. The three of us would jam a lot and explore arrangement ideas. We were starting to audition other bass players. Re-Flex like any other group was the sum of its parts. Soon after, we met producer John Punter and he really liked The Politics of Dancing and so it got put on the list. We then demoed it with him at EMI, then later in the year following signing to EMI, we started recording what would be The Politics of Dancing album."
It did OK in America where it reached number 24 on the Hot 100, but the follow up's didn't really connect, Hurt peaked at number 82 in the Hot 100 and Couldn't Stand a Day fared worse at number 97. In 1985 they released the album Humanication which featured the single How Much Longer and despite having Sting on backing vocals that too failed to excite the public.
They called it a day in 1985 and the main reason was, as is so often the case, the record company started issuing demands the band were not happy with, "When it came to that album, EMI said 'You need to sound like an American band'" Fishman said, "They also said, 'Let's get this hip hop remix guy in – he's trendy, he's got his trousers on backwards'. Bloody ridiculous so we preferred to split than stay together.
Fishman moved into production and signed with Trevor Horn's SARM studio, Baxter married the head of the video department at Capitol records (a subsidiary of EMI) and moved to Los Angeles, Kerridge became more of a session drummer and worked with A-Ha, Del Amitri and Morrissey, but sadly died in February 2012 following three rounds of surgery in an attempt to remove a brain tumour. He was 57. Ross-Scott went on to play with Kevin Rowland and Pete Wylie and then briefly became a video jock on MTV- Europe. In the mid-nineties he was the voice of the AA traffic reports on various Home Counties radio stations.