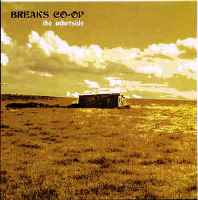 Back in the day, a number of radio DJs went on to become successful singers especially in America, Jim Reeves, Tennessee 'Ernie' Ford, Rick Dees and Willie Nelson are good examples. Some do it concurrently – Bob Dylan, Elaine Paige, Alice Cooper, Michael Ball and Huey Morgan to name a few and some began as singers and gave it up to become broadcasters, Jimmy Young, Lauren Laverne, Ant & Dec and this week's act who features a Kiwi or two.
The Kiwi DJ in question is Zane Lowe who, alongside, Hamish Clark formed Breaks Co-Op in Auckland in 1997. Later the same year the duo recorded the album Roofers which was full of samples and hip hop beats and released two singles from it, Sound Advice which peaked at number 39 in their native New Zealand and the follow-up Transistor missed the chart completely.
That was seemingly it and the pair relocated to the UK where Lowe became a Radio One DJ as well as a television presenter and Clark continued travelling. It turned out to be just a long hiatus because they began working together in 2004. The first song they wrote was The Otherside with its positive, uplifting and inviting chorus, 'So take my hand and I'll lead you back on to the other side, Get yourself into a better place and lift your life'. Quite possibly inspired by the fact that it was written in a dingy rat infested flat in Southall in west London in 2003!
Did they want to relaunch their music career? Lowe, when looking back on it, explained, "We did it with the mentality that we didn't want to write an album like The Sound Inside where we only had the one single. It was a great album, and I'm not taking anything away from it at all, but in terms of commercial value it had The Otherside and that was about it, and we were determined that if we were going to make a new record we'd like it to be more accessible to a bigger audience."
They didn't have a vocalist nor a producer so they invited British singer-songwriter Andy Lovegrove to join them, initially as a producer, but after hearing Lovegrove's soulful voice they suggested he becomes the lead singer. They signed a deal with EMI and recorded the 13-track album The Sound Inside. The Otherside was released as a single, it reached number 10 in their chart, became the summer anthem of 2005 and was awarded 'Single of the Year' at the NZ Music Awards and in-turn, the album was certified double platinum. It got a further boost in February 2007 when it was featured in the Valentine's Day Massacre episode in Season One of the Brothers & Sisters drama. They obviously made appealing song for TV dramas as the album's title track was featured in the episode Post Mortem of CSI: Crime Scene Investigation.
The parent album took a little longer than expected to make , Lowe explained why, "It was about three years in the making because Clark got married and Lovegrove had twin baby girls in that time, which stretched things out a bit."
They toured The Sound Inside for two years and finished in London but the reunion seems short-lived again; the two follow-up singles, Settle Down and A Place for You in 2005 and 2006 respectively failed to capture the same atmosphere as their predecessor and they stopped again. Lowe continued as a DJ on Radio 1 and Lovegrove released a solo album in 2008 but soon got fed up with the music industry and decided to take a break. He returned in 2011 with another Breaks Co-Op album. He explained his decision, "My wife got quite irritated with me in the end. She went, 'I love you to bits but I really miss that creative element to you, you never play and you're not doing anything, what's going on?' So she spoke to Hamish behind my back – he was living in Berlin at the time, and then she booked me a flight and said: 'There's your ticket, you're going to see Hamish for five days, come back with something, or don't come back at all,"' he laughed in an interview with the New Zealand Herald. Lowe wasn't involved this time, "Hamish and I hadn't really written together before," he continued, "because on The Sound Inside Hamish and Zane had written the backing tracks to the majority of the record, and when I got involved Hamish was on his way back to New Zealand, so I mainly worked with Zane. But it was great, it worked so well."
Since 2006, there is a Classic Hits Winery Tour every year and Breaks were included in the 2014 line-up and for it, the band recorded a new album, Sounds Familiar, to showcase.