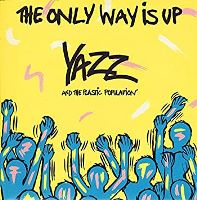 The first time I ever saw Yazz, but didn't know it as she wasn't famous then, was when I was travelling through Leicester Square station in London and was talking to the station master by the ticket barrier. I had travelled through that station many times and had got to know his name as Winston and this particular morning he was talking to a young lady. A week or so later when passing through again and said good morning he said, "That girl you saw me with last week was my daughter Yasmin and she's going to be famous. How right he was.
She was born in London in 1960 and attended school in London when she excelled in sport and was once a member of the England under-19 volleyball team. In 1983, she began a modelling assignment and met Austin Howard, later of Ellis, Beggs and Howard. They both signed with a management company and formed a band called The Biz. She joined as keyboard player and, "One day the singer didn't turn up and I started singing instead and decided I quite enjoyed it." she told Spencer Leigh. Their one single, Falling, failed to chart and performed one concert, but being unhappy with the management company; they quit and then broke up.
A couple of years later she was spotted by two electronic DJ/producers Matt Black and Jonathan More who went by the name Coldcut and they recorded the track Doctorin' The House which was credited to Yazz & the Plastic Population and if you're wondering who the Plastic Population was, that was also a pseudonym for Matt Black and Jonathan More. The song went into the Top 10 despite no airplay on Radio 1 but both More and Black were both DJs on the London pirate station Kiss FM before it became a legal station. Just like Swinging Radio London and Caroline in the 60s, pirate radio certainly had an impact.
In the mid-80s, she married Jazz Summers who had been Wham!'s former manager and had set up his own Big Life record label in which he had signed Yazz. The first song they chose was The Only Way Is Up, which was originally recorded by American soul singer Otis Clay on his 1982 album of the same name. "There is a really heavy sentiment to that song," explained Yazz at the time. "It's about being down-and-out and on the dole but not worrying about it; keep on doing what you want to do because you can get through in the end. It's exactly what I've done to get where I am now." In more recent times, that song has been brought to a brand new young audience where it's been used as the theme tune to the popular reality TV show The Only Way Is Essex.
She found fame hard explaining on her website, "Fame did not rest well on me. From day one I struggled as an artist balancing the attention of fame with the lusts and greed in the business affecting me both personally and professionally."
As for Otis Clay, he wasn't a new-comer. He was born in Mississippi in 1942 and began as a singer with various gospel groups before launching a solo career. He signed to One-derful! Records and had a couple of R&B hits That's How It Is (When You're In Love) and A Lasting Love in 1967. Four years later, he teamed up with Willie Mitchell, who had been Al Green's producer and co-songwriter and recorded the song Trying to Live My Life Without You which charted in the States in 1972. Nine years later, Bob Seger recorded a cover version and had a much bigger hit with it.
Talking of bigger hits, Clay launched his own Echo record label and two songwriters, George Jackson and Johnny Henderson offered him a song they'd written called The Only Way Is Up and he recorded it in 1980. It didn't make any impact to the record buyers, but when it was released on his 1982 album of the same name, the Northern Soul fraternity picked up on it and it became a massive dance anthem in the Northern Soul clubs. In an interview with the Chicago Tribune in 2013, Clay said, "My life always has been a combination of things musically, every Saturday night I listened to the Grand Ole Opry. During the day, later on, you listened to (radio) coming out of Memphis. During the noonday, at 12 o'clock, we listened to Sonny Boy Williamson, coming out of Helena, Arkansas, and I'm listening to Vaughn Monroe and Rosemary Clooney and listening to Hank Williams and Roy Acuff." That same year Clay was an inductee into the Blues Hall of Fame.
Yazz went on to have a few more hits, but never comfortable with the whole industry as she explained in an interview with Tony Cummings, "In the blink of an eye a product is born and money is smelt. I remember sensing it and knowing my life was never going to be the same again. I remember fear entering my life and thinking this is it, ignore the worry and go for it. Success is measured in the world in such a sad way – what you've done, what you own, what you look like, how you speak, what you wear, all outward conditions and all temporary. I was completely and inextricably caught. I felt like a chased rabbit! Loving the music, the song and desiring to become a better artist I sang my heart out. But inside I was running. I was struggling desperately with all the attention on and off stage, finding myself around lawyers and men in suits quite unable to understand their speak with contracts formed and stylists employed. I remember being in one meeting being sold the idea that wearing what looked like a nightie would sell loads more records than jeans! It was like a circus.
She turned to religion saying, "I read everything from Buddhism to gurus to the Koran and the New Age umbrella of Eastern ideologies. But I judged Christianity by those two visits as a child to that Baptist church. I chose to place my preconceived ideas upon it and said God isn't there. How poor and weak I was."
She looks back on her greatest hit with affection, "The song became an anthem for people's lives and I am humbled by its consistent energy and joy that it brings to generations."
Otis Clay returned to religion later in life and died in Chicago of a heart attack in January 2016. Yazz now resides in Spain where she is an active member of her local church. She still records music and occasionally returns to the UK to perform live usually in churches often interpolating them with stories about her Christian faith.