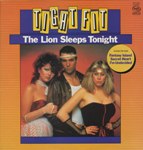 Looking at the writing credits on many versions of The Lion Sleeps Tonight you will see the names Hugo Peretti / Luigi Creatore / George David Weiss / Solomon Linda / Paul Campbell and may wonder how it took five people write a fairly simple song. The answer is, it didn't. But over the years people have added their own name through their own different interpretations of the song.
The Lion Sleeps Tonight started life in 1939 as Mbube (pronounced Eem-boom-beh), and was first recorded by Solomon Linda's Original Evening Birds. The same year Solomon, who was born Solomon Linda Ntsele and worked as a cleaner and record packer for Gallo records, sold the song to record producer and label owner Eric Gallo for 10 shillings and hence received no royalties for the song. It is a Zulu song created in Ladysmith in Zululand, which is now called Swaziland. All Zulu choral music was even labelled Mbube Music. Linda called it 'a song for girls' because of the high vocals required.
Musical instruments were forbidden for black workers in the townships as they might be used as weapons. Singing was their only way to express themselves musically, so that's what they did. Township jive became a whole movement, nurturing famous exponents as Ladysmith Black Mambazo, known for their contribution on Paul Simon's Graceland album. That whole evolution started with Linda's Mbube.
Around 1948, the South African record company sent a copy to Decca Records in the US, hoping to get it distributed there. Folk singer Pete Seeger got a hold of it and started working on an English version. He thought they were saying Wimoweh on the original, and that's what he wrote down and how it was recorded in English. They were actually saying Uyimbube, which means 'you're a Lion'.
Miriam Makeba recorded a version in the 50s, followed by the America folk group The Weavers which were led by Seeger. Their version was based on Makeba's, but changed the title to Wimoweh after what Seeger said he had heard it as. In doing so, they added their collective pen name, Paul Campbell to the credits. Wimoweh is what the refrain sounded like to a non-native, but it has no meaning and is the English equivalent to shooby-dooby-doo's.
In 1960 the American doo-wop group, The Tokens, auditioned for producers Hugo Peretti and Luigi Creatore at RCA Records and did so with Wimoweh. Hugo & Luigi liked the song but decided it needed new lyrics so, with George David Weiss, who had written songs for Elvis, they added a 16-word translation and copyrighted it as a new composition, The Lion Sleeps Tonight. The Tokens' version topped the US chart for three weeks and made number 11 in the UK. British singer, Karl Denver, under the title, Wimoweh, made the top five in 1962 and Dave Newman, who decided to use both titles, had a minor hit in 1972.
Tight Fit were originally a group of session musicians, formed in 1981. Their first single, Back to the 60s was a medley of 60s hits and reached number four. The follow-up was another medley, the imaginatively titled, Back to the 60s – Part II but that missed the Top 30 altogether. For the next single, they needed a new image and so recruited Steve Grant, Julie Harris and Denise Gyngell. Denise had failed an audition for Bucks Fizz, but all three were good looking and were employed for that purpose. However, none of them sang on the records – the vocals on The Lion Sleeps Tonight were provided by former City Boy drummer Roy Ward.
In 1994 the song was featured in the award winning Disney film, The Lion King, for which Tim Rice and Elton John supplied the rest of the music. To complete its appearance in every decade, the Baha Men sampled Tight Fit's version in their 2001 Top 20 hit You All Dat.
Solomon Linda died in poverty from kidney disease in 1962 at age 53. Fortunately a provision in a 1911 British imperial copyright law states that all rights to a song revert to the composer's estate 25 years after their death. Under Apartheid, the rule was simple: Blacks are not allowed to have royalties but the Supreme Court in Pretoria appointed an executor to Linda's estate and eventually more than 60 years after the song's conception, Gallo Records finally agreed to make Linda's only surviving daughter, who had been living in poverty in Johannesberg, part of the deal.
In 2004 Disney found themselves being sued for £900,000 for using the song in both the film and the stage show versions of The Lion King without permission. "We intend going after anyone who is using the song. We started with Disney because they are the most active of the users," said Owen Dean, the South African lawyer leading the action, after a press conference in Johannesburg.
In 2008 Denise Gyngell and Julie Harris reformed Tight Fit with new male member Silvio Gigante as a touring band and called their show Back to the Eighties performing many well-known songs from the 1980s as well as their own hits.