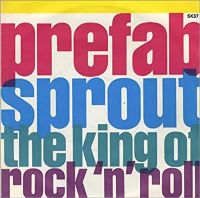 Do nonsense lyrics matter? The answer is probably not if the song is catchy and memorable, you may never know what they're singing about but it will forever be in your head. This week's suggestion came via an email from Jo who asked, "My daughter asked me today what on earth the King of Rock and Roll by Prefab Sprout is all about, I said I had no clue but I know a man who might." Hopefully she meant me! The standout words are 'hotdog', 'jumping frog' and 'Albuquerque', so what possible link could there be between one of American's favourite snacks, a leaping reptile and a city in New Mexico? Let's see if we can find out.
Prefab Sprout have always had a quirkiness to them and their lead singer and primary songwriter, Paddy McAloon, even more so. They were formed by Paddy and his brother Martin originally as The Dick Diver Band in 1977 and the following year they had changed their name Prefab Sprout which  came from a mis-heard lyric. In 1973, Paddy was listening to the Nancy Sinatra and Lee Hazlewood song Jackson which opens with the line, 'We got married in a fever hotter than a pepper sprout'. He said, "It was well worth the wait to use the name." the only other name he had in mind was Chrysalis Cognos. He later said he was inspired to use it as he liked the idea of bands with two completely unrelated words like The Electric Prunes or Aztec Camera, adding, "You hear it and think what does that mean? Prefabs were quickly built prefabricated houses which appeared in large numbers after World War II, they were 'homes for heroes'" so presuming they were sprouting up all over the place that would have been a contributing factor. "I kept that story basically because it reminds me of how I used to look at things," McAloon recalled.
In the late 70s they recruited drummer Michael Salmon who remained until 1983, eventually he was replaced by Neil Conti and they brought in Wendy Smith who, apart from singing, played guitar, keyboards and tambourine and her and Paddy later became an item. In 1982, they recorded their first single and Paddy wanted the title to be Limoges, the name of the city in France where his girlfriend was studying, so that title became an acronym for Lions in My Own Garden (Exit Someone). It didn't do anything, but may have touched a nerve with the 100,000 people who would have lived there at the time. They released their debut album in 1983, its title being Swoon – another acronym for Songs Written Out Of Necessity. It reached number 22 in the UK chart.
The follow-up album, Steve McQueen the following year went one place better and contained the hit singles Faron Young and When Love Breaks Down, the latter giving them their first top 40 hit. Next came the big one, From Langley Park to Memphis, produced by keyboard wizard Thomas Dolby with Cars and Girls being the first single released from it but it stalled at number 44. But the day was saved when The King of Rock 'n' Roll went to number seven.
The song is a tale of an aging pop star reminiscing his past with the opening line, 'All my lazy teenage boasts are now high precision ghosts, And they're coming 'round the track to haunt me' the third verse continues, 'Now my rhythm ain't so hot, but it's the only friend I've got, I'm the king of rock 'n' roll completely'. As for the hook lines, Paddy said, "I thought the chorus was haiku without the syllabic law, hotdog, jumping frog, Albuquerque, it hasn't got any sense other than its vague American feeling to it, it's a bit like when you see shirts that have been made in Japan, T-shirts, and they've got three disconnected words on them, there was a touch  of that involved in it, but, it's a kind of novelty thing and there you go. It was a hit and you're grateful for those moments." For those who haven't learned from the gameshow Pointless what haiku is, it's a Japanese unrhymed poetic form consisting of 17 syllables arranged in three lines of 5, 7, and 5 syllables respectively and first emerged in Japanese literature during the 17th century.
Over the next nine years, which incorporated a five year hiatus, the band charted a further 10 hits, but none making the top 10. By 2001, the band  comprised just the two brothers and in 2003, just Paddy on his own. But the pop wizard, and he very much looks like one now with his long white hair and flowing white beard, has suffered with his health because in 2006 he was diagnosed with Meniere's Disease a hearing disorder. It affects him in fits and starts with his most recent being in October 2017, which has left him with seemingly permanent tinnitus in his right ear. He also now suffers with bad eye sight too.
In 2003, Paddy released a solo album called I Trawl The Megahertz, but in recent times it has been re-issue under the Prefab Sprout moniker. So many people want to hear more music from Paddy because his song are sometimes meaningful and often catchy but one of the reasons we don't is because, "If I make something, it kills it stone dead if I spend too long talking about it," Paddy revealed, "So I end up skipping the stage where I actually make the record. I write it and move on – which I know is absolutely mad, because I'm not making a living when I'm doing that."
Paddy McAloon, has since described The King of Rock 'n' Roll as their 'novelty' effort, but one person who was impressed and told him so was Paddy's hero Paul McCartney. He had met Paul at a party when the song was riding high in the chart with Paddy recalling, "Paul was very gracious about it. He said 'You've got the grannies with that record, you've got the kiddies.' And I very earnestly said, 'But it's not terribly representative, man', a stupid thing to say. And McCartney said, 'Ah, it's your My Ding-a-Ling.'" which is a reference to Chuck Berry, the prolific rock 'n' roller whose biggest hit, in terms of chart rating, was My Ding-A-Ling. A sort of backhanded compliment.