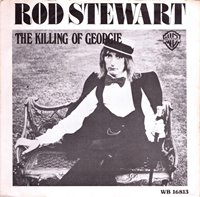 This week's song came out of a conversation with Group Jam, one of my regular teams at my Thursday night quiz in Welwyn Garden City. A couple of weeks before the conversation, Rod Stewart had been my featured artist and Eoin said he was a fan and we got talking about The Killing of Georgie and he didn't realise it was a true story, so I said, I'll write the story then you can read it. So, I hope you do read this Eoin.
Forty-three weeks ago, I wrote the story of the Rubettes' long-forgotten hit Under One Roof which told the story of homophobia and in it I referenced The Killing of Georgie because they came out a month apart and dealt with the same subject. There had already been songs about gay relationships in songs like Lola and Walk on the Wild side, but none had really confronted the hardship gay people faced back then and the fact they still have feelings and need love like everyone else. It still goes on today but much less so.
Of Rod Stewart's 62 UK hit singles to date, there are only four that he solely wrote – Tonight's The Night, The Killing Of Georgie, You're In My Heart and Hot Legs but what is it that prompted him to write a song about a subject that was still fairly taboo back in the 70s? He has explained in many interviews over the years, "It's probably because I was surrounded by gay people at that stage. I had a gay PR man, a gay manager, everyone around me was gay. Long John Baldry, who discovered me, was also gay." he said. "I don't know whether that prompted me into it or not. I think it was a brave step, but it wasn't a risk. You can't write a song like that unless you've experienced it. But it was a subject that no one had approached before." He did say at the time that he didn't intend to write a song about a gay man adding, "If someone said to me, 'Sit down and write a song about a gay man,' it would have frightened the daylights out of me. It would have seemed an almighty challenge."
In a 1995 interview with Mojo magazine he revealed more, "I can't remember the surname of the real Georgie. He was a far closer friend to Mac [Small Faces keyboard player Ian McLagan] than me, I only knew him fleetingly. I can't remember if he was shot or knifed but it was a song I wrote totally on me own over the chord of open E. Georgie would play songs for us and say 'Have you heard this?' I remember him turning us on to Sam and Dave singing Night Time Is the Right Time. I can tell you, he was a hell of a good-looking guy." Stewart also added, "I wasn't on the scene when it happened, so I embellished a bit."
The label credit is The Killing of Georgie Parts I & II, normally a part two would indicate a follow up or a conclusion, but this is all included on one side of the record with part II providing a postscript to the song using a melody very reminiscent of The Beatles' song Don't Let Me Down. In a 1980 interview, John Lennon said, "The lawyers never noticed" whilst Stewart admitted, "It does sound like it" but I'm sure if you look back to the 60s, you'd find other songs with those three chords and that melody line." He's got a point. The song, which had six verses, times in at six and a half minutes and, quite rightly, there was no radio edit, it would have completely ruined the story. Part 1 is the first four minutes and 50 seconds whilst part II gets about 90 seconds.
The story tells us that George's parents could not accept their son was homosexual, his mother just cried and his father said, 'There must be a mistake how can my son not be straight, after all I've said and done for him?' In the end he runs away from home, takes a Greyhound bus and heads to New York. There he is completely accepted and soon became, 'the toast of the great white way' which is what Broadway was nicknamed in the 1880s because of all the lights that lined the thoroughfare. George was so well liked that he was invited to every party and show. According to the story teller, George found love in the summer of '75 and one night attended a show with his new partner. Not wanting to hang around, he left before the final curtain and was walking down Fifth Avenue when a New Jersey gang, with no aim other than to roll some innocent passer-by, attacked them with a knife but went a little too far and when they saw blood they fled. The police and the ambulance arrived, but Georgie died right there. The outro repeats the line, 'Oh Georgie stay, don't go away, Georgie, please stay you take our breath away.'
As for the murderers, we never got to hear any more about them, when Rod was asked about his fairly sympathetic portrayal of them he said, "That was poetic license, I thought maybe they didn't mean to take his life. Maybe they just meant to do him over." Typically, the BBC initially refused to play the song because of its content just like the previous single, Tonight's the Night which, because of the line, 'Spread your wings and let me come inside' they deemed it disgusting. Rod added, "They thought that was shocking, it's certainly not nowadays. But it was as subtle as a Sherman tank."
When Rod performed the song in concert he said, "I used to camp it up something terrible. We used to have a lamp post come down onto the stage. I'd lean on it and sing. I used to wear a lot of make-up in those days and all the guys around me used to say: 'Ding-dong! Avon calling!'"
The song has had an effect on different people in different ways, most with a positive affection, "I've had gay people thank me for the song many, many times," Stewart remembered, "Recently, the boyfriend of a big-time British Olympic champion came up to me and said he heard it when he was 17 and he said it gave him some identity and independence, which is wonderful."
Once the BBC had mellowed and the song made it into the chart, it's got an airing on Top of the Pops and in an episode once introduced by David Hamilton, he kept getting the introduction wrong. He recalled in his book, Top Of The Pops: Mishaps, Miming and Music, saying, "Now here's Rod Stewart with The Killing Of Georgie Fame." When he got pulled aside by the producer and apologised but kept getting it wrong. It turned out that a pre-show lunch with some record pluggers was the cause when they had spiked his drink with LSD. He went on to say that he was never asked to present the show again.