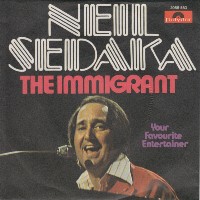 Neil Sedaka, alongside Neil Diamond, Gerry Goffin, Carole King, Burt Bacharach, Hal David, Barry Mann, Cynthia Weil and Jerry Leiber and Mike Stoller to name a few all began their musical career as staff song writers at the famous Brill Building on Broadway in New York. The two Neil's were really the only two to successfully forge a career as singers and amass a string of hits. Sedaka clocked up 18 UK hits between I Go Ape in 1959 to The Queen of 1964 in 1975, but has continued to write and perform to this day. During the COVID pandemic, he recorded a couple of YouTube videos which consisted of a medley of his well-known songs. In his native States, his career as a singer expanded 1958 – 1980. This week's suggestion was a modest Billboard hit but missed the chart completely in the UK.
Neil was born in Brooklyn, New York in 1939 and studied piano at the Juilliard School of Music. It was whilst he was at Lincoln High School he met lyricist Howard Greenfield and formed a partnership which lasted over 20 years and together wrote 14 of Neil's 18 UK hits.
His career dipped towards the late 1960s and by the early 70s almost gave up hope of having a comeback and moved to the UK. He began playing in working men's club's in the north of England and was desperate to get a recording contract so he can be heard on the radio again. It all changed when he recorded an album with a couple of members of 10cc and, in-turn, met Elton John who signed him to his Rocket record label.
The last song Sedaka and Greenfield wrote together was called Our Last Song Together and then Sedaka began a collaboration with Phil Cody one of which included The Immigrant. Cody said in an interview with Songfacts: "I wanted to write a song for my dad. My dad came to this country, he wanted to be a singing star. He worked in the chorus of the Metropolitan Opera before he got married, and then put down his singing career to become a tradesman. My dad and I, up until I was about 28, were constantly at each other's throats. He wasn't real happy with the direction I'd taken. He thought I was destined to be a bum for the entirety of my life. And then he actually went into a recording studio in Sicily and did a version of Solitaire (which Cody co-wrote with Sedaka) in Italian. And then I said, Wow, I've scored with my dad. My dad thinks I'm cool now. So, I thought as payback I would try to write about my dad's point of view of coming to this country and how much promise there was."
The song is probably more relevant today than it was back then. Immigration was important factor to both Sedaka and Cody because both Sedaka's parents came from Jewish families who emigrated to New York but going back a further generation, his mother's roots were Russian and Polish and his father's were Turkish. As for Cody's parents, they came from Sicily so they were both very aware of immigration. The lyrics tell of when America were happy to welcome 'strangers', The opening line, 'Harbours open their arms to the young searching foreigner come to live in the light of the beacon of liberty' is Cody's vision of what his country was like when his father arrived. He then gives his own view, 'Plains and open skies billboards would advertise' and then asks, 'Was it anything like that when you arrived?' The remainder of the first verse, 'Dream boats carried the future to the heart of America, people were waiting in line for a place by the river,' with the second verse continuing, 'It was a time when strangers were welcome here' It goes on to give the point of view of the immigrant by saying, 'Now he arrives with his hopes and his heart set on miracles. Come to marry his fortune with a hand full of promises' then things change with the next line to prove it's not like that now, 'To find they've closed the door they don't want him anymore, there isn't any more to go around.'
Neil Sedaka also dedicated the song to John Lennon. On his Facebook page he said, "I wrote this song for my friend John Lennon during his immigration battles in the 1970s. I'll never forget when I called to tell him about it. Overwhelmed by the gesture, he said, 'Normally people only call me when they want something. It's very seldom people call you to give you something. It's beautiful. '"
London's Capital Radio gave it so much airplay that it's surprising it didn't even get a whiff of the UK chart. He won't, however be short of a bob or two, as a songwriter his first UK hit was Stupid Cupid, a chart-topper for Connie Francis and his last was in 2005 as his fortunes were revived again when in 2005, Peter Kay recorded a video where he mimed to Tony Christie's 1971 hit (Is This the Way to) Amarillo. The song was re-issued and the video featured a number of cameo appearances by various stars including Michael Parkinson, Shaun Ryder, Jim Bowen, Shakin' Stevens, Keith Harris & Orville, Danny Baker and Ronnie Corbett among others and all money raised went to Comic Relief. Jimmy Savile appeared in the original video and was wisely edited out later on.
During his career as a songwriter, Sedaka has written hits for Tom Jones, Andy Williams, The Captain & Tennille and the Carpenters. He also wrote the English lyric to the 1973 Swedish entry to the Eurovision Contest. The song was Ring Ring which was recorded by Abba and was a UK hit the following year.
His mini concerts on YouTube came to a halt at the end of 2020 due to contracting COVID-19 himself, but recovered quickly with no symptoms and his performances resumed at the beginning of this year. At 82, he shows no signs of giving up yet!