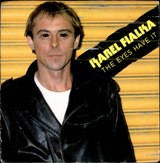 Last week's Single of the Week was chosen by Steve Cann and was Jona Lewie's 1980 hit You'll Always Find Me In The Kitchen at Parties which was in the chart in May 1980. His second appearance on Top of the Pops was on Thursday 22nd May, the song that followed it is the subject of this week's Single of the Week chosen by Andy Woollard and it's Karel Fialka's debut hit The Eyes Have It which was his only appearance on the show with that song as it had peaked at number 52.
He was born Karel Francis Fialka in Bengal, India, to a Scottish mother and Czech father. He had signed a deal with IRS records which was founded by Miles Copeland, brother of Police drummer Stewart. Tim Hart, one of the guitarists with Steeleye Span, was brought in to "handle affairs at IRS Records while I was on the road promoting Hey Matthew certainly with a view to an ongoing management but it didn't work out." Karel told me. Tim was working with the New Wave/Electro band The Monochrome Set and later the same year Karel had his debut UK release with a song called Armband on the Red Shift label which garnered some airplay by both John Peel and Mike Read. His first success abroad was with a song called Eat Drink Dance Relax which stepped onto the chart in both Holland and Germany.
Karel's success was hindered by his record companies, He explained, "Neither of the record companies I've been with in my career, IRS and Blueprint, were particularly good in terms of certain kinds of structure and obviously not in the long term promotion of my career, or anybody else's who was signed to them. It is interesting to see how a real record company and also management can consolidate and prolong an artists' career and aid the public perception of who and what the artist is and does. I had none of that from the companies I was with. I have also never had management. The only offer of management was from Miles Copeland who did suggest that he might be interested, but I said no because I thought there would be a conflict of interest as I was already signed to his companies both as a writer and artist."
What prompted Karel to get into the music business? "Throughout my teens I was involved in music," he explained, "I was in London at the height of swinging London in the sixties and through to the flower power thing. I was on the periphery, I was not one of the leading lights but I was at the heart of things. We used to go the UFO Club on Tottenham Court Road and see Pink Floyd, Soft Machine, The Crazy World of Arthur Brown, Tomorrow. I also saw Fleetwood Mac at The Electric Garden in Covent Garden. At that time I was at Film School and my Art School friends had a band. I was writing lyrics because I fancied myself as a poet and couldn't play an instrument particularly well and still can't, more enthusiasm than skill believe me. The band I was in were called The Dreamland Express, named after a painting by Maxfield Parrish and they had interest from Chris Stamp and Kit Lambert at Track Records, and Pete Townshend very kindly lent us his loft at the top end of Wardour Street where we went and strummed guitars and tried to write songs."
The electro-tinged The Eyes Have It is just Karel's perception of what really tells you about a person. As the lyrics say; 'Been uptown I've been out on the street, see the people pass and meet, see them kiss and hug and smile a bit, but see the eyes, The eyes have it'
After the song dropped out of the chart, Karel seemed to disappear, but actually he moved to Bristol to run an art gallery and then a farm in Berkshire. He continued to write songs which included the track Maybe Someday for Cliff Richard which appeared on his 1983 album Dressed for The Occasion. He also got together with Paul Roberts, the frontman with Sniff 'N' The Tears for some collaborations. Around the same time he was in the chart with The Eyes Have It, his wife gave birth to their son Matthew. Karel wrote a song about him and eventually, six years after his first hit, he returned to the chart with the Hey Matthew which is the song he's now best remembered for as it was a hit in several countries including the UK where it reached number nine.
In 2009 Karel made another comeback with a new album called Film Noir which was a homage to the trapped souls of black and white gangster movies.
In the early 2000s he moved to Inverness where he still lives, but in 2014 he was invited to Gozo, an island of the Maltese archipelago in the Mediterranean Sea, by songwriter and producer Richard Rogers and Scottish singer/songwriter Kevin McGowan. "We initially had no real starting point apart from the invitation to come over. We discussed everything vaguely through skype and a couple of emails and the concept was basically to make the three of us work as a band with each person providing specific input and I wanted to focus on something rather just writing songs for the sake of it i.e. love songs or whatever it might be…so we used the working ethos of protest songs. I feel that one way or another, protest songs have been sadly neglected and everyone's been far too accepting of all the crap that's happening in the world. And the CRAP really is happening now, it's absolutely outrageous and we can't avoid this and it's very pernicious as well. As well as liberating us, the internet has made us the target of constant streams of information and bile and hatred. The concept may be taken further and become an E.P. or an album title… I hope so anyway…"