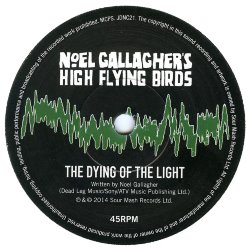 The downside to modern day technology is that it has taken away some of the excitement of things. In chart-terms, it was always the anticipation of waiting to see where your favourite song was on chart day, now, the midweek sales flashes are readily available so the excitement has gone. Likewise, when your favourite artist was about to release a new single or album you couldn't wait for it to be released and you were straight down the record shop eager to buy it and get it home to play, now so many things are leaked onto YouTube and various other site that all that happens is the excitement, once again, has gone and the artists themselves are angry and upset. That's exactly what happened to this week's suggestion of single of the Week.
When Oasis broke up and the Gallagher brothers continued to snipe at each other, fans wondered which one was going to fly first and it was Noel – with his new group the High Flying Birds.
Once a guest on The Jonathan Ross Show, Noel explained how he came up with the name, "It was from two sources, "I prefixed it with my name whilst I was listening to the album Peter Green's Fleetwood Mac, and the latter part of the name is taken from the song Jefferson Airplane song High Flying Bird."
It was in 2011, two years after Noel had formed his new band, that he held a press conference confirming what fans had heard rumours of and were please when he revealed he was releasing a self-titled debut album. It was released in October that year and reached number one and spent just over a year on the chart. Almost three and a half years later came the follow-up, Chasing Yesterday which also topped the chart. The teaser single, In the Heat of the Moment, was released the previous November and peaked at number 26. The follow up single, Lock All the Doors, sank without trace as did the next once, The Dying of the light, which showcases Noel brilliant song writing skills. Why it never made the chart remains a mystery.
It was during the soundchecks on his 2012 tour that someone leaked it onto YouTube and was given the title It Makes Me Wanna Cry which Gallagher later said, "It was a shit title, unless it was a song about an onion." In actual fact, the song, which can be described as a slow tempo melancholic look back at times past, is all about Noel's relationship with his wife Sarah.
The second verse is more of an indication of his dying days in Oasis; 'Woke up sleeping on a train that was bound for nowhere' and, 'Echoes that I could hear were all my own' were the realisation that the ideas he had then can now be used by him for his own project. 'The world had turned and I'd become a stranger and I'm tired of watching all the flowers turn to stone' again back to the 'no light at the end of the tunnel in Oasis.'
Gallagher has enjoyed a working relationship with trusted producer Dave Sardy who produced Oasis' last few hits including Let There Be Love, The Shock of Lightning and Falling Down as well as the High Flying Birds' eponymous album, but when it came to Chasing Yesterday, Sardy was unavailable and so Noel took on producer responsibilities. He said, "I enjoyed the freedom of producing the album but not the responsibility."
For their third and final album, to date, Who Built the Moon? in 2017, Noel brought in David Holmes to co-produce with Noel and reaped to hit singles Holy Mountain which reached number 31 and She Taught Me How to Fly which stalled at number 70.
Basically, the High Flying Birds project is a tighter, slicker and a more controlled version of Oasis and Noel does it all his way because, as he described in an interview with The Guardian, if one of the band or the producer came in and said, 'I don't like a particular song', he'd say, "Well I do and we're doing it."