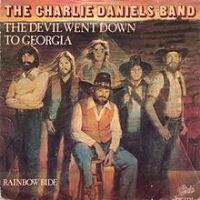 So many times and song becomes a big hit and is remembered for years and then you find out that it was a last minute thought. Many people I have interviewed tell me that a particular song was just going to be an album filler because there wasn't enough material and it turns out to be the biggest song of an artist's career. This week's choice is one of them songs.
Charlie Daniels was born in Wilmington, North Carolina in October 1936 and as a teenager learned fiddle, mandolin and banjo, so when he graduated in 1955 he formed his first rock and roll band. He tried his hand at song writing and in 1964 wrote a song called It Hurts Me which Elvis Presley recorded as the B-side on the UK top 10 hit Kissin' Cousins. He then went solo but lent his services to a number of musicians including playing for The Marshall Tucker Band, Leonard Cohen and Bob Dylan on his Nashville Skyline album.
In 1973, now having formed the Charlie Daniels Band, he released his first single, Uneasy Rider, which crept to the dizzy heights of number 67 on the country chart, but more unbelievably reached number nine on the rock chart.
After a few years of little happening he got the backing of Hank Williams Jr who, with his massive fan base, advised his followers to check out Charlie Daniels saying, "He was one of the best country rockers in the business." In return, Charlie asked Hank to record some tracks with him which Hank duly obliged. All of a sudden, Charlie Daniels was big news.
Charlie stated that if he was ever going to make it big, now is the time. "We were in the studio cutting the Million Mile Reflections album and I felt we needed a fiddle song to round out the album," Charlie recalled. "At that point we kind of hit a wall , so I decided to take a two-day break and then come back and finish up the session. During that break I thought a lot about finding the right fiddle tune. I just had this idea. The Devil Went Down to Georgia, which came from an old poem called The Mountain Whippoorwill that Stephen Vincent Benet wrote many, many years ago, that I had in high school. He didn't use that line, but I started playing, and the band started playing, and first thing you know we had it down. I decided that this time Johnny and Satan would face off with bows instead of harps."
The standoff between the devil and Johnny sound like a real battle between two different musicians, but Charlie revealed that he played both parts, "The Devil's just blowing smoke, if you listen to his part, there's just a bunch of noise. There's no melody to it, there's no nothing. It's just a bunch of noise. Just confusion and stuff. And of course Johnny's saying something. You can't beat the Devil without the Lord. I didn't have that in the song, but I should have. He added, "I have always believed that the very best things happen off the cuff and it's true of this song."
The song was released in September 1979 and got to number 14 in the UK and number three in the US singles chart. There is one lyric difference, in the US version he says, 'I've told you once you son-of-a-Bitch' whereas the UK version refers to him as a 'son-of-a-gun' because, typically, the BBC thought it was a bit near the mark for daytime radio.
The song earned him a Grammy for Country Vocal Group and won him Single of the Year and the Country music Awards. The band appeared in the 1980 film Urban Cowboy that starred John Travolta where, as well as performing the Devil Went Down To Georgia, they played Falling In Love For The Night, Texas and Urban Cowboy Breakdown.
In 1993, the song was revived and reworked by another country fiddler, Mark O'Connor. It was the sequel and this time features invited country stars Travis Tritt, Marty Stuart, Johnny Cash and Charlie Daniels himself. O'Connor plays Johnny's fiddle solo and Marty Stuart is the voice of Johnny. Charlie Daniels plays the Devil's fiddle solo and Travis Tritt is the voice of the Devil. Johnny Cash is the narrator who tells about the epic duel which is now called The Devil Comes Back to Georgia.
Charlie died in Nashville, Tennessee on 6th July 2020 from a hemorrhagic stroke, he was 83.