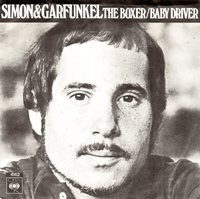 This week's choice is a song that took over 110 hours to write in two different studios and contained a 'holding lyric', which remained in as the hook, yet the writer thought he had failed as a songwriter.
Paul Simon and Art Garfunkel, both from Queens, New York, met in school in 1953 and began their partnership in 1957 under the pseudonym Tom & Jerry where they tried to imitate their idols, the Everly Brothers on their debut song Hey Schoolgirl. In 1963, they signed a contract with Columbia records now as Simon and Garfunkel. Their debut album, Wednesday Morning, 3 A.M. wasn't well received and didn't sell well so they called it a day.
Paul went to England, took up residence in Brentwood, Essex and embarked on a solo career. He was doing a show in the north of England one night and whilst waiting to catch a train back to Essex he began writing the opening line of Homeward Bound. For years, rumour had it that it was on Wigan railway station and then all of a sudden it was Widnes station, however, in an interview with Songtalk magazine in 1990 he said, "That was written in Liverpool when I was travelling. What I like about that is that it has a very clear memory of Liverpool station and the streets of Liverpool and the club I played at and me at age 22." Either way, I always wonder if his 'ticket for his destination' was really Essex or New York.
In 1965, Paul revisited The Sound Of Silence, a track on the debut album and producer Tom Wilson added some drums and an electric guitar, submitted it to the record company and next thing he knew it was number one on Billboard in America. Paul returned to the States and reunited with Art and the pair continued their career.
In an interview with Playboy magazine, Paul said, "For the first few years, it was just pure praise. It took two or three years for people to realise that we weren't strange creatures that emerged from England but just two guys from Queens who used to sing rock 'n' roll." He responded to the critics who were writing quite harshly about his music with The Boxer. A seemingly autobiographical tale of someone struggling to pick themselves up. "I think the song was about me," he revealed, "everybody's beating me up, and I'm telling you now I'm going to go away if you don't stop."
When Paul was on the road and often staying in hotels he would occasionally read the Bible as there is one in every hotel! He found inspiration especially in the lines Workman's wages and Seeking out the poorer quarters which came from Passages.
With the press constantly haranguing him and his music he wanted to fight back, in this case Paul is the boxer but it's a metaphor as he claims to 'remember every glove' (critic) 'that laid him down or cut him till he cried out in his anger and his shame I am leaving, I am leaving but the fighter still remains.' The last three words really saying he will not give up but will persevere.
The second verse, 'When I left my home and my family I was no more than a boy, in the company of strangers, in the quiet of the railway station' – talking about leaving New York, heading to England and sitting on the platform at Liverpool Station or wherever it was.
Then comes the bit where Paul later thought he was a failure in writing. The hook, 'Lie la lie, lie la la la lie lie
Lie la lie' was originally meant to be a 'holding lyric' as Paul couldn't find the right words. Songwriters often use what is also known as a 'placeholder' until they find the right lyric. Another good example of this is the 26-times repeated 'I know' from Bill Withers' Ain't No Sunshine which was kept in because it worked. Paul explained how he felt in an interview with SongTalk magazine in 1990, "I thought that 'lie la lie was a failure of song writing. I didn't have any words! Then people said it was 'lie' but I didn't really mean that. That it was a lie. But, it's not a failure of song writing, because people like that and they put enough meaning into it, and the rest of the song has enough power and emotion, I guess, to make it go, so it's all right. But for me, every time I sing that part, I'm a little embarrassed." He did later relent and agree that it gave the song more of an international appeal, as it was universal.
The song was recorded at Columbia Records studios in both Nashville and New York City. The chorus part was recorded at St. Paul's Chapel at Columbia University in New York which had a tiled roof that provided perfect acoustics. The drummer on the track was the legendary Hal Blaine who, on producer Roy Halee's advice, set his drum kit up in front of the lift, or elevator as they call it, in the Columbia office. In the 2011 documentary, The Making of Bridge Over Troubled Water, Blaine said he would pound the drums at the end of the 'Lie la lie' vocals that were playing in his headphones, and at one point, an elderly security guard got a big surprise when he came out of the lift and was startled by Blaine's thunderous drums. That's the only drum bit on the track. Blaine recalled, "Roy had me come down on my snare drum as hard as I could. In that hallway, right next to this open elevator shaft, it sounded like a cannon shot! Which was just the kind of sound we were after."
Roy also decided that the standard eight track recorder wasn't enough to get the big sound he was looking for, so he called the boss, Clive Davis, to the studio and explained that to get the sound they needed a 16-track machine was required, so Davis immediately agreed.
The Boxer was released in 1969 and went to number seven in the US and one place higher in the UK. It's become a classic and Art said of it, "We were tapping into something that went way back for us, I had a particular feel that I could do really well, and match Paul and make the whole thing ripple and articulate it just right."
The song weighs in at just over five minutes and fortunately wasn't edited, there was, however, an additional verse which Paul wrote but is not on the single nor the album version, but is included at the live shows, the lyrics being, 'Now the years are rolling by me they are rocking evenly, I am older than I once was and younger than I'll be. But that's not unusual no, it isn't strange, after changes upon changes we are more or less the same, after changes we are more or less the same.'