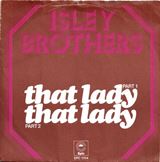 Trivia question: what do, Could It Be Magic by Barry Manilow, It's All In The Game by Tommy Edwards, No One Is To Blame by Howard Jones and, this week's suggestion, That Lady by the Isley Brothers? Well among a few others, they were all recorded by those acts without success and then at a later stage re-recorded and became successful.
The band were formed in 1959 initially as a trio consisting of brothers Ronald, O'Kelly, and Rudolph and signed a deal with RCA Records, their debut album that year was called Shout! Five years later Lulu opened her UK chart account with a much raunchier cover and ade the song her own. They signed a deal with Motown where their UK hits, in the sixties, included, Twist and Shout, This Old Heart of Mine (Is Weak for You) and Behind a Painted Smile. They added a couple more brothers, Ernie and Marvin, and keyboard player Chris Jasper who had grown up in the same apartment block as the brothers and whose sister, Elaine, married Rudolph. They split from Motown in 1968 and signed a distribution deal with Buddah records and recorded the song It's Your Thing which was issued on T-Neck records (Major Minor in the UK) and became their most successful song reaching number two in the US and number 30 in the UK. Then Motown issued a writ against the brothers claiming they had broken their contract which the brothers disagreed with. It took until 1975 for the court to decide and found in favour of the brothers.
In the seventies, after a four year absence, they returned with another new record contract, this time to Epic, and a song called That Lady. It was an old song originally entitled Who's That Lady and appeared on the B-side of a 1964 American single called My Little Girl. On the Isley Brothers: Summer Breeze Greatest Hits Live DVD Ernie explained, "This song was originally done as a Cha-Cha/Bossa Nova. Ernie originally did not want to re-record it because he felt that it already had been done. Ronald convinced him it would be worthwhile, as they were going to change the melody, tempo, and lyrics and that it would showcase the guitar work of younger brother Ernie, who had become an excellent player." Ernie was a fan of Jimi Hendrix and had studied what he did. Hendrix, before he was famous, had played with the Isley's on a number of their early tracks. Ernie's extended guitar solo was run thorough a fuzz box and a phase shifter which gave the band a new and distinctive sound. He recalled how he felt after the recording, "When I finished the solo on That Lady, O'Kelly looked at me for 15 minutes straight without blinking. I felt like I had one foot on the ground, one on Mount Olympus. When I hit the first note the song went from, like, black and white to 3D technology. None of us expected that to happen. It changed everything. I lost it, the engineers lost it; everyone else was kind of mummified," he told Jon Langmead. The new version was officially renamed That Lady and was featured on their forthcoming album 3+3.
Although Ernie and Marvin had become members of the band they were still attending college in Long Island and made them very popular with the girls.
The intro guitar solo was sampled by the Beastie Boys for A Year and a Day and again in 2014 by Kendrick Lamar who turned up at Ron Isley's home to ask if could sample it on his new single I to which Ron agreed. The song was also covered by Carlos Santana on his 1990 album Spirits Dancing in the Flesh.
In 2014, Ernie Isley, in an interview with the HUB, reflected on Jimi Hendrix, "I think of Jimi Hendrix as a person – not an icon – because that's how I knew him. If he had still been around when That Lady came out, he probably would have given me something between a bear hug and a tackle. I can hear him saying 'How the hell did you learn that?' and me saying, 'Listening to you!"