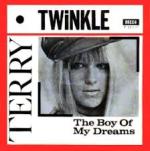 Over the years, there have been many songs that have has restricted airplay caused by their content and the BBC, particularly, were very pedantic about what they aired, even if their reason was invalid, what they said, went. In the early sixties there were a slew of death discs, that's songs where someone dies and the BBC deemed it morbid and banned a number of them. Mark Dinning's Teen Angel and Ricky Valance's Tell Laura I Love Her, both from 1960, are obvious examples, but as time moved on, the rules were relaxed bit by bit. Two songs in the mid sixties on the same theme were a little less restricted, one was the Shangri-Las' Leader of the Pack and Twinkle's Terry.
Twinkle, who was born Lynn Annette Ripley in 1948, was different from her counterparts, namely Dusty, Sandie and Cilla and that was because she wrote her own material. She was born into a well-do-do family and had a private education where she attended Kensington's Queen's Gate School at the same time as Camilla Parker Bowles. She recalled, "I was protected as a child and any boyfriend I had to be from Harrow or Eton. But I'd see motorbikes flashing by on the Dorking by-pass near where I lived and I longed to go around with people like that which is where Terry came in."
Her father, Sidney, was a local politician and an amateur songwriter and so, when Twinkle showed an interest in the music business, she had his support. "The first song I ever bought was Cliff Richard's Living Doll from a shop in the Fulham Road and then I bought one every week on my way home from school. I loved songs by Bobby Vee and Helen Shapiro but I never bought an album, I only like singles. The first concert I ever went to was Shane Fenton at the Kingston cinema when I was 11.
Her discovery of pop probably coincided with her disillusionment of school, Twinkle recalled one particular event, "We didn't have uniform, most of the girls were really Sloane Rangers but I wore the latest fashion. My mother was brilliant like that and one day I wore a dress that nipped under the bust and then flowed out. The headmistress called me into her study and said to me, 'You look six months pregnant', so I smacked her and walked out and phoned dad and told him I couldn't take it anymore. Dad made me stay until the end of term because he didn't want to see 'expelled' written on my report.
Some of her school chums had formed a band with a Merseybeat image and called themselves the Trekkers and managed to find themselves an unlicensed venue called Esmeralda's Barn. One day Twinkle attended and that evening got up and sung. The leader, John Bloomfield was impressed and, as she was blonde and beautiful, offered her a weekly two-song slot with the band. They went into a recording studio they had access to and committed to tape a song called Terry which she had written during a particularly tedious French lesson at school. She remembered, "Terry was the second song I had written and was about someone I wanted to meet but never did. I went home and played it in the piano which was easy because my piano playing was very limited – four chords."
Twinkle's elder sister, Dawn was a budding journalist and following columns she'd contributed to Mirabelle and Jackie magazines she began to mix with various pop stars. One day Dawn was going to a party and invited Twinkle to join her. There, Twinkle acquired an admirer in the shape of Dec Clusky from the Bachelors. One night, not long after, Dec and the other two Bachelors had arranged a meal with Twinkle, her sister and their father and it was there that Mr Ripley presented Dec with a tape of his daughter singing Terry who, in turn, played it to his managers who were the husband and wife couple Dorothy and Philip Solomon. Philip then paid a visit to the Ripley household and after initially mistaking Twinkle for once of the servants' children she was offered the chance to record the song professionally and her dad made her promise that if the record failed she had to complete her next term at school.
She was taken to the Regent Sound studio in London's Denmark Street where she met producer Tommy Scott and engineer Glyn Johns. They had arranged some session musicians which included Phil Coulter on piano and Big Jim Sullivan and Jimmy Page on guitars. It was issued on Decca, the same label the Bachelors were on, and heavy promoted on the pirate station Radio Caroline. Following hefty airplay the Melody Maker, who were impressed with it, to run the headline; 'Drop the Death Disc.'
Twinkle's sister ran a story in Mirabelle and decided to add a year to Twinkle's age which helped her to secure an appearance on the television show Thank Your Lucky Stars at Christmas 1964 and thus giving her her debut appearance. The show's presenter, Keith Fordyce announced that the song would not be heard on ITV's rival show Ready Steady Go not only because of its death content but because the rival show stuck to a pretty rigid beat format and songs like this would have been out of place. The following week a reader's letter appeared in the TV times where they suggested that ITV launch a new programme called Ready Teddy Go to cater for the rockers, thus indentifying how the listener envisaged Terry.
Just a couple of months later, Twinkle returned to the chart with the self-penned Golden Lights, a title inspired after she saw The Bachelors' name all lit up at a venue in Blackpool, but it peaked at number 21 and thus brought Twinkle's career almost to a halt. She released four further singles over the next couple of years with a bit of a doom and gloom theme. Next came Tommy, followed by Poor Old Johnny, The End of The World and finally What Am I Doing Here with You. She effectively retired in 1967 except for a couple of attempts to revive her career in 1969 with a song called Micky, which was inspired by her relationship with the actor Michael Hannah who ironically died in a plane crash in 1974.
Her name was resurrected again in 1986 when The Smiths covered Golden Lights and issued it on the cassette single of Ask in 1986. By the nineties she'd effectively disappeared only occasionally popping up on various oldies shows and last toured properly in 1994 when she was on the road with the Four Pennies and former Searchers' singer Tony Jackson, but basically admitted she hasn't been interested in the pop world for decades.
There is one other Ripley that had made a name for herself which is Twinkle's niece who is the actress Fay Ripley probably best known for her portrayal of Jenny Gifford in the TV comedy/drama Cold Feet.
Twinkle was married to the Australian actor Graham Rogers who will be best remembered for being the daredevil stuntman in the Milk Tray adverts. Sadly she lost her five year battle with cancer on 21st May 2015.