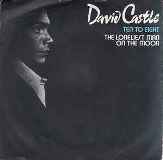 It still astounds me how so many great songs from the 1960s to the late 80s era received so much airplay, yet could never sell enough to make the chart. It's even harder to fathom when so many people know or remember a song so well. The best examples have to be Van Morrison's Brown Eyed Girl and Matt Monro's Born Free! There can't be many people over a certain age that don't know nor remember those tracks, yet neither of them made the UK chart. Naturally there are hundreds, if not thousands that just became 'turntable' hits. Today's subject, was championed by London's Capital radio as well as both Radio's One and Two. In particular, Noel Edmonds was a massive fan and played it on his Radio One breakfast show endlessly. When he moved to weekend mid-mornings he continued to spin it at a record (pardon the pun) rate, Roger Scott on Capital and David Hamilton were fans of it too. If I tell you that the chorus goes, 'Brush your hair to the rhythm of the music playing on your radio' you'll probably think, I know that, now who was it? Well, it was a song called Ten To Eight and sung by David Castle. I caught up with David in America who was happy to be remembered and tells all.
He who was born in Overton, Texas in 1952 and was the youngest son of a minister and a schoolteacher. He was surrounded by music and began playing the piano at the age of three. In 1974, at the age of 21 he moved to Hollywood where he became the staff songwriter for United Artists Music Publishing Group, "Within the first six months as a writer my songs were starting to be recorded by artists within the industry," David told me.
Now, as much as David's penned tale of Ten To Eight received extensive play on the radio, he was not the first to record it, in our exclusive interview he shared the information of who did and how it came about, "My publisher was encouraging me very strongly during the spring of 1975 to write a new hit song for Helen Reddy.  She was just coming off of her hit Angie Baby at the time and there was quite a buzz about her next album which was going to be recorded soon.  Naturally, I wanted very much to be in the consideration to have some of my songs showcased. But at that time, I didn't feel that I had something specific to Helen's style. After considering this challenge for some weeks, finally, a melody came to me that I felt was suited for Helen to sing.  It was the verse melody for what was to become Ten To Eight. I only had the verse melody and though I felt pretty good about it, I didn't yet have a chorus or any particular lyric in mind. But I kept practicing the verse melody and knew that in time something would come to me. As it turned out, one night, after a day of composing and rehearsing, I had a dream that was so vivid and real, it just blew me away. In the dream, I was invisible, a fly on the wall, and I dreamt I was watching my ex-girlfriend, my first love, in fact, putting on her make-up while listening to the radio one morning. Within the dream, from my girlfriend's clock radio, the morning DJ came on and played one of my songs. My then ex, heard the song playing and by the look on her face and the expression in her eyes, I could tell by the way she drifted off into remembering times we'd shared together that she was still in love with me, even though at this time we had parted ways. When the song came to a close on her clock radio, the morning DJ said, 'Well it's ten to eight, so if you're running late for work, you'd better get a rush on,' and at that moment, she hurriedly pulled herself together and started getting ready to rush off to work."
Many songwriters' songs start as a dream, Paul McCartney's Scrambled Eggs which became Yesterday being one of the most famous, and recalling that dream the next day can be a bit more tricky, but David didn't have that problem, "Now, as dreams go, this one was extremely real and vivid," he continued, "and I felt as though I had somehow travelled through space and time. My first love lived on the other coast of America, but somehow, I felt as though I had witnessed something so moving and so real. I woke up in tears and when I looked across the room at the clock, it was, in fact, ten to eight in the morning. I literally bounced out of bed and quickly wrote down what I'd seen in my dream and I felt that since I heard the DJ say the time and then woke up and it was the same time, that there was my title. I wrote the lyrics to the verse and the chorus just flowed right out, and within 20 minutes, or so, Ten To Eight was finished. Within a couple of days, my publisher arranged a meeting with Joe Wissert, Helen's producer for the upcoming LP. I played the song live for Joe and he absolutely loved it! I went into the studio and recorded a piano/vocal of it immediately and my publisher had a lead sheet done within the day."
So how did David feel when Helen recorded the track? If my memory serves me right, within a few weeks, the album came out entitled, No Way to Treat a Lady, and my song, led off the second side," he explained. "I was absolutely thrilled to be among the other songwriters featured on that record. They were all superstar songwriters like Paul Williams, Don McLean, Barry Mann, Cynthia Weil, Peter Asher and Carole Bayer Sager, to mention just a few and I was the only songwriter that was unknown at that time; and between her producer, manager and Helen, they felt the song merited being recorded and showcased amongst all the other songwriters. To this day, I feel blessed and honoured to be among those other amazing songwriters showcased on that LP."
How did David becoming a recording artist in his own right? David: "A few years later, I was signed as the first artist on Parachute Records, a new custom label headed by hitmaker and legendary record mogul, Russ Regan. Parachute Records, which came under the umbrella of Casablanca Record & Filmworks, was distributed in the UK on Pye Records. My first LP for the label was entitled, Castle in the Sky and they released Ten To Eight as a single which became a DJ anthem in the States and around the globe." In 1978, he contributed a track called Istanbul Blues in the Academy Award-winning film Midnight Express and was nominated for a Grammy for Album of Best Original Score.
Excessive airplay of Ten To Eight and even an appearance on Top of the Pops in February of 1978 couldn't interest enough buyers but as David told me, "I receive emails from Europe and around the world from couples who say it's their 'special song' and people who remember it fondly.  Charted or not, I consider myself extremely blessed to have experienced so many blessings that manifested as a result of one amazingly vivid dream that I had one night. A dream about my first love, Sherrie, who, bless her heart and soul, has now transitioned.
Many years later Helen sent David an autographed picture with the inscription 'David, It's always Ten To Eight to me!' "I knew exactly what she meant," David said, "because ever since I wrote the song and recorded it, there have been so many, many times I've looked up at a clock, or my watch, or now, my iPhone, and sure enough, it's Ten To Eight.