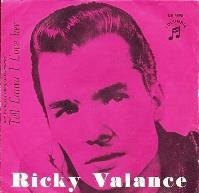 Back in the sixties, the BBC had no issues narrating or broadcasting the works of Homer, Shakespeare and Dickens', a lot of which are strewn with corpses, but the BBC steadfastly refused to play records connected with death and so one way to court controversy was to make a so-called 'death disc'. Some examples of these would have been, Ebony Eyes (Everly Brothers), Teen Angel (Mark Dinning), Leader of the Pack (Shangri-Las) and Terry (Twinkle). Perhaps the best known was Tell Laura I Love Her, the story of a dying stock-car racer's love for his girlfriend.
The song was co-written by Ben Raleigh and Jeff Barry before he teamed up with Ellie Greenwich, "It was my first hit – in 1960, the story is about a young guy who is in love – with Laura," Jeff explained. "He has no money and he wants to be able to buy his girl some gifts. He sees a sign for a stock car race with a prize of $1000, he joins the race to get the money and gets killed. It's a real teen angst story. I wrote in 1959, I didn't even own a car then. I was a Brooklyn cowboy, in fact I still wear a cowboy shirt, and when I sat down to write the song I originally saw it as a sign for a prize for winning a rodeo, not many people know that there was a rodeo every year in Brooklyn of all places and I went regularly. I played the first version of the song to my publisher Arnold Shaw, he said, 'that's interesting, but the guy is gored to death by a Brahma Bull.' I forgot to mention that detail, 'Who can relate to that?' That was obviously true so I changed it. Stock car race had the same three syllables as ro-de-o and still fit in the melody and people could relate to it. I was told there would be a fuss in England about whether they would play it on the radio because of the content, but I was too excited about getting airplay in the US to worry about it."
The death disc had been around for a while as Russell Clarke explained on a BBC documentary, "The first one I came across was by a group called The Cheers and it's called Black Denim Trousers and Motorcycle Boots and it's about a motorcyclist, who is a bad guy and the good girl falls in love with him and he rides off and has a firey crash and dies but they don't find the body or the bike, they only found his clothes. Ironically, it was released in the US the same week that James Dean died in a car crash in 1955 and the radio DJs wanted something morbidly appropriate to play and this was the song they chose, and this was the song that started the death disc craze."
There seemed to be an appetite for sad songs at the time and the songwriters revelled in it. Tell Laura I Love Her was originally given to American singer Ray Peterson. Peterson's first hit had been The Wonder of You, which 10 years later would become a monster hit for Elvis Presley.
Decca records picked up Peterson's version in the UK and it got one play on the BBC before panic ensued and the top brass at the label then decided it could not be released, citing it as 'too tasteless and vulgar for the English sensibility.' Talk about wasting money, they had pressed up 25,000 copies, obviously without realising its sentiment, and promptly had them all destroyed.
Step up Ricky Valance, who was born David Spencer in 1936 and had sung in a church choir before joining the RAF at 17. He explained how he chose his stage name, "I was sitting in a flat in Bedford Hill in London and all of a sudden horse racing came on the television and I heard Colonel Valance – a horse trainer and Ricky is a name I've always liked anyway and so Ricky Valance I became."
He began his singing career after leaving the service three years later. Norrie Paramor at EMI signed Valance to record a cover. Paramor played his a few bars of the Peterson original and Valance said later, "I thought he'd done a great job on it, but he sang it a lot slower than I did and I thought there's no way I'm going to copy anyone, Norrie said, 'You were a choir boy weren't you?' I said 'yes', so he said, 'sing it as a hymn', and I sang the title in that style and he said, 'that's it."
Ricky recalled to Spencer Leigh, "I had a lot of faith in that song because it stirred something in me. I wasn't surprised when it was a hit because the melody was so beautiful, it's a song in a lifetime, one of those songs you never can match." He added, "When you're close to an audience you get wrapped up in your song, I address the words as they were meant to be addressed and that's one of the secrets I think."
At the same time, another version of the song had been recorded by Top Rank label artist John Leyton, who recalled "The first song I ever recorded was Tell Laura I Love Her but unfortunately for me Top Rank got taken over by EMI who already had their own excellent version by Ricky Valance and they didn't want mine as well, so mine was basically put in the bin and Ricky went to number one." Johnny, however, just under a year later, would top the chart with Johnny Remember Me – another death themed disc.
Valance was the first male singer from Wales to top the chart but second overall as Shirley Bassey had beaten him to February 1959 with As I Love You.
It was Ricky's only hit and therefore he is the true definition of a one hit wonder, how did he feel about that? "I hated being regarded as a one-hit wonder, though. I sold 40,000 copies of some of my other records." Those other records were Jimmy's Girl and Movin' Away, but his return to death discs with Bobby (a girl in hospital) and Six Boys (all of them pallbearers at a girlfriend's funeral) didn't work. Ricky Valance has sung both country and gospel music and, most appropriately, has toured in the musical, Leave Him to Heaven.
Ricky spent many years living in Spain but in recent times moved back to the UK and currently lives, with his wife Evelyn, in Skegness where he still, occasionally, makes some live appearances.
The song also, naturally, inspired an answer version which was recorded by Marilyn Michaels as Tell Tommy I Miss Him, also in 1960. Two other covers of the answer song were also recorded, one by Laura Lee and, the other, more famously, by Skeeter Davis.
If you were wondering what ever happened by Ben Raleigh, he wrote many songs which were covered by the likes of Lesley Gore, Lou Rawls, Aretha Franklin, Nat King Cole, Johnny Mathis and The Monkees, but most famously, in 1969, he composed the theme tune to Scooby-Doo. He died in a house fire at his home in Los Angeles in 1997 aged 83.