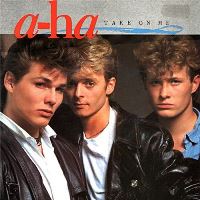 This week's suggestion is one of those songs where your casual music fan would not believe that a cover version, which was not really as good as the original, got higher in the chart. It's happened a few times, most notably with American Pie where Don't McLean's classic stalled at number two but Madonna went all the way. The same is true of Take on Me, how could A1 have bettered a-ha's chart placing, but they did.
A-ha are arguably Norway's finest musical export and they proved it by notching up 22 UK hit singles and an astonishing 17 albums. The trio are Morten Harket on lead vocals, Magne Furuholmen on keyboards and Paul Waaktaar on guitar and they formed in 1982. Later that year saw the nucleus of what was to become Take on Me. It began life as Panorama which then became Miss Eerie but featured several elements of what would eventually become Take on Me, including the main synth riff, which Furuholmen has created, with different lyrics, when he was 15. "The song was intended as a way to unveil Harket's impressive vocal range, which led to his vocals doing this spiralling thing," the band said.
In its early form it was brought to the attention of Terry Slater who became their manager. "Our manager had played bass for the Everly Brothers during the '60s and was a close personal friend of Phil Everly," Magne explained in a 2010 interview. "He also managed them during their comeback at the Royal Albert Hall in 1984 where we met the Everly's for the first time. Next Christmas they presented a-ha with three Everly Brothers guitars made from the same tree! Being huge Beatles fans, growing up and knowing how influential the Everly Brothers had been for the early Beatles' sound, we thought that it would be a nice tribute to cover one of their hits," which they did in the shape of Crying in the Rain.
Terry secured them a record contract with Warner Brothers in 1983 and the following year decided to re-write the song and re-titled it Take on Me. They recorded a version with producer Tony Mansfield who had previously worked with New Musik, The Damned, Mari Wilson and Aztec Camera. It was released in their native Norway but did nothing outside of that country. This sound was not what the band had hoped to achieve so Warner Brothers in America decided to invest in the group, and gave them the chance to re-record the song. It was re-mixed again and released as a single in 1984. In the UK it stiffed at number 137.
Slater then suggested a re-recording this time with producer Alan Tarney who had worked with Cliff Richard, Leo Sayer and Barbara Dickson. Tarney injected more energy into the song and it got a re-released around the world and went to number one in Australia, Belgium, Italy, The Netherlands, Switzerland, Sweden, Austria and the United States.
Arguably, the song certainly benefitted from the clever video which was created by Candace Reckinger and her husband Michael Patterson and portrays and pencil-etched cartoon figure inviting the viewer into his cartoon world in a live-action system called rotoscoping. It was filmed at Kim's Café on the corner of Wandsworth Road and Pensbury Place in London. Patterson told Songfacts, "We started on a-ha's Take on Me – the project began with my animated film Commuter, which won the student academy award in 1981 – it's done in the same animation style. I directed the animation and drew everything on that clip – we also did the finish for it here in LA. It's credited for bringing experimental animation into the mainstream." The pair later worked on Paula Abdul's video to Opposites Attract and Suzanne Vega's Luka.
The song spent  three weeks at number two in the UK behind Jennifer Rush's the Power of Love. With their good looks and slick pop productions, you could be forgiven for thinking A1 were just another manufactured boy band. Although Ben Adams, Christian Ingebrigtsen, Mark Read and Paul Marzari all won their role in the group through a management company searching for a classic boy band, the four young lads had individually spent their teen years honing their craft. Between them, they can play the piano, oboe, violin, drums and guitar. Take on Me was their fifth UK hit and the first of two chart-toppers for them.
Christian Ingebrigtsen has a connection to a-ha's home land – his father Stein had been a successful popstar in Norway in the seventies, selling over one million records across Scandinavia. What set A1 aside from many other boy bands is that they wrote many of their own songs. Take on Me was their first hit not written by them. "We had the idea to revive an old classic. It was about the time Madonna did American Pie. A lot of songs came up and it just stood out. I'm Norwegian, a-ha were Norwegian, so it seemed a really cool thing to do." Christian said. "I was a big fan and they showed me as a young kid in Norway that it is possible to make it around the world."
Take on Me was a complete surprise because we knocked Music by Madonna off number one, which was great."