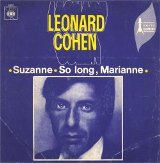 Mention the name Leonard Cohen to anyone of a certain age and you'll either get 'Wow, what an amazing songwriter he is', or 'Oh God, he's so dreary and depressing' and one will never convince the other. Canadian-born Cohen is a deep thinking songwriter with an acquired-taste voice, but love him or loathe him, he's a fine songwriter. This week's subject is one of his mid-sixties compositions about a love affair but not of the physical kind. "Every man was in love with Suzanne," he once said of the track, but who was she and how did she come to attract his attention? What's even more astonishing is that he didn't even record it first.
As I mentioned in the Bird on the Wire piece back in March, Leonard was born in Quebec in 1934 into a wealthy and much respected Jewish family with one of his grandfather's being a rabbi and the other being the founding president of the Canadian Jewish Congress. Leonard's father died when he was nine, so he never got to know him.
He had been writing poetry since the mid-fifties and later turned it into songwriting. "The song was begun, and the chord pattern was developed, before a woman's name entered the song," Leonard explained in a Radio interview in 1994. "And I knew it was a song about Montreal, it seemed to come out of that landscape that I loved very much in Montreal, which was the harbour, and the waterfront, and the sailors' church there, called Notre Dame de Bon Secour, which stood out over the river. I knew that there was a harbour and I knew there was Our Lady of the Harbour, which was the virgin on the church which stretched out her arms towards the seamen, and you can climb up to the tower and look out over the river and this song came from that vision."
So who was Suzanne? Well she was a professional dancer, "At a certain point, I bumped into Suzanne Vaillancourt, who was the wife of a friend of mine, they were a stunning couple around Montreal at the time, physically stunning, both of them, a handsome man and woman, everyone was in love with Suzanne, and every woman was in love with Armand Vaillancourt," he told the BBC. "But there was no… well, there was thought, but there was no possibility, one would not allow oneself to think of toiling at the seduction of Armand Vaillancourt's wife. First of all he was a friend, and second of all as a couple they were inviolate, you just didn't intrude into that kind of shared glory that they manifested. I bumped into her one evening, and she invited me down to her place near the river. She had a loft, at a time when lofts were… the word wasn't used. She had a space in a warehouse down there, and she invited me down, and I went with her, and she served me Constant Comment tea, which has little bits of oranges in it. The boats were going by, and I touched her perfect body with my mind, because there was no other opportunity. There was no other way that you could touch her perfect body under those circumstances. So she provided the name in the song."
The second verse seemed a little out of place with the mention of Jesus being a sailor, but Leonard explained that in a book by Michael Heatley and Spencer Leigh, "Many people feel that Montreal is the Jerusalem of the North," he said, "People who were brought up here have this sense of a holy city that means a lot to them and I put that verse in between the two verses about Suzanne to give it a religious quality, which is the quality of Montreal."
Once he'd finished the song he phoned his friend Judy Collins and sang it down the phone to her and she loved it. She recorded it first on here 1966 album In My Life. Leonard recorded it later and it appeared as the opening track on his debut album, The Songs of Leonard Cohen in 1968. Other artists who have recorded it include Joan Baez, Neil Diamond, Nina Simone and Abba's Anni-Frid Lyngstad.
Later in 1966 Suzanne and Armand had split. "I had separated from Armand and was living with our little girl," Suzanne recalled many years later. "Leonard would come over and I would serve him jasmine tea with mandarin oranges, and light a candle. It sounds like a séance, but obviously Leonard retained those images, too. I was living in a crooked house, so old with mahogany and stained glass. I loved the smell of the river and the freight trains and boats. Out of my window was total romance. Leonard was a mentor to me. We would walk together and we didn't even have to talk. The sound of his boots and my heels was weird, like synchronicity in our footsteps. He felt it, I felt it and we got such a rush just grinning at each other. We were never lovers of the flesh but on a very deep level we were. I had the opportunity more than once but I respected his work and what he stood for so much, I didn't want to spoil it. Also, Leonard is an incredibly sexual man! He's very attractive to women and I didn't want to be just one of the crowd."
For many years her whereabouts was not known, but in 2006 the Canadian Broadcasting Company found her living in a homemade camper in Venice Beach. She had hurt her back quite badly and couldn't dance anymore. She revealed that Leonard lost touch with her by the time he recorded it, although she did meet him briefly after one of his concerts in the 1970s, where he commented that she gave him a beautiful song. "It is the whole understanding that we are irresistibly attracted to one another and irresistibly lonely for each other and we had to deal with this. I was the one that put the boundaries on that because Leonard is actually a very sexual man and very attractive and very charismatic and I was very attracted to him, but somehow I didn't want to spoil that preciousness, that infinite respect that I had for him, for our relationship, and I felt that a sexual encounter might demean it somehow."
In a 2008 interview with The Guardian, Suzanne explained, "I left Montreal for the States in '68 and when I came back people said, 'Have you heard the song Leonard's written about you?' In my wildest dreams I didn't know it would be huge. I felt flattered, but I also felt there was an invasion of privacy. After that, things changed course. I stayed true to the 60s. He became this big pop icon and was not accessible any more. It hurt.
Judy Collins recalled in an interview with Uncut magazine about how she came to record it first. "Leonard's manager, Mary Martin, was an old Canadian friend of mine who was always mentioning Leonard and his books. And one day in 1966 she said, 'What if I sent Leonard over to see you? Because he's written some songs.' So the first night he came to my apartment, he was charming, shy. I don't think he knew what he was doing, and he never sang a note. He said, 'oh, I'm embarrassed too.' He came back the next afternoon and sang me three songs, Suzanne, Dress Rehearsal Rag and The Stranger Song and then the day after he came back and sang Suzanne again and I recorded it shortly thereafter. There was no question immediately that it was a classic. There's a spiritual centre to it that's authentic. The authenticity is what really grabbed me."
What does the song mean to Suzanne nowadays? "You know, what's kind of bittersweet and poignant is I came here with high goals and I didn't achieve much of those goals. Sometimes I'll be in a restaurant and hear it and I'll be overcome, but in an emotional, and, perhaps, deeper, way. The human figures who gave birth to that moment have moved on but it represents a special moment in time, created by two people whose mutual attraction was not fulfilled in a physical sense."