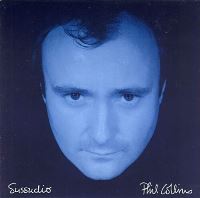 The request this week is by a man of great honesty as Eoin emailed saying, "Further to our conversation about Sssudio (sic) and it's (sic) origins l was hoping you might put it in as a single of the week. I have often wondered what it was about but was too lazy to find out." Well Eoin, seeing as you're too lazy I'll do the work for you, so sit back and enjoy the story if you can be bothered!
At the time, I said to Eoin, it must be about a girl because the opening line is, 'There's a girl that's been on my mind, all the time, Su-Su-Ssudio' and it turns out I was right, but that bit wasn't difficult to ascertain, but who was that girl? Let's find out.
According to Phil Collins, he said, "The lyrics are based on this schoolboy crush I had on this girl at school. It's happening with my daughter now, she's eight years old and she loves this boy, but she won't tell him, like in the lyrics this boy loves her but they don't talk about it." it does appear that the crush on the person was not really called Sussudio because he added, "This is one of those examples of improvising lyrics," Phil explained in an interview with VH1 Storytellers. "I set up this drum-machine pad, and I got some chords, and I started to sing into the microphone, and this word came out, which was 'sus-sussudio.' Then I went back and tried to find another word that scanned as well as 'sussudio', but I couldn't find one, so I went back to 'sussudio'. It's a meaningless word that I just made it up during the writing process of the song."
Not long after its release in 1985, various press stories try to analyse where Sussudio came from and the most popular story was that Phil once worked in a studio with a man who had a severe stutter and really had trouble coming out with the word and when he did, it came out as 'su-sussudio' instead of 'studio'. Apparently, Phil knew nothing about this.
Phil admitted, "the song was influenced by Prince and was the first time I worked with dance synth programmers." He also said he was absolutely aware of the similarity between 1999 and Sussudio adding that he was a big fan of Prince's and that he listened to the 1999 album a lot prior to writing the song. Phil has always been a fan of a brass section and had worked with Earth, Wind and Fire's brass section on his first two albums, Face Value and Hello, I Must Be Going and he did likewise for the third album, No Jacket Required, from which Sussudio single was lifted, but the band had now changed their name to The Phenix Horns and comprised Don Myrick on saxophone, Louis Satterfield on trombone and trumpet players Michael Harris and Rahmlee Michael Davis. As well as singing, Phil played piano and 'operated' the Roland TR-909 drum machine.
Many of Phil Collins' early songs are considered miserable as they are based on his personal experiences, remember, most of Face Value was about his first divorce so, as Phil told Fred Bronson for the Billboard Number Ones book, "When I started writing material for No Jacket..I said to myself I want to write some different kind of songs, because I didn't want to be known as a miserable sod. A lot of my songs are not necessarily miserable but they aren't about a certain aspect of relationships which isn't…the most optimistic. So I decided to write some dance-orientated songs. "
In an interview with Record Mirror Phil added, "The song is about everything and also about nothing. Really, it's about a younger man's fantasy for an older woman. Because she smiles at him he automatically thinks she fancies him and she becomes the object of his masturbatory fantasies. It's a thing I'm sure people will identify with."
In the UK, the song peaked at number 12, but in the States, it went to number one giving him his third consecutive chart-topper following Against All Odds in 1984 and One More Night in March 1985. He probably wasn't too disappointed with the song's performance in his home country because whilst Sussudio was descending the chart, he went to number one with Easy Lover, his duet with Philip Bailey which ties in nicely with the Earth, Wind and Fire connection. Not only that, the single features on Bailey's album Chinese Wall which Phil produced and drummed on. Talk about keeping it in the family.