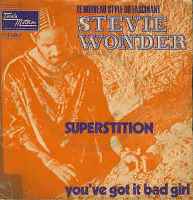 This week's song is by an artist who has won 25 Grammy Awards which is more than any other solo artist, and was inducted into the Rock and Roll Hall of Fame in 1989. He was Motown's youngest signing at the age of 11 and its most enduring artist. But, like Chuck Berry, he had to wait a number of years for his only UK number one hit which was far from his best music. But it is one of his most infectious hits.
Stevie Wonder was a clever man and well looked after in his younger days. In May 1971, he just turned 21 and his 10-year contract with Motown expired and all the royalties he'd earned that had been in 'safe keeping' were released to him so, in short, he was rich and a free agent. He used his influence to renegotiate a new contract which he signed in 1972 and it gave him complete control over his music and earned him some favourable royalties.
Work began on his next album Talking Book and one of the tracks was Superstition. How did it come about? "That song started with me playing drums," Stevie explained, "and all of a sudden I started singing 'very superstitious, wash your face and hands' and I started singing that because as a boy I remembered singing Shake, Rattle and Roll. The song was really talking about the things people believed in like breaking a mirror meaning seven years of bad luck and it talks about believing in things you don't really understand."
The song was originally intended for Jeff Beck and Jeff explained how in John Tobler and Stuart Grundy's The Guitar Greats, "There was a time when I was pretty bored with my music, and I think somebody at CBS asked me what I wanted to do and I said I loved Stevie's stuff, so they quietly broke it to him that I was interested in doing something together, and he was really receptive. The original agreement was that he'd write me a song, and in return, I'd play on his album, and that's where Superstition came in."
They recorded a rough version of the song with Jeff Beck, but an album Beck was making was delayed so much that Stevie recorded his version and Motown got it out first. Stevie explained his side of the story in Ultimate Classic Rock, "Motown decided they wanted to release Superstition. I said Jeff wanted it, and they told me I needed a strong single in order for the album to be successful. My understanding was that Jeff would be releasing Superstition long before I was going to finish my album. I was late giving them Talking Book. Jeff recorded Superstition in July, so I thought it would be out."
Beck wasn't happy and made it known to the press who published his thoughts which Stevie was upset by. In the same interview Beck said, "Basically he wrote it for me, but the story goes that he loved it a bit too much. No, he played it to Motown, and they said, 'No way is Beck getting this song, it's too good' and, as they had the right to say what Stevie released at that time, I lost the song as an original." A year after Stevie charted, Beck finally recorded his own version with bass player Tim Bogert and drummer Carmine Appice under the moniker Beck, Bogert and Appice.
The song has a funky but also rock feel which was possibly inspired by the fact that prior to recording it he had toured with the Rolling Stones.
Stevie's version was released at the end of 1972 and went to number one in the States giving him his second chart-topper there after Fingertips (Part 2) some 10 years earlier.
Stevie played drums, bongos, keyboards and harmonica but if you were one of his musicians it could be a nightmare. Stevie often booked a studio for much longer than he needed because he could only record when he had inspiration. Scott Edwards was Stevie's bass player at the time and he said this to Songfacts, "It was not always convenient for the band. Because he does not have sight, he's not controlled by daylight, so he may begin his night at midnight. Which is bad, because if they want you to come do an overdub or something, he may call you at 4 a.m. and say, 'Come on in.'"
The 'Talking Book' album, which has a rare sighting of Stevie without glasses on, was so called because wonder considered the songs to be like chapters in a book that tell a whole story.