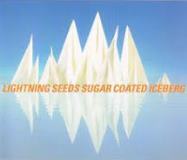 A few weeks ago, I wrote the story behind When You Say Nothing At All, which clearly speaks volumes. That analogy could certain apply to this week's story, which doesn't really have a story.
Liverpool has given us some brilliant songwriters and Ian Broudie is no exception. He was born in August 1958 and his music career really began with the post-punk band Big in Japan in the late-70s. He immediately began producing acts like Echo & the Bunnymen, The Icicle Works and The Fall in the 80s. In 1985, he formed a new wave duo with vocalist Paul Simpson called Care and charted one hit called Flaming Sword. In 1989, in order to have an outlet for his own recorded material, he began using the name The Lightning Seeds, a name he took from mishearing a Prince lyric, and released his first single, Pure which reached number 16.
As well as continuing to record solo under the Lightning Seeds moniker, he additionally lend his production skills to Northside, The Wedding Present, Dodgy, Alison Moyet and Sleeper.  During the 90s, he racked up 15 UK hits including The Life of Riley, which was written for his son, Change, Marvellous, Lucky You and two versions of the chart-topping Three Lions. For live appearances, he created a touring band.
This week's song is the 1997, number 12 hit Sugar Coated Iceberg, which, at the time, many suspected it was written about drugs, but Broudie said very little about, much like Colin Angus did about Ebeneezer Goode.
Not happy just to accept the rumour of what the song was about, I contacted Ian to ask him for the story. His initial reply was, "I'm really surprised that of the songs I've written you want to write about that one …is there a particular reason?" Having explained that it was a suggestion for my Single of the Week feature I awaited a reply. After a couple of days he came back to me and said, "Sorry but I have no insight or information I want to give on that tune… it's pretty self-evident what it's about." Therefore, it seems that the rumours must have been true. For those not yet realising, it seems likely that it was about drugs especially with lines like, 'I'm sinking deep, I'm going under that sugar coated iceberg tastes so sweet
until you tumble' and  'Sweet and sour as gold and coal, a sugar iceberg stole my soul and hid it deep inside my heart, threw it through me like a poison dart,' make your own mind up. He dissolved the band name in 2000.
In 2004, Broudie released an album titled Tales Told under his own name, but it didn't have any hit singles and certainly no mention of Sugar Coated Iceberg.
He reformed the band in 2006 this time with a line-up comprising guitar Martyn Campbell, keyboard player Angie Pollack and Ian's son Riley on guitar and in 2009 released the album Four Winds. In 2016, he added Abi Harding on saxophone and Jim Sharrock on drums.
Production continues into the 21st century where he has lent his hand to The Coral, The Zutons, The Rifles, The Subways, Miles Kane and the French rock band Noir Desir.
All I can say is that Sugar Coated Iceberg is a very melodic power-pop anthem. It opens with the line, 'I don't care what songs you sing or how you think up all those pointless things' which sounds very Motown-like and as Robin Murray put it in a feature on clashmusic.com, 'it pays homage to Berry Gordy's home of the hits, but done in such an impish, gleeful, exuberant way it grabs a character all of its own.'