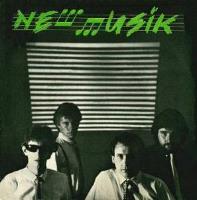 This week's suggestion came from a man who I know has good taste in music much it from the late 70s and early 80s and this group, I feel, never got the recognition they deserved despite much radio play on Radio 1 and plenty of support from DJs like Peter Powell, Kid Jensen and Mike Read. They are New Musik.
Originating south of the capital, but lead singer and songwriter Tony Mansfield said in an interview with Miklos Galla in the mid-80s, "We don't really come from anywhere. We've just been doing basically what we're doing now, but for different people. Before New Musik I was doing sessions for various people. Nobody really that well known, just sessions in general: playing guitar in a unit of local musicians – I say local, I mean south London area. I mean I've done various different jobs and I left school at the age of 15 with the intention of becoming a rock star. It didn't actually work out."
New Musik were formed in 1977 by Mansfield who explained, "Initially New Musik was a three-piece band which was myself, Phil Towner as a drummer and Tony Hibbert was the bass player. The majority of the keyboards I did myself, although I came across more as the guitarist and the singer. And then the fourth member, Clive Gates, was brought in, mainly as an additional member, it was a very small unit so it was necessary to make it a four-piece band." Nick Straker, who was a friend of Mansfield's from the same area was briefly in the original line up. Straker explained how he got involved, "Most of us went to the same school (Spencer Park in South London which no longer exists) this also includes Dennis Bovell and other members of the original Matumbi. I joined a disco band in 1976 called Limmie Funk Limited (Limmie was from Limmie and the Family Cookin') Pete Hammond was the bass player, Phil Towner was the drummer and Tony Mansfield actually became our Roadie for a time! The intention was for myself, Tony, Phil and Tony Hibbert to form a band and start putting down some tracks at a studio (TMC) where we had a deal to record and pay later." Straker went on to form his own band and had one hit in 1980 called A Walk in the Park on which Mansfield played guitar.
They were signed to GTO records who preferred to sign Tony as a solo artist, but he insisted he bring the band with him. They agreed but one probably reason they remained slightly under the radar is the lack of promotion outside of radio. "New Musik is one of those names which easily catch on," Mansfield explained in an interview with Sounds in 1980. "Our promotion has been low key so far, no badges or T-shirts yet, but is has caught on with radio people. Even Gerald Harper's (on Capital Radio) playing the new single! Radio music is usually seen as run of the mill,"
Their songs are more meaningful than they may appear, "I find it easier to write about real situations than writing love songs," Mansfield told Record Mirror in 1980. "I like things to mean something. It's a challenge to write something sensible in a few lines and mean something. Straight Lines was very simple. It's about making decisions. You can go one way or another but whatever you decide is, in the long run, one specific way from A to B. [The follow up] Living by Numbers is a similar thing, we are all living by numbers. Whatever situation you are in is based on a statistical thing. You are born and given a number on a birth certificate, you drive a car and you get registered – you're always a specific age. It's a bit morbid. I don't want to be morbid but you've got to look at realities of what's around. It's all down to reality." What about the next single, This world of Water? "It's really doomy, a really nasty song. The whole LP is doomy. We're doomy," he told Sounds. "But it's put in such a jolly way that people don't take in the words. New Musik is something new. People who've heard our records or seen us live just aren't certain about it all. The idea of New Musik preceded Gary Numan's first hit; the synthesised percussive sounds, we were doing that ages ago. The John Foxx used the same riff as in 'Sanctuary' on Underpass. It's on our old demos, honest!"
Clive now works for a software company and Tony has a live music bar in South London, but Tony is still making new music as New Musik and Tony's brother, Lee, launched a Youtube channel showing some exclusive items for the fans.
Mansfield turned his hand to production for other artists and had success with Captain Sensible and even co-wrote his hit There Are More Snakes Than Ladders. Later in the 1980s, he worked with Mari Wilson, Aztec Camera and A-ha.