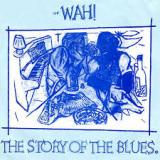 In 1982, a television drama about five unemployed men who would do anything for work in Thatcher's era hit the UK TV screens and ran for just one series. It was written by Alan Bleasdale, who in fact, wrote the majority of the episodes before Mrs Thatcher came to power. That series inspired one of the most memorable hits of the 1980s – The Story of the Blues by Wah! And not as many credit them, the Mighty Wah! – That came later.
The band's mainstay is Liverpool-born Pete Wylie who in 1976 and early 1977 had been in a succession of bands including The Mystery girls, The Opium Eaters, The Nova Mob, Crash Course and finally, one third of The Crucial Three – the other two thirds being Julian Cope (later of Teardrop Explodes) and Ian McCulloch (later of Echo & the Bunnymen). After parting company he hooked up with songwriter Rob Jones and Pete Fulwell (who later became the band's manager) and Rob and Pete (Wylie) wrote a song which, at the time didn't have a title. The group was initially known as; Wah! Heat! and then variously as Wah, The Mighty Wah!, Shambeko! Say Wah!, JF Wah!, and Wah! The Mongrel, but where did the Wah! exclamation come from, "I was going to a local nightclub called Eric's on my pushbike," Peter explained, "I was wearing a leather jacket and it was a really hot day and when I got off the bike I said to Roger (Pete Fulwell's partner) 'Wah! Heat!' and he said, 'That'll do', because we were trying to think of a name. Wah! was just one word we used and as we went on we stared philosophising about it saying it was like primal scream and a wordless expression."
They recorded two singles, Better Scream and Seven Minutes to Midnight under the Wah! Heat! moniker before losing the Heat! and then signed a deal with WEA records. By 1981 Pete wasn't enjoying the music they were making and decided to work on his own but then asked the bass player, Carl Washington to help him out. "We released one single called Remember under the name Shambeko Wah! just to show that it was a different thing from the previous Wah! A lot of people had trouble pronouncing it so we reverted again, this time just to Wah!"
During the summer of 1982, they started recording The Story of the Blues, "we had some violins and girl singers on there," Pete explained, "and it turned out to be our first big hit." Although it was inspired by the aforementioned TV series, there was another side to it which expresses Pete's frustration with the media on two different levels, "firstly with the way WEA wanted to market us," Pete explained in an interview with Smash Hits, "and at seeing the way people are treated by and react to the media. It's just about people messing you around and trying to take away something you had. It felt at one time like WEA were trying to cut down a lot of facets of the rough diamond of Wah! into a sparkling easily-packaged thing." The ever-chatty Scouser continued. "Some people wrote in reviews that it sounded as though I was feeling sorry for myself but the record's saying the opposite. The words are so positive saying that when things are bad, stop and get yourself organised and be strong."
The song, which reached number three in the chart with only Men at Work's Down Under at number two and Phil Collins' You Can't Hurry Love at the top, had a second part on the flip side which was called Talkin' Blues. It takes a direct swipe at the media who were generally having a go at the kids without jobs at the time, "Just because you haven't got a job doesn't make you any less of a valuable person," Pete confirmed. "All those people are getting indoctrinated on the news and in the papers and on TV being told they're on the scrapheap and useless. People read paper and take those things as fact because someone who's in a position of power, someone who's supposed to know told them." Come to think of it, has anything changed?
The follow-up hit single Hope (I Wish You'd Believe Me) petered out at number 37 but then adding Mighty to the Wah! gave them a more respectable chart position for their final hit when Come Back reached number 20.
How does Pete view it retrospectively some 30 years on? "NME said that I was one of the best songwriters to come out of Britain and The Story of the Blues is a classic song… if all I was remembered for was The Story Of The Blues I'd be the proudest man alive, because I hear the record now and it's almost like listening to someone else's record – it's long enough ago and so many things have happened to me in between that I can have some distance from it and I'm proud of that song, but it also affected people's lives – people come to me now and tell me how that record really inspired them when they were feeling low, and gave them some self-belief, and that's as valuable to me as hearing people whistling the tune.