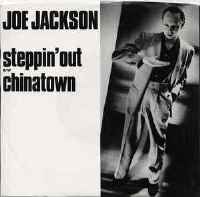 Since the video age, which began in the early eighties, the record companies try to promote an act not only on their sound, but their image as well. A good image, especially to young teenage girls, will help sell records. Prior to all that records generally sold on what was played on the radio so it didn't matter too much what you looked like. People like Demis Roussos and Shane MacGowan were/are no oil paintings but they made some really good songs. That also applies to the man behind this week's choice, Joe Jackson.
Joe is an amazing live performer too, I had the good fortune to see him at Hammersmith Palais in 1984 when he was a double header with Gary Glitter – they both put on good show but Joe, being more of a musician shone through.
He was born David Ian Jackson in August 1954 in Burton upon Trent in Staffordshire but grew up in Portsmouth. At school he learned violin, but soon realised he preferred piano. In his late teens, he joined a local band called Edward Bear who then changed their name to Arms and Legs.
Before he left that band he changed his name to Joe which he chose after people told him he looked like the cartoon character Snoopy in his student guise and known as Joe Cool.
After leaving the band, he toured the cabaret circuit with the hope of making enough money to record a demo. One night a record producer from A&M records saw him and took his demo to the company who them signed him. In 1978, he recorded the song Is She Really Going Out with Him? at Eden studios in London and on its initial release in August 1978 it failed to chart. It was re-issued a year later where it reached number 13. Six months later he followed it with It's Different for Girls which became his highest charting UK hit when it peaked at number five. Joe's only other visit to the UK top 10 was exactly three years later when Steppin' Out reached number six.
Steppin' Out, a phrase coined in New York City in the 1930s, is more piano led than his previous hits and had more of a jazz-feel. Joe was just coming out of a divorce and headed to New York to record the parent album Night And Day. New York is known as the city that never sleeps and that's why the album sleeve shows both a light and dark image to represent night and day. It's essentially a concept album with side one telling us stories of his visit during a taxi ride in Manhattan opening with Another World (his thoughts on the place) and then taking us to Chinatown. Side one closes with Steppin' Out which described Joe's anticipation of a night out on the town.
He described how it happened in an interview with the Wall Street Journal, "I took a sublet in the East Village and went out to jazz and Latin clubs. One of the first songs I wrote was Steppin' Out. I was inspired by New York. I envisioned playing a diverse range of keyboards. I wanted them to conjure up the dazzle of neon lights and the feel of cabbing from club to club to take it all in. It would be a romantic ballad set to a disco beat. As soon as I finished the music, I wrote the words. I thought of a couple who had just fought and were making up. They were telling each other, "Let's forget it and take advantage of the city. Let's just throw ourselves into the night."
Joe is very meticulous about his song writing as he explained in that same interview to Marc Myers, "For me, lyrics have always been the hardest part of writing a song. I sweat over words. I don't want them to sound dumb and clumsy and meaningless. So I did a lot of editing. Except for the first verse, I started each with a different pronoun—me, we, you. I used them as cues for the narratives that followed. The lyrics were intuitive and had nothing to do with my personal life. They just felt right.
The first verse set the scene, 'Now, the mist across the window hides the lines, But nothing hides the colour of the lights that shine, Electricity so fine, Look and dry your eyes.' The next verse urged the other person to forget the argument, 'We, so tired of all the darkness in our lives, with no more angry words to say can come alive, get into a car and drive, to the other side.'
The rest is about heading out and the anticipation of arriving at a club, 'And in a yellow taxi you turn to me and smile, we'll be there in just a while, If you follow me.' Even though the song is set in late '81, I viewed it as a trip through New York of another era. I imagined the couple going to CBGB or the Village Gate but dressed up, as if in a movie set in 1940s New York."
MTV was well underway and Joe was advised to make a video which he did but wasn't happy with it. He said in an interview with Time Out, "Rock 'n' roll is degenerating into a big circus, and videos and MTV are very much part of that. People who are seriously interested in making music as an end in itself are going to have to split away and forge a different path." The video showed a housekeeper dressed as Cinderella and was filmed at the St. Regis Hotel in New York City. It also received a Grammy nomination for Record of the Year in 1983 but lost out to Toto's Rosanna.
After the hit, Joe returned to the UK, but realised he preferred New York so returned there for a while. In an interview in 2019 he said, "I don't like New York much these days. It's as if the city and I had a hot love affair and now we're just friends, but we still have to see each other to remain friends. Today I live in Berlin. I often rework my original arrangement of Steppin' Out before we go on tour. I'm currently performing the slow version that works really well in concert. I may try a Latin version next.