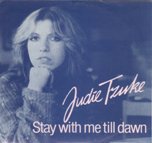 Many people get into the music business by lying their way in. There was a certain producer in the 70s (who shall remain nameless) who lied about having been a producer for years yet he'd never produced a song in his life. He went on to be very successful. Judie Tzuke told a fib in the early days which paid off in the end.
Judie was born Judie Myers in London in 1956. She attended the now defunct London Ballet and Drama School in Piccadilly from which Judie was expelled on several occasions for smoking and bad behaviour. Eventually at the age of 15 she was expelled one final time. She began writing songs and poems and even tried her hand at singing which she did well. She was probably trying to follow in the footsteps of her mother, Jean Silverside who had appeared in many editions of the Marty Feldman show, a few episodes of the Goodies and even a small part in The Fall and Rise Of Reginald Perrin.
When she was eight years old she found out the story of her real name. Judie's grandparents, who were Polish-born, had moved to Yorkshire in the 1920s and changed their name from Tzuke to Myers in an attempt to blend in. Myers was a common name in Yorkshire at that time.
In 1974 Judie met up with a drummer called Mike Paxman and he was supposed to arrange for her to join the band he was drummer with, but Mike ended up joining Judie instead. They started writing together, These are the Laws and It's Only Fantasies were the first two songs penned together. They approached Jonathan King's UK Record Label and although he was interested nothing really happened. Soon after they approached the Good Earth recordsl who signed them up. These are the Laws was released as a single in 1977 with It's Only Fantasies on the flip side.
In the mid-70s she contacted Elton John's Rocket records and played them a couple of her songs. They were impressed and asked her how many she had. She replied 20 – which was a lie, in fact she only had the two. The A&R manager asked her to come back the following week to record a whole batch of songs. She didn't have the nerve to go back probably because she couldn't write another 18-odd songs in a week. She continued singing in folk clubs but realised that because the record company were interested in her she might well have a career in music.
In 1977 a friend suggested she go back to Rocket. Their motto was 'A label for artists' and so she went to see the managing director David Croker and played him a few songs, one of them being Stay With Me Till Dawn and was immediately signed to the label. Mike brought two of the musicians from Good Earth, Paul Muggleton and Bob Noble with him and they all spent the next six months recording her first album Welcome to the Cruise at Air Studios in London, with the producer John Punter.
The first single, For You, was released in the summer of 1978 and received substantial airplay and was met with great critical acclaim. It was an acapella track which showcased Judie's ability to sing complicated harmonies which were then cleverly multitracked, but it failed to make the chart. It was decided that the next single should be Stay With Me Till Dawn, a song that Judie wrote after she and a 'friend' stayed up the whole night chatting. The song peaked at number 16 and spent 10 weeks on the chart. The album peaked two placed higher and on the strength of the hit, For You was re-released and again received much airplay and again failed to chart.
In 1980, Judie and her band toured America for three months supporting Elton John and although it was well received Elton, during the tour, decided to change the US distribution for his Rocket label from MCA to the newly-formed Geffen label. MCA consequently decided to stop all tour support and promotion for the acts on the that label, which meant, although Judie was playing to huge audiences no-one knew who she was and her records were not available in the shops.
Paxman brought in two new musicians; John Edwards and Jeff Rich, whom both had just joined Status Quo, were also part of the new Judie Tzuke group. Over the next couple of years they recorded two albums, Sportscar and I am the Phoenix, the former becoming here biggest UK success when it peaked at number seven. Although there were no more hits, one track on the latter, Come Hell Or Waters High was a minor UK hit for Dee C. Lee in 1986. Following I Am The Phoenix she embarked on a lengthy tour which culminated in appearances headlining the Glastonbury CND Festival. Some of these concerts were recorded and used to form the live album, Road Noise – The Official Bootleg.
She left rocket records and signed with Chrysalis. In 1983 her album Ritmo was released but Judie was not happy with Chrysalis and decided she would have more joy with a smaller record company. Two years later she joined Legacy Records. They really tried to push Judie and released the three album versions in three different covers. The CD, vinyl and tape all had their own unique sleeve. That didn't bring much success so she decided to set up her own record label.
Muggleton and Judie became an item and in 1987 their daughter Bailey was born. When she grew up she would sing backing vocals for her mum but has gone on to have her own success when her vocals were featured on the Freemasons cover of the Alanis Morissette track Uninvited which reached number eight in 2007. Their second daughter, Tullula, was born in 1994.
Judie decided the only way to succeed was to take complete control and this meant recording and releasing the albums herself. That sense of satisfaction was reached in 1999 when Elton John handed back the copyright on her first three albums
Throughout a career that she regards as lucky in everything but its business aspects, Tzuke has always been able to write songs. She still does it almost every day and sees it as an exercise to clear her mind. "I write about what's going on in my life," she says. "It's not just when I'm miserable, although those are the times when you tend to be on your own and you actually have time to sit and work on songs. When you're happy, you don't want to spend time cooped up by yourself working, but I do write happy songs as well as sad songs and songs where I'm angry about something." The songs don't always have the desired effect she remembered, Sportscar, for instance, was directed at someone who had really got on my nerves , 'an arrogant idiot', and when I told him I'd written a song about him, he got all excited – and never noticed that it was far from a song of praise."
In 1999 a dance version of Stay With Me Till Dawn by Lucid made number 25, but the 2000s saw her having more success as a songwriter. Dance DJ's BT with Dreaming and Tiesto with Just be were moderate hits and she championed Lucie Silvas when three of her songs, all co-written by Judie charted with Breathe In being the most successful reaching number 12. The boy band Phixx and the Fame Academy contestant Alex Parks both charted with Judie's songs.
In 2012 Judie is back after four years of silence. She says, "I don't mind looking back at the old songs but I find that when I go out on tour, I generally enjoy the newer ones. The newer songs are easier, although I'm no judge of what works best. I remember my manager looking at the set-list last time and talking about the boring bit – and these were the songs I really liked. I just hope other people like them too."