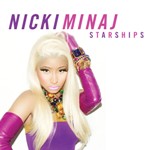 In the summer of 2009, the Black Eyed Peas not only spent 14 weeks at number one in America with I Gotta Feeling, but they set a new record for most consecutive weeks inside the top 10 with a total of 20 weeks. That record stood for three years when in the summer of 2012, Nicki Minaj went one better and spent 21 weeks with her song Starships. It proved popular in the UK too by spending 39 consecutive weeks on our chart, something fairly rare these days. It peaked at number two unable to unseat the year's best seller – Gotye's Somebody That I Used To Know.
Nicki was born Onika Tanya Maraj in Saint James, Trinidad and Tobago in 1982. Her parents split up and she and her mother moved to Queens, New York. Her break came in 2007 when she was signed up by Full Force to rap in a group The Hoodstars and they recorded the entrance song, Don't Mess With, for WWE Diva Victoria.
Her debut UK hit, Your Love, limped to number 74 but within six weeks she was in the top 10 featuring with Sean Paul on his hit 2012 (It Ain't The End). Her next couple of solo hits didn't make much of an impact; Right Thru Me peaked at 71 and Girls Fall like Dominoes did a little better reached number 24. In May 2011 she entered the chart in collaboration with David Guetta and Flo Rida with Where Them Girls At, the following week she charted a solo hit Superbass which made number eight. Her next big hit, Starships, in February 2012 gave her the biggest solo hit of her career so far.
Starships was co-written by a whole posse, namely Minaj, Bilal Hajji, Achraf Janussi, Novel Janussi, Nadir Khayat, Carl Falk, Rami Yacoub and Wayne Hector. I've still never fathomed out how it takes so many people to write one song especially when 11 of those words are the F-word.
The song was given its commercial, perhaps slightly cheesy, appeal by Moroccan/Swedish producer Nadir Khayat who goes by the name RedOne. He had already had six UK numbers to his name including Alexandra Burke's Start Without you, J-Lo's On The Floor and Lady Gaga's Just Dance, Poker Face and Bad Romance.
So how did the song come about? Minaj explained, "RedOne sent me a beat, which I was so taken with that I went to the studio and improvised the first verse, mumbling and just saying the first thing that came into my head, and we recorded it, because I just felt like, let's go to the beach… let's go get away. It was just so good. It feels good!" She quotes from the nursery rhyme Twinkle Twinkle Little Star, which itself began life as an early 19th century poem by Jane Taylor. It was originally published in the 1806 collection Rhymes for the Nursery under the title The Star and contains five stanzas. The children's song is sung to the tune of the 1761 French folk song Ah! Vous dirai-je, Maman, which was later arranged by Mozart for a piano composition consisting of twelve variations on the tune.
It was the second Billboard chart-topper to feature the rhyme; the first was just called Little Star as performed by the doo-wop group The Elegants in 1958. Incidentally in 2008 the Glasgow band Glasvegas recorded a track called S.A.D. Light on their debut album self-titled album which also includes some of the lyrics too.
"The lyric 'starships are meant to fly,' is a line about reaching one's full potential in life." Minaj explained in an interview with The Guardian: "That's what I feel. Just go for it! Stop limiting yourself! And that's a great feeling. It's a great feeling to not box yourself into anyone's limitations or ideas or judgments. That's what it means to me."
Then a problem arose. In September 2013 Minaj was sued by musician Clive Tanaka for copyright infringement claiming that she and her collaborators stole from his 2011 song Neu Chicago. RedOne and co-writers Carl Falk, Wayne Hector and Rami Yacoub were also named in the suit. Clive's song, which appeared on his 2010 album, Jet Set Siempre 1 had been a big hit in Sweden and the suit alleges that the culprits, who are citizens of Sweden, unlawfully sampled the song. He also claimed that his track had received thousands of online streams and substantial airplay in the US by the time Minaj's song was conceived. To further his case, Tanaka posted a mash-up of both songs under the title Neu Starships on his Soundcloud account. After going to all that trouble to prove his case, the court dismissed it.
The song was taken from Minaj's second album called Roman Reloaded: Pink Friday. Her first album was called Pink Friday and her website address is www.mypinkfriday.com, Nicki explained the pink theme, "It goes back to my childhood daydreams. I didn't have my own room, I shared with my brother, so I would have this daydream and imagine that one day I could have my own room and it would all be pink – like Cinderella's. So I guess pink takes me back to that time and it just feels euphoric when I wear it. I love it."
The accompanying video was filmed in Oahu, Hawaii and directed by Anthony Mandler who has previously worked with Rihanna. Minaj, complete with neon-green hair, appears out of the sea from a laser beamed down by a UFO before several topless tribal dancers carry her across the island on a platform to a beach party. The scene where Minaj is perched on the edge of a volcano was the most difficult part of the shoot. Nicki, at the time, tweeted the reason, 'That mountain top was freezing, the wind was blowing so hard (pauz) my ears hurt @ the end.'
Some critics, with too much time of their hands, have insinuated that Minaj is bisexual because of various situations in her videos. When asked about her sexuality, she told Out magazine, "I don't date women or men; I just embrace all people of all lifestyles and I don't tell them they are bad people … But I feel like people always wanna define me and I don't wanna be defined."