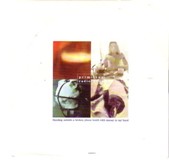 Oh how the charts rules have changed over the years and how different they are from America. 20 years ago the American Billboard singles chart was compiled from a mixture of airplay and the rest in sales, but if a track wasn't available in a physical format it would not be eligible for the Hot 100 singles chart but would qualify for the airplay chart. Here in the UK we thought it was outrageous because at that time the UK singles chart was computer compiled based purely on sales. Nowadays virtually nothing is available on a physical format yet the majority of our chart is made up of streaming – that means you don't need to actually buy anything, not own it, you just had to listen to it via an official site, yet the Official Charts Company still insist on calling it a singles chart. This week's subject was one of those tracks that wasn't released physically in the US but reached number 10 on the airplay chart. In the UK, on a 7″ and CD single it limped to number 74. The band were called Primitive Radio Gods and comprised lead singer and bassist Chris O'Connor, his childhood friend guitarist Jeff Sparks and drummer Tim Lauterio and their sole hit was called Standing Outside A Broken Phone Booth With Money In My Hand.
Their roots began in 1985 when they were called the I-Rails (that would sound quite modern nowadays) and between 1985 and 1990 they released four albums which all hit the buffers. Their third album, Nine Songs from Nowhere had a track on it called Primative (sic) Radio Gods which was serviced to radio stations but received little airplay. By the end of 1990 O'Connor had had enough of failure and retired from the music business, but using his earlier Navy training he got a job as an air traffic controller at Los Angeles International Airport.
One summer day in 1994, O'Connor was spring cleaning and found some old demo tapes, he listened again to Standing Outside A Broken Phone Booth With Money In My Hand and really thought it had potential and decided to send some copies to some of the major record labels and within a week he got a call from Jonathan Daniel, a CEO at Fiction Records in New York who said, "It's got tons of atmosphere," and he duly given a record deal.
So what is the song all about? "A light that never goes out," recalled Chris in an interview with Songfacts. "There's a song called Outside a Broken Phone Booth With Money In My Hand on Bruce Cockburns' 1978 album Further Adventures Of, but I had already finished the song and thought, 'that's it.' I threw 'standing' in front, but at the time I would have swore (sic) I lifted it word for word. Rocket was an alter-ego side project I started in order to teach myself how to use a sampling keyboard I had just bought after the first serious band I was in (the I-Rails) broke up. There wasn't any thought of releasing it, and in fact it wasn't released until five years later."
The hook has the line, 'I've been downhearted baby, ever since the day we met' which is sampled from a live performance of B.B. King singing How Blue Can You Get?, which featured on his 1971 album Live in Cook County Jail. That song was written by a British songwriter/music journalist named Leonard Feather, along with his wife Jane.
The song started receiving airplay on various modern rock stations, it made number one on the Modern Rock charts which prompted pop stations to start playing it. With this unexpected, new-found success he wanted to tour but had no band, so, just like The Blues Brothers, he enlisted his former I-Rails bandmates, Sparks and Lauterio and brought in new lead guitarist Luke McAuliffe. Sparks had quit the music business and took a job driving a beer truck, but O'Connor persuaded him to give it up and rejoin the band.
The song's success was enhanced when it was used in the Jim Carrey and Matthew Broderick 1996 film The Cable Guy. A soundtrack album was released and this seems to be the only way the American public could own a copy of the track as the record company still refused to release it as a single. The film didn't help the song's success nor did the song help the film. They continued to tour but the rest of their repertoire was quite different from 'Phone Booth' and thus their tour was poorly received. One more single was distributed to radio stations: a track called "Motherf***er but that died a death and the band was dropped from their label. "Six to eight months after we were dropped," Chris recalled, "the label still held the option on their second record and was working out a deal to plug us into Sire. A year of arguing followed. Finally, in early '98 we agreed on an album. Things starting to look rosie for us but it didn't last long because London Records swallowed up Sire and we were in limbo again."
Chris was still working at LAX and in 2000 decided to re-float the band and returned with an album called White Hot Peach. The accompanying video was shot in London and Chris took some sick leave to shoot the video. MTV picked up on it which helped.
"At one point we owned the rights to the name and the music, so we thought we'd change the name of the band and write new songs, but we didn't like the idea of only putting out one record and calling it quits. Then, as time passed, we all got day jobs and had less and less time for the band, so we kind of went on hiatus for a while," O'Connor explained.
In August 2005, the band created a MySpace account which featured and promoted a brand new song from a new album called Sweet Venus which was released a month later. The band continue to offer the majority of their back catalogue through their own MP3 store, and have uploaded all the videos from the Still Electric DVD to YouTube.
According to their own website, their last live appearance was at The Pour House, a pub in California back in February 2012. Keep your eyes open, when Chris is not safely landing planes he might just pop up at a venue near you, as long as you live in Southern California.