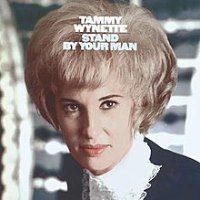 Country songs, have always had a bit of a reputation for being tragic stories, a bit like a year's worth of EastEnders crammed into a three-and-a-half-minute song. But, they very often tell a compelling story – sometimes funny like many Johnny Cash songs. With some of the artists, it could make you wonder as to whether the songs are autobiographical and this week's singer is certainly one of those. Tammy Wynette, whether she wanted to or not, lived her life like one of those songs.
She grew up in poverty, had four husbands (and five weddings), was kidnapped, had a husband who sold nude pictures of her, was married to another country star (George Jones), had an affair with Burt Reynolds, and lived with drug addiction, depression, stalkers and D.I.V.O.R.C.E. Even when she died in 1998, she could not rest in peace as her daughters contested her will and wanted her body exhumed to determine the cause of death. It says it all.
Tammy, whose real name is Virginia Wynette Pugh, was born in Tremont, Mississippi in 1942 but she never knew her father as he died when she was still an infant. Being passed around like a parcel, she was brought up by various relatives who, on the whole, were quite poor and from that she learned what real poverty was. Her life didn't really get any better, she had three children the third of which was born prematurely and suffered medical problems. The situation was made worse by her husband who decided to do a runner just before the third child was born.
Her music career began after she auditioned for a slot on the Country Boy Eddie Show in Birmingham, Alabama in 1965 which, in turn led to a chance to sing with Porter Wagoner the following year. On the strength of that she moved to Nashville in the hope of finding fame. After a number of record labels had turned her down, she was eventually signed, by Billy Sherrill, to Epic records after he was desperately looking for a singer to cover a song called Apartment No. 9. Because many of her songs were on the same theme of loneliness and broken relationships she soon earned the title, 'First Lady of Country Music'.
Billy teamed her with David Houston and together they recorded My Elusive Dream which when released was a Country chart number one in 1967. Later that year she topped the chart with her second hit I Don't Wanna Play House and the following year had a third number one with D.I.V.O.R.C.E. That song didn't chart when first issued in the UK but peaked at number 12 when re-issued in 1975 on the back of her only UK number one, Stand by Your Man. Oddly, just five months later, D.I.V.O.R.C.E., a comedy cover by Billy Connolly, did make number one.
Her and Billy jointly wrote Stand by Your Man. Billy had come up with the title some months before he shared it with Tammy. When he had idea for the song and had jotted some notes on a scrap of paper which he then also shared with Tammy. She once claimed, "We wrote the song in 15 minutes and I have spent a lifetime defending it. There was no political motive, it was just a pretty love song." Billy had a reputation for adding strings on country songs which wasn't the norm and he also had a distinctive production style too.
Tammy, despite much encouragement, didn't have a lot of faith in her own song writing. "I went home and played it for (future husband) George (Jones) and he didn't like it," she said in a 1978 interview. "He didn't know I'd written it, so I asked him what he didn't like and he said 'I dunno, I just don't care for the song.' That kinda got me started off wrong with Stand by Your Man, but it's grown on me now."
The song basically tells the story of a woman who will stick by the man of her choice regardless of his behaviour and indiscretions. That would certainly appeal to all highly religious people across America and that alone would be enough to make the song a success before any promotion had been done.
Tammy saw it a slightly different way to the way a lot of the record buyers did saying, "I don't see anything in that song that implies a woman is supposed to sit home and have babies while a man goes out and raises hell. To me it means be supportive of your man; show him you love him and you're proud of him, and be willing to forgive him if he doesn't always live up to your image of what he should be."
Tammy's 1978 autobiography took its title from this song and on page one, the first line reads, 'The first time I met George Jones, he was in bed with another woman.' If that doesn't make you want to read on, nothing would.
Tammy's last UK chart appearance came in 1991 when she was credited as featuring 'The first lady of Country' on the KLF number two hit Justified and Ancient. The song, which was used in the 1993 film Sleepless in Seattle, earned her a Grammy award for Best Female Country Vocal Performance in 1970 and the song was also inducted into the Grammy Hall of Fame in 1999.
Tammy's signature tune obviously held a place close to her heart as, years later, she made it the melody for her home burglar alarm system.