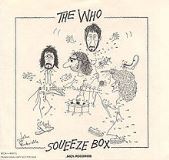 It must be a nice feeling for a songwriter when they write something a little risqué and get away with it. The first song I remember hearing and thinking, 'how the hell did they get away with that' was on Bill Haley's Shake Rattle and Roll. The third verse opens with 'I'm like a one-eyed cat peeping in a sea food store', but they did and, 65 years later, it still gets an airing…so to speak. Well, it's a similar story for The Who's Pete Townshend when he wrote Squeeze Box.
A squeeze box, very simply, has two slang terms. For the innocent and naive it is an accordion which is an air-based bellow-driven keyboard and button-operated instrument strapped round the body and, with both hands, pumped in and out to get the sound, for the not-so innocent, it's another term for a vagina. It wasn't written by coincidence, Pete said, "I had bought myself an accordion and learned to play it one afternoon," adding, "The accordion gave the song a polka-esque rhythm and the lyrics, which I wrote for fun, were intended as a poorly aimed dirty joke. I had no thought of it ever becoming a hit but amazingly recorded by The Who to my disbelief. Further incredulity was caused when it became a hit for us in the USA."
The band just wanted to see if they could get away with singing about explicit sex and clearly, they did – 'Mamma's got a squeeze box daddy never sleeps at night!' indeed!
In 1974, there were plans for a Who television special and Squeeze Box was originally intended for that programme. To give the song even more kudos there was also a plan to have the band surrounded by 100 topless women all playing accordions. Shame that never happened. It made me wonder if that's where Queen got the idea for 65 (although only 25 are seen in the video) naked women riding bicycles around Wimbledon greyhound Stadium for the video to Bicycle Race?
The song was featured on the 1975 album The Who by Numbers and released as a single in 1976 where it reached number 10 in the UK and number 16 in America. It was also their first UK hit for just over two years.
Interestingly, the song doesn't feature much of the newly purchased accordion, the only time you can hear it is about 90 seconds in when Roger Daltrey sings 'squeeze me, come on and squeeze me' and it lasts for approximately 20 seconds. The predominant instrument in this song is the banjo which is play by Townshend. He explained in an interview with Steve Rosen, "I've got a really nice G banjo made by Fender which has their version of Scruggs' heads. I learned how to do a flat-picking very early on; I used to listen to a lot of Chet Atkins and stuff like that. So I can do all that stuff."
The song is a favourite of lead singer Roger Daltrey's, he said in an interview with Uncut magazine, "What's great about Squeeze Box is that it's so refreshingly simple, an incredible catchy song. A good jolly. I've never had a problem with that song because it doesn't pretend to be anything other than what it is and I love it for that. Live audiences love it. Nothing wrong with a bit of 'in-and-out', mate!" When the Who did perform that song on stage, Roger and Pete often used to thrust their hips when Roger sang the in and out bit, thus leaving no doubt what they really felt the song was all about.
There have been a few cover versions, some good and some not so… Poison did it justice in a heavy version that featured on their 2002 album Hollyweird, Laura Branigan gave it a nice country feel on her Branigan 2 album in 1983 and the American band Chubby Carrier and the Bayou Swamp Band gave it a grassroots flavour. But UB40's lead singer, Ali Campbell, did a solo version which just sounded like yet another bad UB40 cover version.