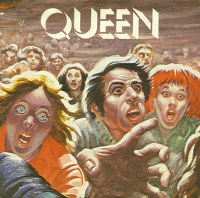 Songs that deal with an everyday, real life, situations that so many can identify with should be, and often are, big hits, but this week's suggestion wasn't a big hit at all. The song is Spread your Wings by Queen and tells the story of a bar worker living a mundane life but dreaming of making something of his life.
Up until 1986, John Deacon, Queen's then-bass player, had only written five hit singles for Queen but in 1989, it was decided that all members would get equal credit on all Queen songs. He is an underestimated songwriter, but just look at his catalogue; he wrote the 1976 hit You're My Best Friend, 1980s Another One Bites The Dust, 1982s Back Chat and the one which, no doubt, keeps his retirement up the standard he would expect, I Want to Break Free in 1984.
His 1978 hit Spread Your Wings tells the tale of Sammy who works at the Emerald Bar sweeping the floor and serving some drinks, whilst dreaming of making something of himself and hoping for a better life. 'He'd made up his mind, to leave his dead life behind,' but the trouble is, his boss tries to discourage him by saying 'Boy you'd better begin to get those crazy notions right out of your head' and then belittles him by saying, 'Sammy who do you think that you are, you should've been sweeping up the Emerald bar. Freddie's meaningful and emotional natation advises him to, 'Spread your wings and fly away' but he doesn't have it in him to go after his dreams.
The protagonist tells us a little about his early life, 'Since he was small had no luck at all, nothing came easy to him.' Sammy made up his mind, 'Now it was time he'd made up his mind his could be my last chance,' to which his boss once again knocks him back by saying, 'Now listen boy, you're always dreaming you've got no real ambition you won't get very far.' Despite the knock backs, Sammy really tries, but there is no clue that he succeeded by the end of the song.
The song was featured on Queen's sixth album News of the World and was the first to feature two songs by John; the other was Who Needs You? In the UK it peaked at number 34? however, in America it was relegated to the flip side of the chart-topping Crazy Little Thing Called Love.
The song, which has no backing vocals, is a fan favourite and has a memorable accompanying video. It was filmed in (the drummer) Roger Taylor's back garden in Surrey where the ground was covered in snow and ice and the band was noticeably uncomfortable. Brian May commented, "Looking back, it couldn't be done there – you couldn't do that! During the shoot, the ice and snow on the ground complicated matters, and Freddie Mercury consumed more alcohol than he probably should have."
John Deacon quit the band in 1997 and retired from the public eye to privately raise his six children. He lives in South West London in a home he bought with his first Queen royalty cheque.