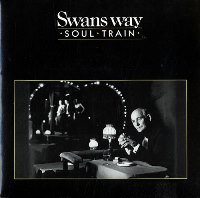 Last week's Single of the Week was one of the two hits by Fischer-Z, a forgotten 80s hit that sounds as fresh in 2020 as it did in 1980. This week, it's another forgotten singles by an act that had two hits. This one got higher in the chart than last week's but do you remember it? It's by Swans Way and it's called Soul Train. They released one album and six singles before moving on to form another act. Let's find out about it.
Swans Way were a trio who formed in 1982 and comprised singers Robert Shaw and Maggie De Monde who also played percussion and Rick P. Jones on double bass. They met when they were all living on the same street in Birmingham and discovered they all had a mutual interest in music and had all individually been in local bands without any major success. Maggie had been in a band called The Playthings who John Peel championed. "Duran Duran really liked us a lot and asked them to go on tour with them," Maggie recalled. After that they decided the pool their resources and form Swans Way.
In their early days, they found a run-down casino to rehearse in and one day they had a problem as Maggie explained, "We got locked in, everything was dark, it was terrible and I was crying. We had to get out via the fire escape whilst trying to avoid the rats in the pitch black." Rick recalled to Andy Strike, "It was freezing cold and was terrifying going to the loo because you had to go up three flights of stairs in total darkness. We had three paraffin heaters to try and keep warm."
Jones, who is a stand-up bass player recalled to Smash Hits how they got started, "We literally locked ourselves away every day and forced ourselves to do something. At first we just tried out different instruments, then we slowly eliminated the ones that didn't feel or sound right and we evolved into what we sound like now."
Their first single in 1982 was called Theme from the Balcony. Two years later they released The Anchor followed by When The Wild Calls but all failed to chart. Both were taken from their only album The Fugitive Kind, but then came the third release, Soul Train that went to number 20.
"We wrote Soul Train a long time ago," recalled Rick, "but the record companies didn't want to know and we didn't even get a deal until we released it ourselves." Soul Train has a jazz influence although the band claim they never listened to old jazz.
The last line of the lyrics has become a favourite in the misheard lyrics department. The last line is, 'I'm on soul train, soul train I'm not strong enough' which is often misheard as, 'Salty beef stroganoff, I'm on salty beef stroganoff'.
The band split in 1984 which was allegedly due to musical differences. Shaw went on to release solo albums under the guise Mighty Math whilst Maggie and Rock went on to form Scarlet Fantastic and signed a deal with Arista records. Like Swans Way, they managed two UK hits; No Memory which reached a respectable number 24 and the much forgotten follow-up Plug Me In (To The Central Love Line) which stalled at number 67.