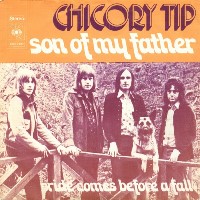 How many times do you hear about a band who write and record their own material and struggle to get anywhere. Then, all of a sudden, they come across an obscure unknown song, cover it and presto, they're stars. Well that's what happened to the group who recorded this week's suggestion.
Bass player Barry Mayger and the guitarist Rick Foster were schoolboy friends in Maidstone, Kent, they formed their first band, the Sonics in 1961 and were named after the guitars they both had which were Burns Tri-sonic guitars. Members came and went but by 1967, they were Chicory Tip with Peter Hewson as their lead vocalist and Mick Russell on drums.  "We wanted to get away from names which started with the word 'The' as there were so many around like 'The' Shadows and 'The' Beatles," explained Rick in an interview with Stuart Cameron. "We were in an army barrack just outside Maidstone and on with another band called The Mannish Boys featuring David Bowie," he continued, "we came off stage and Barry saw a brand of coffee (probably Camp Coffee) which had Chicory in it and featured that fact on the label. He said 'What about Chicory Tip for a name?' and I agreed, so we went with it."
Mick married and moved to Wales and was replaced by Brian Shearer. Rick's girlfriend knew the record producer and manager Roger Easterby who was then managing Vanity Fare and she recommended Chicory Tip to him. He went to see them perform and was impressed and thus got them the recording contract with CBS records in 1970. Their first four singles, Monday After Sunday, Excuse Me Baby, My Girl Sunday and I Love Onions (presumably another component of the Chicory Tip salad) – all flopped.
Giorgio Moroder, the Italian composer, who later found major success with Donna Summer, Three Degrees, Sparks, Blondie, David Bowie and Irene Cara to name a few as well as having the top three hit Together In Electric Dreams with Philip Oakey in 1984, was 28 years old when he moved to Munich and wrote a song called Looky Looky which earned him a gold disc. "That was a great bubblegum song," he recalled to Todd L. Burns in 2013. "I heard it a few days ago, and thought that it wasn't a bad song. It became a hit in France, Spain and Italy. Then there was Son of My Father where, for the first time, I used a synthesizer, my version made it the Top 40 in America." He went on to explain more about the synthesizer, "The Moog I was working with was constantly out-of-tune. It was really a pain to work with it. Obviously, it had great sounds but everything now is much easier. It's always in tune, and you can play longer than a minute before you have to retune it." The song was co-written by Moroder and Michael Holm and it was Holm who recorded the original version in 1971 with Moroder producing it. It was first published in Germany as Nachts Scheint Die Sonne and Pete Bellotte, who later worked extensively with Moroder, wrote the English lyric. Moroder recorded his own version the follow year on an album with the same title.
Moroder considers himself to be an average musician and he revealed in an interview in The Guardian, "I learned a little about music, I play a little, I play enough to compose; but with a computer, if you make a mistake you just redo it as often as you need. I could never play live with what we have the musicians doing on stage or in the studio. If I were to play the piano or designed difficult things then I would be nervous, but I do exactly what I want to do and the big work is not mine – that will be the singers, and they are absolutely top."
Roger Easterby, who also did a bit of record plugging, found a demo copy of Son of My Father and brought it to Chicory Tip. He wanted them to record a version before Moroder's version was released in the UK. They recorded it at George Martin's AIR studio on Christmas Eve and was pressed and released within three weeks. It entered the UK chart at number 30 and three weeks later it was number one. Once the recording was finished, George turned up and was asked his opinion of the song to which he replied, "It smells like a hit to me!"
The lyrics were hard to understand and because of the speed and secrecy required to get the track recorded, they didn't have time to find out the correct lyrics, so the band just made notes of what they thought Moroder was singing. Moroder's version, although not seemingly making a lot of sense, went, 'Son of my father, moulded I was folded I was preform-packed, Son of my father, commanded I was branded in a plastic vac, surrounded and confounded by statistic facts'. Hewson almost got it right, his second line was, 'Moulded, I was folded, I was free from draft'.
The moog on the Chicory Tip version was played by Chris Thomas, who became a leading record producer working with Procol Harum, Roxy Music, The Sex Pistols, Wings, Pretenders and Elton John to name a few. Thomas was unavailable when it came to a live Top of the Pops performance, so session keyboard player Trevor Bastow played it on TV.
Chicory Tip's follow-up's, What's Your Name and Good Grief Christina, made the Top 20 but their next release, Cigarettes, Women and Wine was banned by the BBC for fear of leading teenagers into bad habits.
Rick Foster left the band in 1972 to join Edison Lighthouse, hardly the best career move you might think, but he was with them for 25 years and Chicory Tip disbanded in 1975. In 1997 Chicory Tip reformed in their hit-making line-up and they released the CD, Chicory Tip In 2000.
Rick Foster and Brian Shearer are still performing in Kent, Hewson appeared as a prison warden in the 2012 film Offender, Barry Mayger became the landlord of the Dog and Gun pub in Maidstone and then retired in 2008 to Portugal, he passed away in January 2020. Richard Easterby went into the Horse Racing world later becoming the director of Parliamentary Affairs.